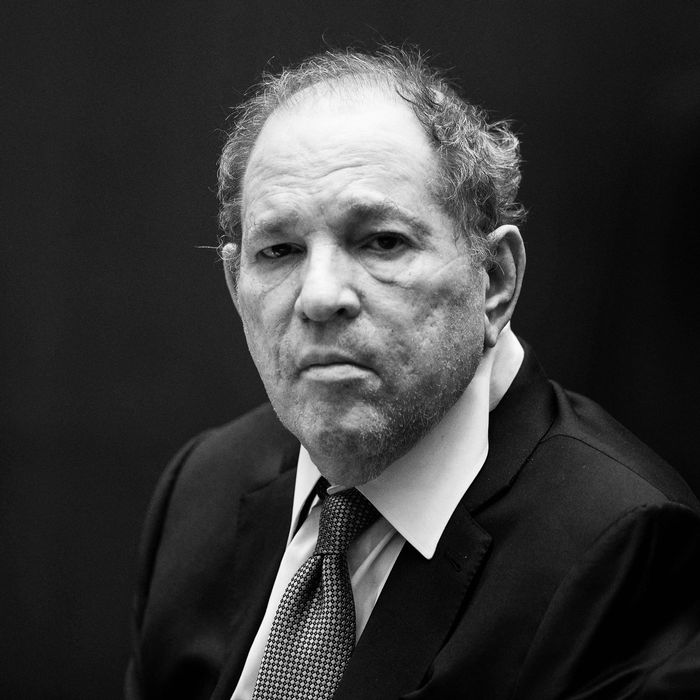 Harvey Weinstein
Photo: Etienne Laurent/POOL/AFP via Getty Images
This fall, Harvey Weinstein headed back to court in Los Angeles for a second and — according to Variety — "more sprawling" trial, covering much of the same ground as his New York trial in early 2020. Those proceedings ended in Weinstein's conviction on rape in the third degree and criminal sexual assault in the first degree, and earned him a 23-year prison sentence. In L.A., he faced up to 140 years, along with testimony from nine of his alleged victims. On December 19, Weinstein was found guilty on three charges — forcible oral copulation, sexual penetration by a foreign object, and forcible rape. Two months later, on February 23, he received his second sentence: 16 years in prison, a term that nearly doubles his existing punishment. The two sentences are to be served consecutively, and because Weinstein is 70 years old, they amount to life behind bars.
Below, a guide to the trial.
What was Harvey Weinstein charged with in L.A.?
The Los Angeles district attorney's office originally announced charges against Weinstein on January 6, 2020, as his trial began across the country, and it expanded its case later that year. In July 2021, a California grand jury indicted Weinstein on 11 counts stemming from his alleged assault of five different women between 2004 and 2013. Per an announcement from the D.A.'s office, Weinstein pleaded not guilty to four counts of forcible rape; four counts of forcible oral copulation; two counts of sexual battery by restraint; and one count of sexual penetration by use of force. By the time the trial began, however, prosecutors said they were "unable to proceed" with allegations from a Jane Doe No. 5 and dropped the related four charges.
The D.A.'s office noted that a number of the alleged attacks occurred at hotels, in line with the bombshell reports on Weinstein's serial predation that ran in 2017. Speaking to dozens of his victims — at least 100 of whom have since come forward — both the New Yorker and the New York Times laid out a pattern. Weinstein would, allegedly, target young women, typically models, aspiring actresses, or newcomers to the entertainment industry. He would often, according to the publications, lure them to hotel rooms on the pretext of discussing their careers, leveraging prospective roles against sexual favors and sometimes threatening their professional ruin if they didn't comply. These women have accused Weinstein of offenses including inappropriate, insinuating comments, unwanted advances, groping, sexualized massages, and rape.
How was this different than the New York trial?
In substance, it's not really different — in New York, the charges stemmed from Weinstein's abuse of two women, former Project Runway assistant Miriam Haleyi and former actress Jessica Mann, and the jury heard from a total of six women who detailed and supported the claims. Included in that group were Weinstein victims, like actress Annabella Sciorra, whose own experiences backed up the charges. In Los Angeles, the jury heard from nine of Weinstein's accusers, one of whom took the stand as a supporting witness in New York — more on that below. But in short: same content, wider scope.
How was he on trial in L.A. if he's in prison in New York?
Weinstein's New York sentencing roughly coincided with the onset of the coronavirus pandemic. Although L.A.'s district attorney had already charged him at that point, COVID protocols and Weinstein's aforementioned failing health (his attorneys have argued that he is "technically blind" and had lost four teeth by spring 2021; he now uses a wheelchair) meant it would take more than a year to extradite him for the second trial. A judge finally denied his attorneys' requests for additional delays in June 2021, approving Weinstein's transfer from Wende Correctional Facility in upstate New York to California.
Who testified in the L.A. trial?
As mentioned, a number of Weinstein's alleged victims: Jane Doe Nos. 1 through 4, plus other women who corroborated his behavior and helped establish a pattern. "Some of these victims, people will recognize them. Some of these women, you've seen them in movies, they've been in ad campaigns, a couple of them have achieved some success as actresses or models," a Weinstein defense attorney, Mark Werksman, told the Los Angeles Times ahead of proceedings. Though they were referred to pseudonymously in court, they testified without their faces obscured, making their identities clear.
Jane Doe No. 1 was an Italian model who previously told the L.A. Times that Weinstein "bullied his way" into her hotel room during the 2013 L.A.-Italia film-fashion-and-art festival after he showed up "without warning" in the lobby and she told him he couldn't come up. The woman said that she had met Weinstein briefly in Rome and declined an invitation to his hotel room at the time; though they spoke at the festival, she didn't think he remembered her. But "once inside," she said, "he asked me questions about myself, but soon became very aggressive and demanding and kept asking to see me naked." She said she pleaded with him to leave as he "bragged about his power and influence and told her not to fight him," per the Times. "He grabbed me by the hair and forced me to do something I did not want to do," the woman recalled. "He then dragged me to the bathroom and forcibly raped me." Afterwards, he acted like nothing happened, she said, and continued to invite her to parties she did not attend.
The Times identified Jane Doe No. 2 as model Lauren Young, who told the New York jury that Weinstein assaulted her in a bathroom in 2013, during what was supposed to be a meeting about the screenplay she'd written. Jane Doe No. 4 was Jennifer Siebel Newsom, an actress and director who also happens to be married to California Governor Gavin Newsom. Siebel Newsom went public with her allegations against Weinstein in a 2017 HuffPost essay, writing that he made "aggressive advances" toward her during supposed work meetings. In court documents, Jane Doe No. 4 accused Weinstein of forcible rape at a hotel sometime between September 2004 and September 2005. On the stand, she tearfully detailed an incident in which the producer allegedly assaulted her in what was supposed to be a business meeting, and — she said — persistently ignored her repeated pleas that he stop.
The defense, meanwhile, argued that Siebel Newsom and Weinstein had consensual sex. They also called her a "bimbo" and questioned the exit strategy she laid out on the stand: Newsom said she faked "pleasure noises" in an attempt to bring the assault to a speedier end.
What did the attorneys say?
Opening arguments on October 24 took the same general tack as they did in New York, with Weinstein's defense hitting their themes — women seeking sex with Weinstein in return for parts, using him, and then lying about it to cover their embarrassment — a little more vigorously this time around. "Look at my client," Werksman told the court, according to Variety. "He's not Brad Pitt or George Clooney. Do you think these beautiful women had sex with him because he's hot? No, it's because he's powerful."
Werksman argued that his client's "casting couch" arrangement was the Hollywood norm before Me Too, which itself turned Weinstein into the industry's Chernobyl: the "smoldering radioactive core of a nuclear meltdown." But the women set to testify, Werksman alleged, were still actors. "They will play the part of the damsel in distress with this beast," he told the jurors. "They have to lie to themselves, to you, to this court." He added, "Their hypocrisy will be on full display."
Prosecutors maintained that Weinstein exploited his power to ensure his victims' silence. "They feared that he could crush their careers if they reported what he had done to him," deputy district attorney Paul Thompson said of the witnesses, per the New York Times. Thompson focused on Siebel Newsom in particular, telling the court that when she met with Weinstein at his hotel, she expected to "discuss her career" in a public place. But when Weinstein moved it up to his room, he forced her onto the bed and raped her, Thompson said. In the years that followed, he added, she felt she had "no choice" but to stay in touch with him. Werksman, meanwhile, accused Newsom of exploiting Weinstein and Me Too to build clout. "She brought her husband to meet and party with her rapist. Who does that?" he said. Without proximity to her husband's political career, Werksman added, Siebel Newsom would be "just another bimbo who slept with Harvey Weinstein to get ahead."
What was the L.A. verdict?
After a nine day deliberation, the jury in the L.A. case against Weinstein returned with a verdict on December 19. Weinsten was found guilty of one count of rape, one count of forced oral copulation, and one count of sexual misconduct regarding Jane Do No. 1, as reported by the AP. However, the jury was unable to reach a verdict in the counts brought against him by Siebel Newsom and Young. He was also acquitted of one allegation of sexual battery regarding Jane Doe No. 3, per the Los Angeles Times' James Queally. Weinstein faced up to 24 years in prison, but wound up with a 16-year sentence.
This article has been updated.