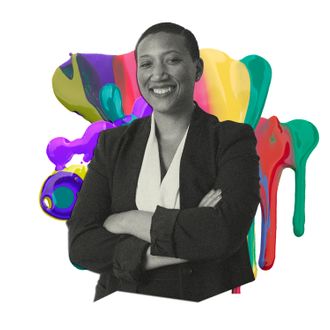 Photo-Illustration: HOK. Courtesy of the subject
In June 2022, Kimberly Dowdell became the first Black woman to be elected President of the American Institute of Architects, a role she officially begins in December of this year. For her, it's the fulfillment of a lifelong dream. From age 11, Dowdell knew she wanted to design buildings and creative healthier cities. Cycling through downtown Detroit, she saw the decrepit buildings in her neighborhood and wondered why they hadn't been turned into into housing or community-driven spaces for recreation and play. "Originally, I wanted to be a doctor, but I realized that I wanted to be an architect so that I could heal the buildings," she says. "I thought healing the buildings could have a healing effect on people who use the buildings. One of the biggest challenges that we face as a nation is the health gap. There's a strong correlation between where you live and your life expectancy. That's something architects can't solve alone, but we need to be at the table to develop solutions with other professions."
Today, having been elected by the organization to serve as its 100th president, she has dedicated her leadership to representing every member of the AIA in an industry where an estimated 66% of licensed architects are white. To put that in context, while there are currently approximately 120,000 licensed architects in America, Dowdell is only the 295th living Black woman in their ranks.  
Her commitment to providing avenues of support on a community, national, and international scale is evidenced by her long association with the National Organization of Minority Architects (NOMA), which she led as president between 2019 and 2020. In 2005, while she was an undergraduate at Cornell University, she co-founded the SEED (Social Economic Environmental Design) network. With more than 2,000 pledged members, it still serves as a standard-bearer for economic, social and environmentally sound principles of design in cities. In 2014, she began her master's degree in public administration at Harvard University's John F. Kennedy School of Government, then worked for Detroit's housing-and-revitalization department, aiding developers in working with the city to build high-priority projects. Since April 2019, she has been a principal and architect at global design firm HOK in Chicago, where she co-founded the corporate social responsibility program HOK Impact and co-chairs the Diversity Advisory Council across HOK's international offices. 
An 11-year-old Dowdell looked at dilapidated, boarded-up ruins and saw their potential. Now an established architect, educator, and mentor and the president-elect of the nation's leading architecture institution, she still looks at the world through the lens of what is possible with imagination, collaboration, and persistence. She lives in downtown Chicago. Here's how she gets it done.
On her morning routine:
Depending on the time of year and when the sun comes up, I try to wake up at 5 or 5:30 a.m. One thing I've been doing in the past couple of years — as a throwback to what my grandmother used to do — is starting my day with meditation and a Bible reading. I do a devotional with one of my good friends, an online mini-journal of what we've read and how we reacted to that reading that takes about 20 minutes. The Bible app has these different reading plans, and I've been doing this every day for the past 1,478 days, so that's my thing. I also make my bed so that I have a sense of accomplishment early on. And I have a particular morning concoction, a green tea with fresh-squeezed lemon, honey, and apple-cider vinegar. When I'm doing really well, I'll spend 20 to 30 minutes on my rowing machine. Rowing works a lot of areas at one time, which appeals to me as a very efficient person. I also have a subscription to online classes, so sometimes I'll do strength training and yoga.
On a typical workday:
I'm a big believer in minimizing commute time. I've intentionally moved close to my office so the commute is a walk of 7 minutes from my doorstep.
HOK has 26 offices around the globe, and 17 are in the U.S. There are about 100 people in the Chicago HOK studio, and as marketing principal, I'm in charge of the marketing team. I'm responsible for bringing in new projects to keep people busy and excited. My team includes three other people who respond to requests for proposals, prepare us for interviews, apply for awards, engage with professional and community organizations, and ultimately work to elevate the HOK brand in the Chicago marketplace and beyond.
We have standing meetings at different points throughout the week. I'm on the management committee for the Chicago studio, so we have a 9 a.m. Monday meeting to talk through staffing, marketing and all the things that relate to the management of the practice. Then I have a weekly marketing meeting with the leaders throughout the practice about the different markets that we serve: aviation, science and technology, corporate interiors, health care, etc., and we check in about existing projects and how to bring in new work to the practice.
On the moment she felt like she'd "made it" professionally:
I don't know that I'm there yet. I'm super-grateful and honored to have been elected to serve as president of AIA in 2024. It's really cool to be the 100th president, the first Black woman in the role and also the first millennial. I'm honored that the AIA's delegates have selected me to give voice to the greatest concerns of the profession for a one-year period. It's a milestone and not a destination, though. I don't think the journey ends until I retire, which I can't imagine right now.
I'd like to be able to look back on my legacy eventually and see that I helped to empower young people and help them see that a variety of people can serve in leadership positions and serve them well. It's essential for the longevity of the architecture profession.
On the people who help her get it done:
My therapist and I meet virtually for an hour a week, and I attend church on Sundays, so that's a weekly touchpoint where I get to reset and focus on my faith. I also have a great network of friends and colleagues, so I have a list of folks I can call for help or to bounce ideas off. I don't currently have an assistant. I have someone who helps me to process my expense reports, which is huge, and I'm now evaluating ways that I can better leverage technology to save time and energy as I navigate a number of competing priorities.
On the sacrifices she's made for her career:
There's a saying that you can't have it all, or you can have it all but not at the same time. I'm trying to figure out what that means. I definitely feel like I should be spending more time with family, and I'm making an effort to do that. I lost my dad at the start of the pandemic. My sister is an artist, and she's opening a show next week, which would have been my dad's 82nd birthday. Being present for family occasions is particularly important, and while I don't have regrets, I want to more intentionally balance work with life.
On what's next:
Honestly, the way my career has evolved, I've taken a "go with the flow" approach. This time last year, I didn't know I was going to be running and now I'm AIA president-elect. One of my guiding principles is my own mission statement, which I developed a while ago: Improve the quality of life of people's lives by design. Our professional duty is to protect the health and welfare of the public. So designing things is cool, but the values of architecture are based on health and safety, on enriching and extending people's lives. I'm committed to really living those values.
This interview has been edited and condensed for length and clarity.