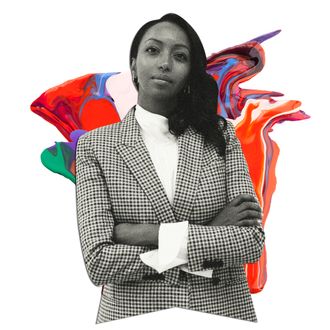 Photo-Illustration: by The Cut; Photo: Sofia Giner/Courtesy of Mariane Ibrahim.
Art dealer Mariane Ibrahim runs three galleries in three countries, but when asked about her day-to-day, she insists that it doesn't feel like work at all. To her, it's simply about being available to artists to make things happen. As a rapidly growing tastemaker in the art world, Ibrahim has drawn global attention to artists from the African diaspora, including the likes of Amoako Boafo, Zohra Opoku, and Peter Uka. Her vocation is itself a creative pursuit — a practice in discovery and relationship-building — and one that has taken her all over the world. Ibrahim was born on the South Pacific archipelago of New Caledonia to Somali parents but spent much of her upbringing in France. After opening her first gallery, M.I.A., in Seattle in 2012, she relocated it in 2019 to Chicago, the city she now considers home. In 2021, in the midst of the pandemic, she opened a second location in Paris. It was a homecoming of sorts. Equipped with a better understanding of the American way of doing business and dealing art, she says, "I'm coming with all of this background, feeling much more enriched." This month, she debuts her third site in Mexico City, a place she has felt an emotional and artistic connection to for many years. "I think Mexico has been underlooked and will be an inspirational stage for creatives," Ibrahim says.
With galleries in three countries and teams in three time zones, no two days are alike for Ibrahim, which is partly why it doesn't feel like work at all. "It's a dedication," she says. "I'm dedicated to my artists, and I'm dedicated to my collectors. I'm dedicated to doing the best that I can do to create the best environment for a collector and an artist to present the work." She lives in Chicago with her husband, Pierre Lenhardt. Here, how she gets it done.
On her morning routine:
I wake up around six, 6:30, and the first thing I always do is drink hot water and lemon. If I don't have that in the morning, I'm very edgy. I have to have a sense of cleaning my body. If I am in Chicago, I exercise in the morning. I run by Lake Michigan. I'm more into self-care in the morning. Those first two hours before I start checking on everybody else on the team are always me time. This is when I do my shopping; I check in with my family. No work, just pleasure.
On a typical workday:
If I'm in Chicago, early in the morning I catch up with the French office. And once I have, I move to the one in Chicago, and it's just back and forth. I'm always looking at the time. When I'm in Paris, I tend to work later in the evening so that I can catch up with Chicago. I'm constantly on WhatsApp, so my day is from 6 a.m. to 10 p.m. I wish I had a routine, but it's completely disrupted all the time. I'm a certain person when I'm in Paris, a certain person when I'm in Chicago, and a certain person when I'm in Mexico City. But I love it.
On getting her start:
I've always been a visual person. Going to museums and galleries, I would see works that spoke to me in terms of aesthetics, but I was not very connected in terms of representation. At a later age, when I was able to afford art — because that's another question: of affordability and access and knowledge — I was interested in trying to get works from my contemporaries and artists from the African diaspora, which was connected to my reality and how I navigate this world. That slowly turned into, Why aren't these artists presented?
I went from collecting to feeling like I had to share my findings. I had to share all of the works from these artists that have not been under the scrutiny of museums or collectors. This was 15 years ago. Now, things are completely different. Opening the gallery was an obvious response. I couldn't be saying, "Oh my God, there aren't any artworks — there isn't any representation," if I'm not able to create the platform for it. So, for me, opening the space was a natural response to that frustration. It started in Seattle because that's where I was. It wasn't a strategic move; I just happened to be there. And the response locally, nationally, globally was beyond unexpected.
On her gallery's locations:
Chicago is home — period. I have an amazing community. I love the city. I'm an adopted Chicagoan. That's where I will have my most beautiful objects, where I have my art collection. Chicago's a place that I've curated. It's my life. Paris is home, but in a different way. I can walk around, navigate the language. I'm perfectly in place in Paris. I still have the same routines; I still have the same hairdresser. There was never an adaptation test [with Paris] — it was just something that I paused and came back to. And Mexico is a place of heart. It's a place that fascinates me. And it's a place that's changing me. Every visit, I'm transformed. It just keeps moving. I love the food, the music, the land, the architecture, the urban landscape, that kind of contemporary and ancient and decadent feel. And, of course, the friendliness of the people. Mexicans are warm and hospitable and sincere. And even though it's the biggest capital in North America, it has conserved something authentic.
On what motivates her:
Seeing my team. There's so much traveling. You are on your own, going from one place to the other. To see the physical space really warms my heart because we are doing this together. I'm not by myself, even though I'm the tip of the iceberg. It takes a group. To share a meal and get together and be close to them … It's just a community atmosphere that I like the most. Pushing the door of the gallery open, seeing the name — that's the safe space. That's where we close everything and think about what we're doing next.
On the challenges of her job:
We're dealing with creative humans. When somebody buys a work of art, it's not something that is functional, you know? When you buy a work, you are connected to it. So that takes time. It involves dealing with multiple emotions from artists, from collectors … You have to make everybody feel comfortable. You have to be very sensitive about it. Because what we present and what we feel is not rational. It's not scientific. It's not mathematical. You constantly have to be able to adapt and anticipate. That's why I think women out there are way better than men [at this]: We anticipate all the time. I'm sure they will all come back and say, "What is she talking about?" But it's true. Way back when there were no galleries, women would create these small kinds of parlors where they would have their friends come over and look at art. That intuitive and caring aspect with art in general … It's not a weakness.
On advice she'd give her younger self:
Never, ever compromise. Stay with your intuition. A lot of people will come to you and say, "You shouldn't do it this way. You should do this." You have to stay true to yourself. And that's what I have always been doing. I miss opportunities, but when you say no to something, there's another part that will come, and that will be a yes.
And listen to your own voice. You are allowed to like something that other people may not like, and you have to push for that. I love every single artist we show. I want to present that artist and not care about anybody else's opinion. It's a really selfish thing to do because it's your perception of what is meaningful, relevant, and beautiful. And it's a bet — and then people respond to it.
On the people who help her get it done:
I have a great team that makes everything seamless, starting with my husband, my partner, who takes a lot of tasks off my shoulders. He oversees all three spaces and the business so that I can spend time with artists. It also grounds me to sit down with him, even though we work together, and think about what we will do next as a couple. That's what I like the most: when we finish a day and talk about places to go. That moment of projection is really something I look forward to.
Emma [McKee] is my key, my right arm. Everybody who deals with me knows about Emma. She's my chief of staff. She overlooks everything — from my image to the brand of the gallery to checking if every artist is doing fine. She's what makes everything work. We've been working together for around nine years. To have someone who has seen the gallery grow is wonderful because we never take anything for granted. We always have this moment of coming back to, "Do you remember when the two of us carried that heavy work across the street?" It's all of these moments when we realize what it took us to get here, and it was really, really hard work.
Laura [Turcan] has been an addition to this, as she's the director in Paris. We met in 2017, and I really loved how dedicated she was back then while she was working at another gallery, and I thought, It would be great to have somebody like her to work with. It's a manifestation that came through, because when we decided to open the gallery, I had only her in mind — nobody else. I didn't even have to go through a headhunter. I didn't do any interviews. I just reached out to her.
On what she's reading:
Whenever I have time, I love to read a physical book, but when I don't, I'm on my iPad looking at fashion, décor, and lifestyle magazines. Right now, I'm reading Mexico: Biography of Power, by Enrique Krauze. It's about Mexico in general but Mexico City in depth, and it's fascinating. And I'm reading it in Spanish, which is important.
This interview has been edited and condensed for length and clarity.