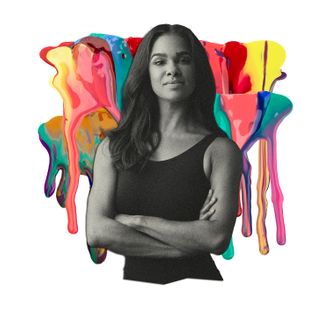 Photo-Illustration: The Cut; Photo: Courtesy of Masterclass
Misty Copeland's history-making career is a master class in grace, from how she moves onstage to the way she has navigated the largely white world of ballet. In 2014, she was the first Black woman to perform the lead role of Odette/Odile in American Ballet Theatre's Swan Lake, and in 2015 she became the first Black ballerina promoted to principal dancer with the company. To be a first or an only — especially in a highly visible career — is to experience an unparalleled pressure to succeed in a world that has been complicit in excluding those with your shared background. Copeland knows all too well about that. She also knows the power in looking to history and those who came before us to find the strength and courage to move forward. 
In her new memoir, The Wind at My Back, Copeland shares stories of her mentor, Raven Wilkinson, the first Black ballerina to receive a contract with a major ballet company, the Ballet Russe de Monte Carlo, in 1955. In the telling of her own career trajectory, Copeland shares the spotlight with Wilkinson, whose friendship lifted her up when she needed it most and whose own successes paved the way for Copeland to break barriers and conquer the dance world. Today, Copeland continues the work of sharing the stage with trailblazers who came before her as well as the next generation of Black and brown dancers following in her pointe-ed steps. She is also basking in the joy of life as a new mother as she prepares to make her return to the stage later this year. She spoke with the Cut from her home in Manhattan, where she lives with her husband and son. Here, how she gets it done.
On her morning ritual:
Since I had my baby boy, my schedule is kind of all over the place, but I'm typically up at 6:30 a.m. or 7 a.m. nursing him. And then I'm doing Zoom interviews for whatever it is I'm working on, whether that be my books or Greatness Wins, which is the athleticwear brand that I co-founded with Derek Jeter, Wayne Gretzky, and Chris Riccobono. And I'm constantly in meetings for my foundation. My schedule looks so different now than it has my entire career. I'm just now trying to find time to dip my toes back into the studio so I can prepare to get back onstage. Next week, I'll be in the studio every single morning, but that hasn't really been my life in the last year-plus.
On the moment she felt she'd "made it":
There's so many layers to that. I think when I was 19 years old, the first time I stepped foot onto the stage of the Metropolitan Opera House, preparing for that first season as a Coppélia ballet member. It was like, Oh my gosh, I am actually at Lincoln Center. This little brown girl from San Pedro, California. I'd only been dancing for five years at that point.
And the first performance of The Firebird, when I was still a soloist. It was at Lincoln Center. To see such a big shift in the audience that had come to see me perform and see American Ballet Theatre perform, to see such diversity — that was a moment. Not so much like, I made it, but, We made it, as a community — seeing Black and brown people feel that this was a space they could come into and there was someone on the stage that was representing them.
Then, of course, when I was promoted to principal dancer, that was the ultimate achievement. Again, feeling that it was for my community as a whole, just by having that title — what it meant and what it could mean for the future of dance and for so many other people to come after me to say that, This has been done, so I can do this.
On navigating self-doubt:
I think toward the beginning of my career, being the only Black woman in ABT for ten years, it starts to wear you down. I joined the company with ringing endorsements of "You're a prodigy. You're meant to do this. You are so gifted." And then you sit back and you're like, Well, why am I the only [one]? How am I any better than any other Black dancer that came before me? What does it mean to be here? Having those self-doubts of whether or not this was really the field for me.
Over and over again, the common theme has just been allowing support into my life. Susan Fales-Hill, who co-wrote The Wind at My Back with me, has been such a huge impact in my life as a guiding force. Meeting my manager, Gilda Squire, meeting Raven Wilkinson — all of these amazing Black women who have been there at important times in my life to reinforce my purpose. The self-doubt that comes with the responsibility of being the first, going onstage and performing these roles — Raven Wilkinson dealt with it herself, right before she left the Ballet Russe de Monte Carlo. She was being told by Nina Novak, who was the principal ballerina in the company, that her time pretty much was up. She was never going to be the White Swan. That's just not a role for Black women.
That was ingrained in us as Black women in the ballet world. So when I was given the opportunity to do Swan Lake, it was like this ancestral trauma that I'm bringing with me — this responsibility that if I don't live up to these standards, what will that mean for future Black dancers taking on this role? Will they be given the opportunity, or will I be the reason not? All of these things were going through my head. In those moments, it was having Raven, having Valentino Carlotti, who was a mentor of mine as well — having incredible people and support in my life that have always been the reinforcements that I've needed.
On writing The Wind at My Back:
I was pregnant when I was writing it, and it was very emotional just to be in that state of mind: creating life and also acknowledging that Raven isn't here to experience this with me and share it. Gilda has such a great memory for dates and everything and her own relationship and experience with Raven, as [does] Susan Fales-Hill. All of us collectively came together. It was a very healing, cathartic, emotional experience. Then add that I'm pregnant on top of it. So it was just very emotional for me to write it but also beautiful and reflective to think about this young boy that I'm bringing into the world and that Raven has helped make this world a better place for him. I finished the book when he was only a week old, so there was a lot of emotion and a lot of love during that time.
On how her priorities have shifted over time:
I spent the majority of my 20-plus-year career having my work be my identity. It's an interesting change in perspective to be in a place now where so much of my focus is on this other little being. I'm really looking forward to going back onstage. I feel like the time that I spend in the studio [now] is going to be much more focused, in a way, and concentrated because I don't have all the time in the world to just focus on myself. It's going to be a different experience. Also, having a different kind of love within me and life experience to be able to bring to my craft — that's really exciting.
On managing stress:
Ballet class used to be my meditation. Now, there's something about being in a dark room rocking my son. I always put on classical music for him when I'm putting him to bed. Having that moment — having him close to me and having that stillness at least once a day — centers me and grounds me.
On the people who help her get it done:
My husband, 100 percent. And there's my manager, Gilda, and Mia, her assistant. I've always kept a very small circle of people in my life that I rely on and really trust. I wouldn't be able to do it without Gilda, Mia, and Olu, my husband. I'm so lucky to have a partner in life like him. He's a full-time attorney, but he's pretty much been a stay-at-home dad for these first eight months, taking care of our son, Jackson. He respects me and what I do — and understands the importance and the focus that I need to put in to be able to do what I do. He's been that for me for 18 years.
This interview has been edited and condensed for length and clarity.