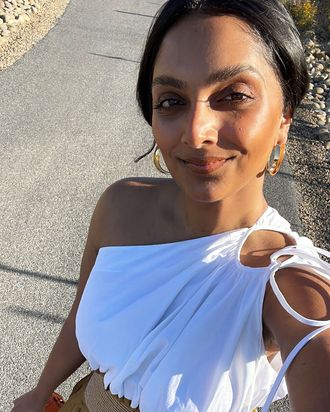 Before there were the "It" girls of TikTok, there were OG YouTubers like Deepica Mutyala, who launched her channel in 2015. The beauty expert went viral with the second video she ever created, amassing over 10 million views on how to color-correct dark under-eye circles with lipstick. When asked about her source of beauty inspiration, social media isn't the first thing that comes to mind. Instead, it's lessons from her mom and aunties, like using lipstick as blush. The smallest things, like applying eyeliner, bring Mutyala back to her Indian roots and remind her how much beauty was infused into her culture and childhood.
Her adolescent days inspired her current work in the beauty industry as the founder of Live Tinted. Her company began as a community for brown women to feel seen and represented and has now evolved into a brand with products that tell stories through the lens of women of color. Mutyala grew up in Houston, Texas, "just like Beyoncé," she jokes, but in an environment where no one else looked like her. She recollects being surrounded by  young girls with blonde hair and blue eyes, the opposite of Mutyala's deep brown complexion and dark hair. Growing up, she felt compelled to tell stories for little brown girls who look like her.
Before her YouTube journey and life as a beauty founder, Mutyala worked in for beauty brands like Birchbox. Throughout her career, she's accumulated years of experience in the corporate world and the influencer side, and now as a successful entrepreneur, which has granted her access and a host of knowledge. Throughout it all, she's always just wanted to build her own community. While community building through her beauty brand, she's also been very aligned with taking care of herself by being dedicated to daily workouts, meditating, and taking care of her skin. As an entrepreneur with a hectic schedule, one thing she never misses is her routine.
Here, Mutyala's routine:
Mutyala wakes up at 7 a.m. for a daily workout with her at-home trainer. Some days, she boxes and lifts weights; other days, she just stretches and breathes. Following her workout, she showers and dives into her skin-care routine, starting with Tatcha's rice wash, a gentle, clean cleanser featuring the line's signature nourishing Japanese algae ingredient.
At night, she uses the brand's cleansing oil, which she loves because it helps melt away her makeup and/or SPF from the day.
Next, she likes to hydrate with a mist, specifically Ranavat's jasmine-infused mist because it feels like such a cultural experience for her. "It takes me back to India and reminds me of home," she says. The jasmine extract is sourced directly from West India and benefits the skin by acting as an anti-inflammatory and balancing the complexion.
When Mutyala wants a double dose of hydration, she layers the mist with Estée Lauder's advanced night-repair serum, a hyaluronic-acid-based serum that leaves the skin extra plump and reduces signs of aging. Although it's a night serum, Mutyala uses it morning and night.
She follows up her layers of hydration with a Live Tinted hyperpigmentation serum stick. The balm-to-serum stick fades dark spots and smooths fine lines with ingredients like niacinamide and bakuchiol.
Before moisturizing, she applies a lightweight eye cream from her very own brand for its brightening benefits. She uses its lymphatic-drainage applicator, which feels like a ritual every morning.
Lastly, she seals everything in with the go-to moisturizer she's been using for the last six years and counting: Dr. Jart's Ceramidin Cream. It is known for its thick texture that deeply nourishes the driest skin. For Mutyala, the consistency is not too thick or too light: "It's right in between and it leaves my skin really glowy," she says.
At night, she opts for the richest-feeling moisturizer on her shelf: Freck Beauty's Rich Bitch. She applies it with assistance from a face roller, a practice she prefers to do before bed to help with lymphatic drainage on her jawline. I must also add that the name is perfect for a boss lady like Mutyala.
She doesn't leave the house without her SPF from Live Tinted, a two-in-one product that also works as a primer for her makeup.
Mutyala has eczema, and lately she's been turning to Tatcha's indigo body butter to soothe her flare-ups and keep the irritation under control.
On controlling her stress
Stress triggers eczema flare-ups for Mutyala, so she's intentional about what she does to combat it. She uses the Calm app every morning and takes seven minutes to herself for a nontraditional meditation. "I don't have to be still and sitting there. I'm in a meditative state when I'm making my bed and brushing my teeth; I'm just listening to the app," she says. She also takes her food choices into consideration. A few months ago, she cut sugar and stopped drinking alcohol. Although she occasionally indulges, she acknowledges the big effects that small changes can have not only on her skin, but her entire well-being: "I feel like since I've started Live Tinted, it's been just about the company and I've treated it as my baby. I gave everything to the company at first, so now I make myself a priority, too."
On tokenism in the beauty industry
"I was the token brown girl in every campaign," Mutyala says, speaking of her time solely as a beauty influencer. To her, it was cool that there was progress because she never saw brown girls in campaigns when growing up, but she quickly noticed that she was tokenized. "I got to a point where when they asked me to do a campaign, I would say, 'Hey, actually I'm not doing this anymore,' and I would recommend other brown girls who would be a good fit. There are so many brown girls who deserve that opportunity." That's when her business, Live Tinted, was born. "I wanted us to be a community platform where we showcased different faces every single day and told their stories."
On influencers turning into beauty founders
There's recently been a surge in influencers turned beauty founders. For Mutyala, she is okay with the trend as long as it's not a money grab. "As long as there's an intentional reason behind it, I'm all for it," she says. "I want us to all coexist and we can win together." She believes that there are a lot of founders who genuinely put their heart and soul into each product they release, like Patrick Starrr, who owns One Size and supports the LGBTQ+ community through his brand. When it comes to celebrity brands, she thinks Rihanna and Selena Gomez are doing it right. "What Rihanna did for people of color is revolutionary and iconic and I'm forever grateful for that. Selena Gomez and Rare Beauty have a focus on mental health and raised $100 million for mental-health awareness. That's what's amazing to me alongside beauty products."
On what she hopes the next generation of beauty is
Mutyala has seen a lot of shifts and innovation happen in the industry while being in it for over a decade. When she thinks of the future of beauty, she thinks of a world where the next generation doesn't even know of a time where inclusivity was only a trend — she hopes that's their norm. "Gen Z is growing up in a world where it's just a standard. That's my biggest dream."
On aging
When Mutyala thinks about aging, the first thing she thinks about isn't her skin. For her, it's about digging deep and holding a mirror up to herself and her personal life. At 30 years old, she had an existential crisis, which she's ashamed to admit. Now at 33, she's learning that her journey is her own. "I think I'm at a place where I'm really focused on being present and in the now; that's an active daily practice for me," she says. "Every day is so dope, so aging just gets that much more exciting. When I think about the fact that I haven't even experienced such major cool milestones, like finding my person, having kids, and the whole new journey that comes with that, I remember that life is just going to keep getting better. So aging is exciting."