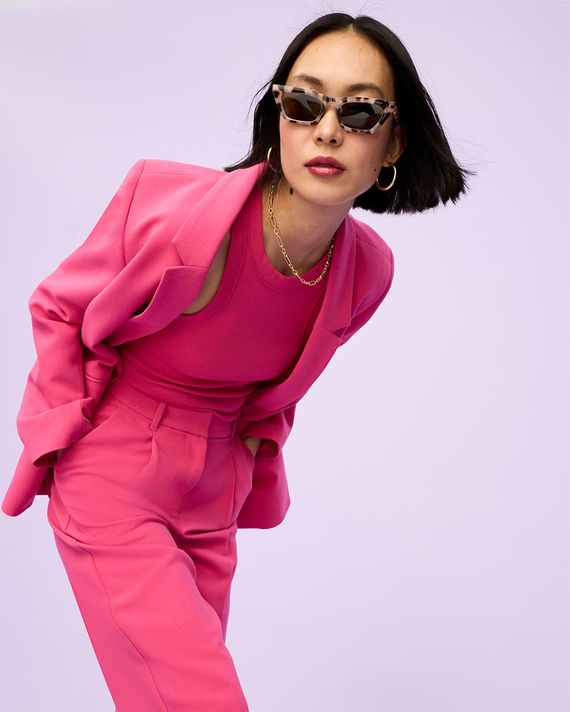 When you're craving clear skies and sunshine but the weather won't cooperate, deliver hits of happiness to your closet with bright new twists on essential styles. After all, it's hard to stay blue when adorned in vibrant bursts of color like citrine, fuchsia, mint, and lavender.
Whether you embrace color head to toe or prefer strategic pops, the right shades have the power to change your mood, setting the tone for confidence. Sometimes, the best move is faking it until springtime officially arrives, and there's no better place to start than your outfits. Your new joy-sparking wardrobe awaits.
The Trousers
A sleek pair of trousers is a closet must-have. But while you probably own some in beige, black, or navy, step away from neutrals and introduce a more lively shade into the mix, like this sweet mint color. Style them with simple tees, cropped sweaters, or a matching blazer — you'll get much more use out of them than you may think.
The Maxi Dress
Black may be timeless, but to really turn heads at your next event, you need a wow-worthy dress in an equally wow-worthy color. This satiny shade of fuchsia is electric and elegant all at the same time.
The Button-Down
A fresh-hued blouse is the answer to your spring wardrobe dilemmas. The soft color and breezy silhouette guarantee an effortless outfit that's smart and upbeat — much more inspired than your standard white.
The Sandal
Even if you're not physically on the beach, you can channel the sunshine-y energy in your outfit. Start by upgrading your favorite sandals to statement-piece status by giving them the color treatment. Choose a pair in a bright hue (or two) and let them transform every outfit into a vacation-ready look.
The Blazer
Don't shy away from suiting in a bold, bright color. A monochromatic outfit makes for a memorable and polished look that's just as fun as it is professional. When worn separately, a standout blazer like this one adds a refreshing element to even the simplest, most neutral outfits.
The Earrings
Even your jewelry can get in on the fun. If you prefer a more low-key pop of vibrancy, multicolored gemstones in these sparkly hoops will give your outfit just the type of energetic flair you're looking for.
The Jumpsuit
A one-and-done outfit, this jumpsuit is all you need for an easy and instant springtime vibe. Layer a turtleneck underneath now and a bralette later.
The Chinos
No spring wardrobe is complete without a pair of chinos. Elevate yours in a color that'll stand out. These ones are available in three shades of pastel.
The Sweater Vest
Sweater but make it spring. Bold colors and a playful design set the tone for the ultimate knitwear update you need during this transitional season.
The Bustier
Perfect under a blazer now and alone once spring hits, this cheerful bustier is a dopamine boost in the form of a top. Pair with relaxed-fitting jeans and you're done.
The Wide-Leg Pants
Instantly refresh your style with a pop of color in the form of this year's It pant. High-waisted, cropped, and featuring a flattering wide leg, these bottoms will quickly become a spring staple.
The Bag
You can never go wrong with updating the one accessory that never leaves your arm. Opt for statement prints and eye-catching colors for a standout bag that always makes a stylish impact.
The Skirt
Modern cool meets retro flair in this sunny scallop-edged skirt. The lemon-lime coloring is a perfect ode to summertime and will pair beautifully with everything from crisp whites to delicate pastels.
This advertising content was produced in collaboration between Vox Creative and our sponsor, without involvement from Vox Media editorial staff.