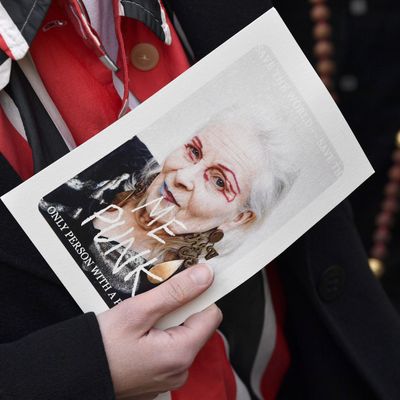 Photo: BERESFORD HODGE/EPA-EFE/Shutterstock
Dame Vivienne Westwood, an icon of punk style who exploded onto the scene in the 1970s, was remembered this week at a memorial held at the 800-year-old Southwark Cathedral in South London. She died last December at the age of 81.
Friends and family remembered Westwood, who started her career as a teacher before pivoting to design and used her anarchic spirit to define a look synonymous with the punk movement of the 20th century. In her later years, she became an activist, using her global platform to raise awareness for climate change, all the while running a fashion business that made clothes women actually wanted to wear.
At around 1:30 p.m., Westwood's friends and family began arriving at the cathedral. Marc Jacobs, who paid homage to Westwood with his latest collection, arrived in tandem with Victoria Beckham, both coordinated in top-to-toe black. Kate Moss and her daughter, Lila, were there looking nearly identical in Westwood pieces. So too was British artist Tracy Emin; actor Richard E. Grant, complete with fascinator; Bianca and Georgia May Jagger; Elle Fanning; and Christina Hendricks. Anna Wintour and Edward Enninful were also there. People filed in to the sound of a brass band playing ABBA's "Slipping Through My Fingers," "Memory" from Cats, and The Sound of Music's "Do-Re-Mi." (Westwood danced to ABBA at an anti-fracking protest in 2018.)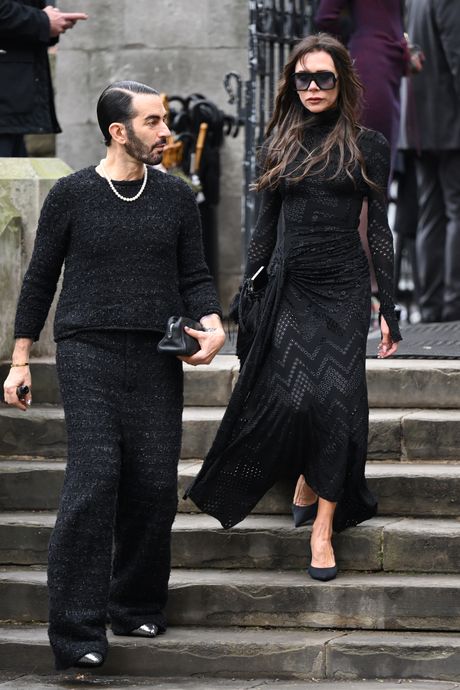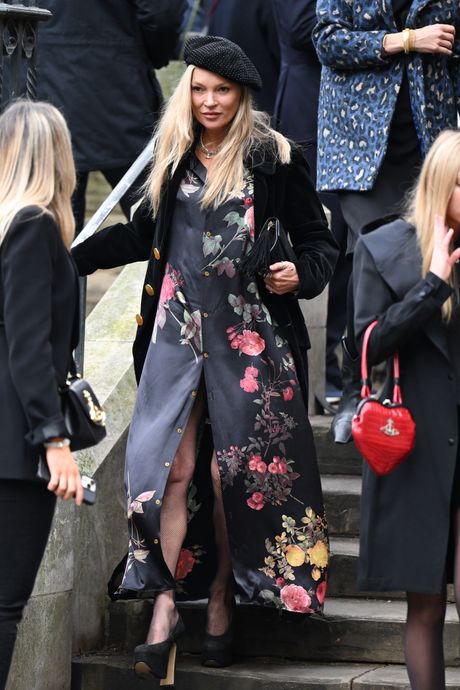 The memorial followed a small private funeral held earlier this year in Westwood's hometown of Tintwistle, a peaceful village with green pastures in the rolling hills of the Peak District, about an hour's drive east of Manchester.
Westwood's husband, colleague, and onetime pupil, Andreas Kronthaler, told stories from around the time they first met and were sneaking around Vienna while he was under her tutorship at the city's School of Applied Art. He spoke of him and "his darling" trying to repair one of Westwood's most revisited poetry books (she was a voracious reader). Kronthaler's thanks to the mourners were plentiful, with the greatest afforded to the people from "work," many of whom, in their finest Westwood ensembles, filled the cathedral.
Following Kronthaler, Westwood's son Joseph Corré spoke of his mother's love of nature and her commitment to her activism and solving the earth's injustices. Her eldest son, Ben Westwood, recited Shakespeare's poem "Winter," a favorite their mother would often read to them as children. A video compiled by the designer's brother, Gordon Swire, entitled "My Sister Vivienne," contained footage of her regaling the camera with tales of her youth, including having "200 boyfriends" and kissing in the back of the cinema.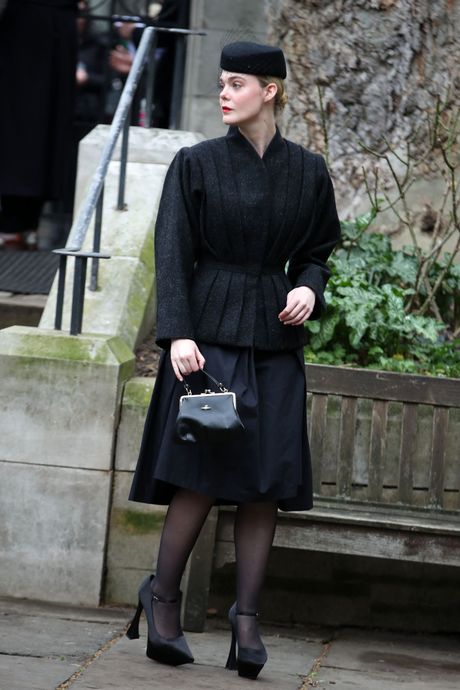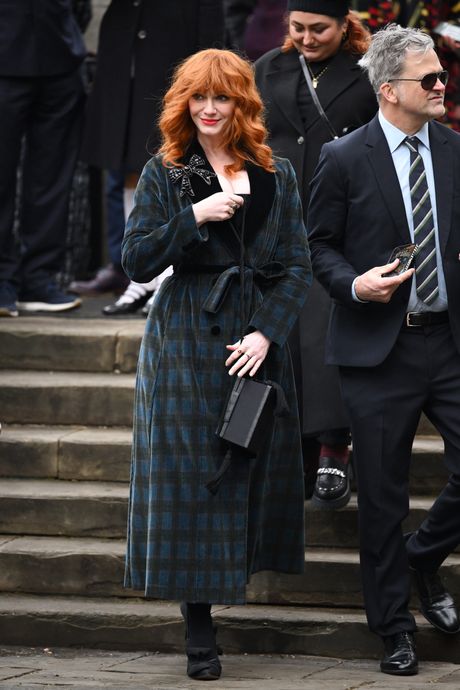 These heartfelt moments were interspersed with three musical performances. First, Austrian soprano Maria Ladurner performed Handel's "How Beautiful Are the Feet." She was dressed in a gargantuan corseted dove-gray gown one could best assume was a Westwood creation. Next, the tribute fell to Nick Cave, who gave an emotional rendition of his 1997 track "Into My Arms." The final musical interlude had perhaps the most earnest backstory: Chrissie Hynde, once a shopgirl at Westwood's boutique SEX on the King's Road who later found fame with the Pretenders, performed a sweet, albeit sad, version of Buddy Holly's "Raining in My Heart."
Helena Bonham Carter, wearing a tartan two-piece set and an oversize pearl-orb choker, confessed to having a "sinful" number of pieces by the designer (she even gave her daughter a Westwood orb necklace for her 15th birthday) and said she bought her first Westwood pirate shirt in the early '80s. Describing why she liked Westwood's work, Bonham Carter mentioned her singular approach in designing clothes for women with real curves, her intelligence, and her nuanced references. (The clothes deliver an instant waist and a big behind "in a really good way," she added.)
John Sauven, the former executive of Greenpeace, spoke of Westwood's tireless fight for the planet, asking which other fashion designer would have pulled up outside former prime minister David Cameron's home in a tank as part of an anti-fracking protest.
Lastly, Cora Corré, Westwood's granddaughter, in a sharp-shouldered Westwood blazer, explained how she worked closely with her grandmother to establish the Vivienne Foundation over the past few years, which Westwood wanted to set up to have a lasting legacy and impact. Corré recounted that when she asked her grandmother how she would describe herself, she had said, "An activist, a Taoist, a teacher," then shrugged her shoulders and added, "a designer."