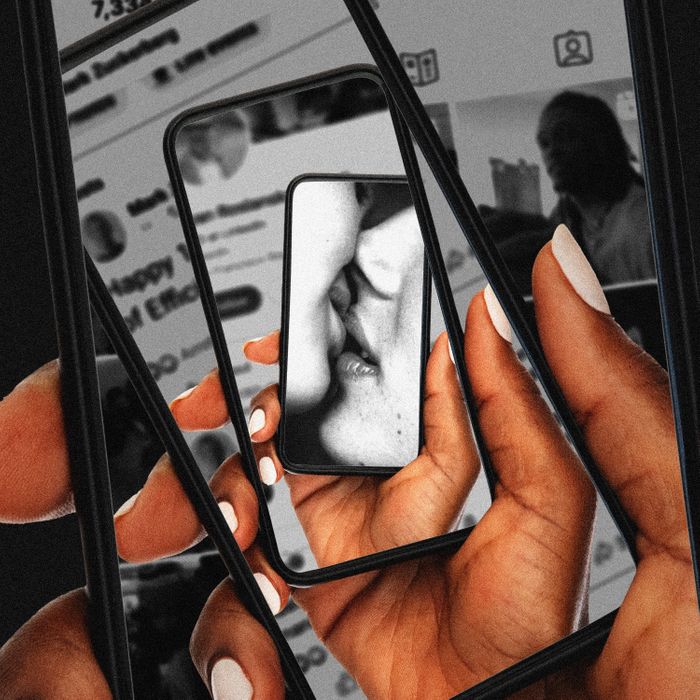 Photo-Illustration: The Cut; Photos: Getty, Instagram, Facebook, LinkedIn
It had been years since I'd last seen her.
Her honey-blonde hair, her "chic without trying too hard" style, the air of being effortlessly cool she gave off.
Online, at least. I'd never actually met her in person. I only know of her because she dated my first ex before me.
I spotted her in a Starbucks on a cold November in Manhattan — not in line or at a corner table or on my way out. Because she was in Nashville. Celebrating her bachelorette weekend.
I knew this thanks to my Explore page on Instagram. Apparently she'd just recently opened her once-private account, and because of this and the algorithm gods, I'm hunkered down in a booth, derailed by what feels like a full-on teenage rapture: sipping, scrolling, and running dangerously close to my first work meeting of the day. Sure, I might've planned to get to the office early that morning, but now — now! — it'd have to wait. I'm too busy being my own call and response. "How did she get curls like that?" I say out loud to myself, in public, again at a Starbucks, before swiping to the next photo. And my reply: "Ah. The Dyson Airwrap."
It's not that she's marrying my old flame — in fact, none of the profiles I'm in a complicated long-distance relationship with (i.e., I check routinely without actually following) are. Those big-time exes from college, the guys from my 20s who've moved on to new lives in new cities — I couldn't tell you where they are now, mostly because I don't care. But the ex-girlfriends who came before me? One just posted a gym selfie at an Equinox in Miami, and another is showing off macaroni art by her first-grade class. Allegra was at a rave last weekend. Chloe was surfing in San Diego (when is Chloe ever not surfing in San Diego?). 
I'd first found these accounts when I was dating our now-mutual exes. Sometimes I'd click out of visceral jealousy, other times out of curiosity. No matter: They were all, in their own ways, the woman I wanted to be. These women could've been anyone, but because of my exes, I had more stake in their game and more reason to compare myself to them. Gutted by my jealous, irrational early-20-something feelings, they were the center of every fiction story I'd write in my mind, where I'd grant myself the answer to questions like, Did they make my ex happier? Was the sex better? — always in their favor. It didn't matter if they were funny and bedazzling or edgy and aloof. Come to think of it, they were all so different but had something in common; something both my self-doubt and the Hollywood Industrial Complex fooled me into thinking held a great deal of weight in relationships: They were there first.
It took years of maturing and one healthy relationship to realize my exes' feelings for them had no bearing on me; I was never up against these women. But while that pinchy feeling is gone, my nosiness remains. The routine is almost instinctual now, like itching a scratch.
After years of semi-stalking, my cognitive function has rewired to click through their feed mindlessly. But instead of bitter resentment, it gives the same delight as flipping open an old high-school yearbook and playing a game of "Where Are They Now?" This pleasure is partly due to my love for a good story and also to the fact that the person in the story somehow relates to me.
But today, how I engage with their content is only undoubtable proof of how far I've come. No longer do I scroll to subconsciously reinforce insecurity, but instead because they all also went on to lead fun, fulfilling, Insta-worthy lives out of the same relationship. See?! Everything's fine.
Anyway, at least I'm not alone. Banal gossip is my group-chat fuel. The other night, my friend let out a bit of juicy news at dinner, which we guzzled down with our overpriced cocktails.
"Gabby just had a gender reveal," she said, swirling her glass.
We nodded in unison, awaiting the reveal ourselves. No need to ask who Gabby is — we already know. Gabby dated her ex from college — the good one — before her. She's never met Gabby, and neither have we.
"A girl," she triumphantly divulged.
"I wish a thread didn't incriminatingly tie us together," my friend later sighed. Only then, she says, she'd be able to "like" without overthinking — "Is that weird?" — or comment without looking malicious toward their mutual ex. Hell, Gabby could've been at this dinner with us right now if it wasn't for what's-his-name.
In an era where our social-media interactions have been so deeply dissected, now becoming a subject of chronically online circumlocutions to the point of public discourse arguably imploding on itself, I'm surprised that we don't have a word for this strange parasocial relationship yet. When I posed the question, "Do you creep on your ex's exes Instagram accounts?", Twitter responses poured in from strangers that mirrored our own happy-hour thoughts: "I want to be her friend"; "Only all the time"; "Yes, she just got her Ph.D., LOL"; "I'm happily married, and I still do a routine checkup."
For now, those checkups remain ostensibly unnamed, an unfilled gap in a label-obsessed Zeitgeist. I'm mostly glad because I'm sure someone out there will write a think piece on why I shouldn't do it. To them, I'd say, in such a hellish cyberscape that is changing our attitudes, identities, and — quite literally — our facial shapes, vigorous stalking of an ex's ex that only results in mundane gossip isn't that bad. Right?
I've found a delicious morsel from the gods above that belongs to me. Let me have it.
And while I said I wasn't going to pathologize the behavior, I will tell you this: In my lowest post-breakup moments, I remember clicking through the profile of an ex of my ex — you know, the ex, the Really Bad One — looking for clues on her page, searching to see if she had been burned the same way I had been. It felt like a warm embrace to find a post on her Story, an indirect ode to her new partner, about being treated right after years of mistreatment. It felt like closure. That was years ago, and she just celebrated five years with him, which I happened to discover by deliberately opening the app yesterday, searching her name, and swiping without double-tapping. I realized, though not side by side — and perhaps on a parallel path that will never meet — we had both moved on for the better.
As for our Nashville bachelorette, I like to imagine she feels similarly as I swipe through photos of bright-pink sashes and balloons, pinching my fingers to zoom on a photo captioned "Nash Bash" from the maid of honor. She's tagged the online store where the bride-to-be purchased her cowboy boots. Cute, I think to myself, bookmarking the page and slipping my phone into my trench pocket before finally leaving my seat.