On a chilly December afternoon, Nico Parker comes bounding into Milk Beach, an Australian eatery down an industrial alleyway in North West London. Shrugging off her coat to reveal her "Reading Is Sexy" T-shirt, she eagerly tells me about growing up here near the cozy cafés, curls bouncing as she explains that every row of houses in her close-knit neighborhood has its own group chat. "I mean, I'm not on it, which I'm deeply offended by," she jokes. "There's a very strong sense of community."
Parker is a typical Gen-Z 18-year-old: She's obsessed with Phoebe Bridgers (the singer-songwriter's sad-girl anthems were a fixture on her 2022 Spotify Wrapped), she can't wait to finally get a real ID ("Not that I've ever had a fake one"), and she looks to her astrological chart for guidance (musician Lucy Dacus once told her she has "the most interesting big three" signs). "I'm so aware of how young 18 is," Parker says. "But I'm also horrified because I feel like that means you're an adult."
Along with adulthood comes more grown-up work. While most would recognize her from her feature debut in Tim Burton's 2019 live-action remake of Dumbo, this year Parker plays an integral role in The Last of Us, HBO's adaptation of the generation-defining blockbuster video game.
Zombies have long dominated the pop-culture space, but The Last of Us — a story that examines the wounds of grief that are left unhealed thanks to a calamitous apocalypse and prioritizes narrative in equal measure to gameplay — rises above the rest. In the series, Parker plays Sarah, daughter of Pedro Pascal's Joel. Those familiar with the game's devastating cold open will know that her character casts an immense shadow over the entire story. We meet them in the Bush era, with Sarah attending school in what is recognizable as an immediately post-9/11 Texas. American flags are flown high. The concept of freedom is discussed loudly in the classroom. But a strange virus soon begins to infect the community, and chaos ensues.
The father-daughter bond between Sarah and Joel is foundational to the paternal responsibility that Joel feels for his future companion, Ellie, played by Bella Ramsay. Developing a familial relationship with Pascal came naturally for Parker. "It didn't feel like we really needed to do anything aside from talk and spend time with each other," she says, holding onto her cup of tea for warmth. "But even then, it didn't feel like work." Their friendship has continued even after filming, as Parker still has catch-up sessions with Pascal over FaceTime every few weeks. "He truly is one of my best friends."
Expectations for a live-action adaptation of a video game have never been higher. "There was a tension in knowing that this is something people will see and immediately resonate with," Parker admits. When posters for the series were released, the response from the game's impassioned fan base was generally positive. But Sarah, the character Parker plays, was originally written as white, and casting a biracial Black woman in the series role prompted some racist backlash on internet message boards. "There are people incredibly attached to the game, and with the TV show portrayal of it, they want it to be as accurate as possible," Parker says. "There's another side that just completely does not want any inclusivity at all. I don't really give it too much thought because if that's your opinion on it, I'm never gonna appeal to you. If it's not just that you really love the game and want an exact replica and it's more so that you don't want to see Black people, mixed people, Hispanic people, or anything, I don't give those opinions too much value."
Nevertheless, the audience must have been impressed — HBO reported 4.7 million viewers tuned in to the series premiere on January 15, and critics continue to praise the live-action rendering of the beloved game as it airs weekly.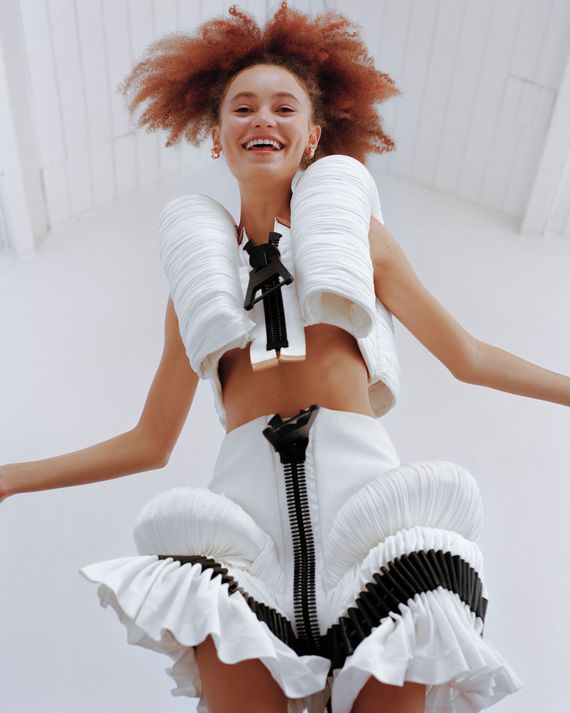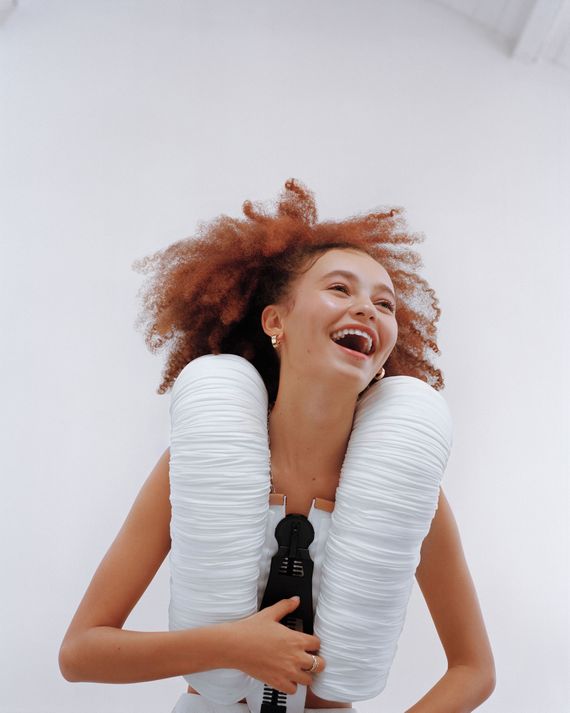 Despite her entertainment-powerhouse parents — actress Thandiwe Newton and director Ol Parker — acting wasn't always top of mind for Parker. Growing up, she'd occasionally visit her family on the job, but she was more likely to cause trouble than study her mother's technique. She distinctly remembers being escorted, along with her sister, off the set of Retreat, a British horror film starring Newton, Cillian Murphy, and Jamie Bell, for distracting their mother during a particularly harrowing death scene. "We thought her pretending to die was the funniest thing," she laughs. "The wound was already painted on her head, but we were so little that neither of us understood why. When she was pretending to fall down, we just thought she looked stupid."
As for finding inspiration from her director father, she remembers hanging around the set of Mamma Mia! Here We Go Again in Croatia, where she learned how to rig lights atop cranes and closely studied the call sheet to time her visits for when Meryl Streep and Colin Firth were needed. Her father is famous for directing beloved romantic comedies, but would she ever star in one herself? "I think I'd like to," she says, citing a favorite she recently rewatched, How to Lose a Guy in 10 Days. "Rom-coms are just joy in a movie."
Nepotism is an unavoidable topic of discussion when speaking with the child of two Hollywood parents. In recent months, it's been fiercely debated online as the offspring of famous families from Lily Rose-Depp to Zoë Kravitz have denied and defended, respectively, the benefits of their privilege. But throughout our conversation, Parker openly talks about being the daughter of Newton and Parker — and the shortcuts such a position has provided her. The night before she was cast in The Last of Us, for example, creator Craig Mazin DM'd her father asking for her height.
Parker is well aware of the "nepo baby" debate, noting that she sympathizes with celebrity children who feel the term might be "minimizing" how hard they work to stay inside the industry once they've stuck a foot in the door. "But I think it's incredibly important to recognize that with your parents being prevalent in the industry, it's way easier to get in the room," she says. "It's so important to know how many people would dream of being in that room, and how lucky you are to be there … Especially when you start, your parents know people, and you've known people since you were small, and they want to give you a chance because they like you. That is a reflection of your parents."
Parker's next project is a family drama called Suncoast, starring Woody Harrelson and Laura Linney. Marking her first leading role, she says it was a "dream part" to film Laura Chinn's coming-of-age drama last fall in South Carolina. "I lived on my own like a full-blown adult," she remembers. "The screams of my brother playing Fortnite downstairs were more missed than I realized."
By the end of our time together, our pots of tea are empty and the sky has gone dark before 4 p.m., like a classic British winter. Parker is heading out to a fitting with Rebecca Corbin-Murray, who, to her fangirlish delight, is also Florence Pugh's stylist. Among Parker's other style icons are Zendaya ("She just gets it; she's unexpected but consistent"), Jane Birkin ("So simple but effortless") and Camille Rowe. "She knows how to dress herself — which I'm slowly but surely trying to figure out," Parker adds.
Right now, fame is a paradoxically familiar yet distant concept for the young performer. She has witnessed how it plays into her parents' lives, of course, but it's still "alien" to her. She knew The Last of Us was going to be huge, but it hadn't really hit her until filming wrapped. While out shopping for groceries, she was approached by a stranger who recognized the hoodie she was wearing: a wrap present from production emblazoned with The Last of Us logo. "Are you involved?" he asked apprehensively. Parker panicked and denied it. "I was too stressed to even admit it!" she says. Whether awkward run-ins with video-game fanatics will become a more frequent occurrence is yet to be seen, but she's okay with what the future holds either way. "Potentially a lot of that, or life will continue exactly as normal and I can coast around Sainsbury's by myself," she says. "That's all you really want."
More From The Spring Fashion Issue
See All