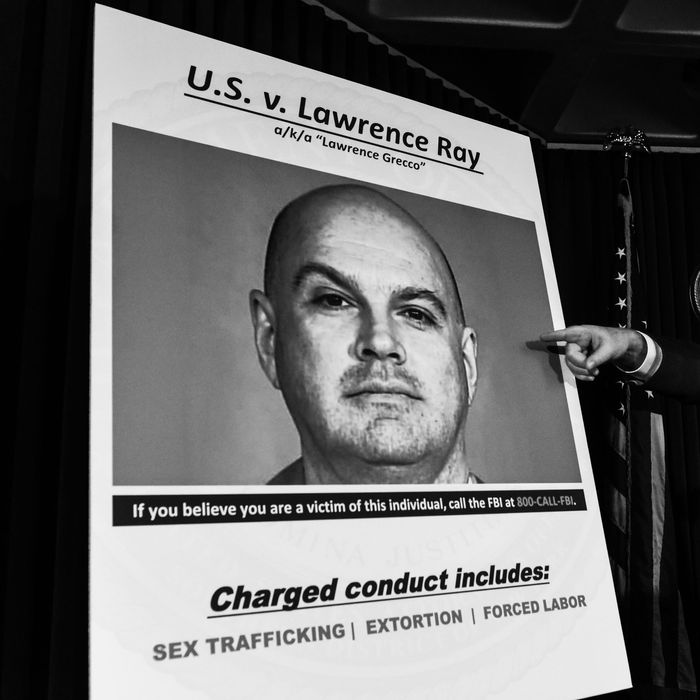 Lawrence Ray is accused of "psychologically manipulating and controlling" his daughter's roommates at Sarah Lawrence.
Photo: Stephanie Keith/Getty Images
Three years after Lawrence Ray, the man at the center of New York Magazine's story "The Stolen Kids of Sarah Lawrence," was arrested and indicted on charges including sex trafficking, extortion, and forced labor, he was sentenced to 60 years in prison. Soon after, another person connected to the case, Isabella Pollok, was sentenced to four and a half years in prison as a co-conspirator.
As New York's story outlined, Ray, after moving into his daughter's college dormitory in 2010, allegedly manipulated and exploited her roommates, operating what was essentially a sex cult. As Geoffrey S. Berman, the U.S. Attorney for the Southern District of New York, charged that at the time of Ray's arrest, he subjected his victims to "grueling psychologically and physically abusive interrogations," which included tactics like sleep deprivation and threats of violence. The abuse they suffered, Berman said, was "almost unspeakable."
Initially, prosecutors considered Pollok, a former student who is now 31, a victim in the case. However, she was later charged as a co-conspirator. An indictment unsealed in January of 2021 named Pollok as a co-defendant who willingly joined Ray's "criminal scheme," according to the New York Times. The accusations include "helping [Ray] collect millions of dollars in profits from one of her former classmates whom prosecutors said he had forced to become a prostitute." Though she initially faced various conspiracy charges, including racketeering, extortion, and sex trafficking — charges to which she pleaded not guilty — she eventually pleaded guilty to one count of conspiracy to commit money laundering in September of 2022.
As New York reported, Pollok fell under Ray's sway in late 2010, following a bad breakup. "I'm 19, I was having a lot of difficulty making sense of things, I wasn't in a good place," Pollok told New York. "He started to help me kind of process and make sense of a lot of things I just couldn't make sense of." Per the report, Larry went on to spend many nights in Pollok's bedroom; in one particularly disturbing instance, Ray allegedly ordered Pollok and another one of his victims, a student named Daniel, to have sex in front of him. While Daniel eventually managed to escape Ray's influence, when Ray was eventually arrested in New Jersey, Pollok — as well as another unidentified woman — was still living with him.
"Both are women he exploited and abused for years, including physical abuse and sexual exploitation," one of the prosecutors said at the time. Months later, prosecutors claimed that Ray was still communicating with the women while he was in jail and had "amassed videos that contain graphic sexual content of these two women, including sexual acts performed at Ray's direction that appear designed to debase and control them." At the time of her indictment, her family said they saw her as a victim of Ray's manipulation and abuse. "It is all under duress," her aunt, Liz Jeffrey, told the Times. "She has been under his spell for ten years."
Pollok's attorneys still maintain that she was a victim who was "brainwashed," according to a letter submitted to the judge as reported by People. However, prosecutors accused her of holding a "privileged position within the Ray family." Calling her "Ray's lieutenant," they said that she had a hand in "laundering the criminal proceeds of extortion and sex trafficking through bank accounts and GoDaddy." They added that, as her peers were being "abused and trafficked," she was "spending luxurious nights at the Pierre Hotel on the Upper East Side and buying expensive clothing, beauty products, and high-end lingerie."
In cult cases in particular, the line between victim and accomplice is often a blurry one. As Taryn Merkl, a former federal prosecutor, told the Times in 2021, the prosecutors had to decide "where duress ends, and victimization can no longer be the understood reason for behavior that crosses the line over to more deliberate criminality." This was a main point in Pollok's sentencing, as her attorneys argued that she should receive a "non-jail sentence," emphasizing, per People, "If it were not for Lawrence Ray's presence at Sarah Lawrence, Isabella would not be here."
The New York Times reported that, in her own letter to the court, Claudia Drury, one of Ray's victims, wrote that she didn't think Pollok had "any true capacity" to affect Ray's behavior, adding that Pollok spent a majority of her time with him. "His presence is deeply corrosive to morality, empathy, decency, and humanity," she wrote. "I shudder to think what I would have done or been like were I in her position." But, during sentencing Judge Lewis J. Liman said that while he believed Pollok was manipulated by Ray, he also felt there were "moments over the years when [Pollok] could have walked away or at least shown some mercy."
This post has been updated.