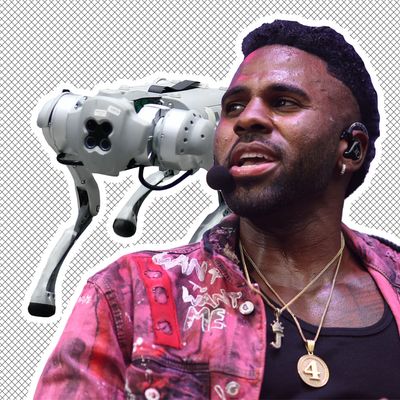 Photo-Illustration: The Cut; Photos: Vachira Vachira/NurPhoto via Getty Images, Photo by Joe Scarnici/LIV Golf via Getty Images
I hate to bring up a Super Bowl performance that didn't involve Fenty blotting powder, but one distinctly unsettling pregame event has become impossible to avoid. At the NFL's TikTok Tailgate show, Jason Derulo danced with robot dogs.
After a rendition of "Talk Dirty," a teal-headed Derulo moved to the front of the stage to sing his David Guetta collaboration "Saturday/Sunday," joined not by Guetta but by six silver four-legged robots, whose spindly little limbs bobbed up and down to the beat. (Well, kind of — their understanding of rhythm appears to still be pretty glitchy.) While Derulo gyrated with his usual bevy of backup dancers, the "dogs" swayed back and forth in front of them, then started doing a series of coordinated push-ups.
Where have I seen these metal atrocities before? In a Black Mirror episode, perhaps? Or chasing down parkgoers who weren't social-distancing in Singapore? Or maybe here in New York sniffing around a crime scene with the NYPD?
It's not clear if these are the same Boston Dynamics–designed creatures deployed by Singapore's government and the NYPD, but they sure bear a striking resemblance. Somebody, somewhere, really loves making these things dance (they also showed up in a 2021 Hyundai-sponsored video with BTS), which does nothing to quell my suspicion they are secretly being used for something deeply sinister.
I know Derulo is an animal lover, but AI canines are where I draw the line. If he wants to incorporate tech into his body of work, may I suggest an animatronic anaconda instead?