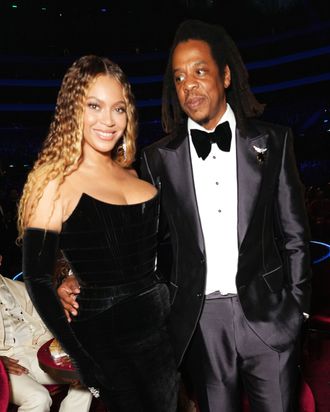 Photo: Kevin Mazur/Getty Images for The Recording Academy
After the Grammys snubbed Beyoncé for Album of the Year for the fourth time on Sunday, the Academy's failure to give due credit to Black artists has never been clearer. This isn't news to anyone, least of all Bey herself — nor her husband, Jay-Z, who boycotted the event for five years after the Academy failed to nominate DMX for Best Rap Album in 1999.
Still, it sounds like Jay is just as outraged as we are about Sunday's events. In a Tidal Q&A conducted ahead of the Grammys, he told Elliott Wilson exactly why Renaissance should have won Album of the Year — as if anyone aside from the Grammys voters needed an explanation.
"We just want them to get it right," Jay-Z said when Wilson asked about his own Grammy losses. "Even with Bey, I felt like they missed the moment." He referenced her last two AOTY snubs, adding, "Not just Lemonade; when Beck won over her. I was like, Oh, y'all missed it."
When Wilson asked Jay-Z about why he thought Renaissance deserved to finally win Album of the Year, he gushed:
Look what it's done to the culture. Look how the energy of the world moved. They play her whole album in the club. I don't know if I've ever seen that. The whole entire joint - like, everything?!
He added that the album has birthed dozens of remixes and mashups. "It has inspired the world," he said. "When it just inspires creativity, that's an album. That has to be Album of the Year." If only a few more voters agreed.