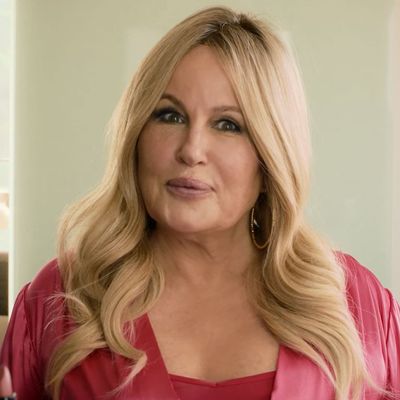 Photo: e.l.f. Cosmetics/Youtube
While I am generally inclined to see football as a violent national pastime that trapped Gisele Bündchen in Boston, I'm starting to see its biggest event, the Super Bowl, as a necessary evil. In addition to giving us seven-layer dip and Rihanna's return to music, we now have the Super Bowl to thank for fulfilling Jennifer Coolidge's lifelong dream of playing a dolphin.
Backstage at last month's Golden Globes, two Access Hollywood reporters asked Coolidge what her dream role would be. Her immediate response: "I've always wanted to play a dolphin." Access Hollywood's many follow-up questions were unfortunately interrupted by White Lotus winning yet another award, but thankfully someone had the ingenuity and perseverance to make Coolidge's dream a reality.
In a new Super Bowl commercial for e.l.f. Cosmetics written by White Lotus creator and Coolidge's good friend Mike White, Coolidge "applies" (read: moves her visibly dry hands indiscriminately around her fully made-up face) the company's Power Grip primer. She then peers into the camera and exclaims, "Looks like I came from the sea! Like a dolphin! Like a baby dolphin!" before spending several seconds doing an astounding dolphin impression.
I guess dreams really can come true.