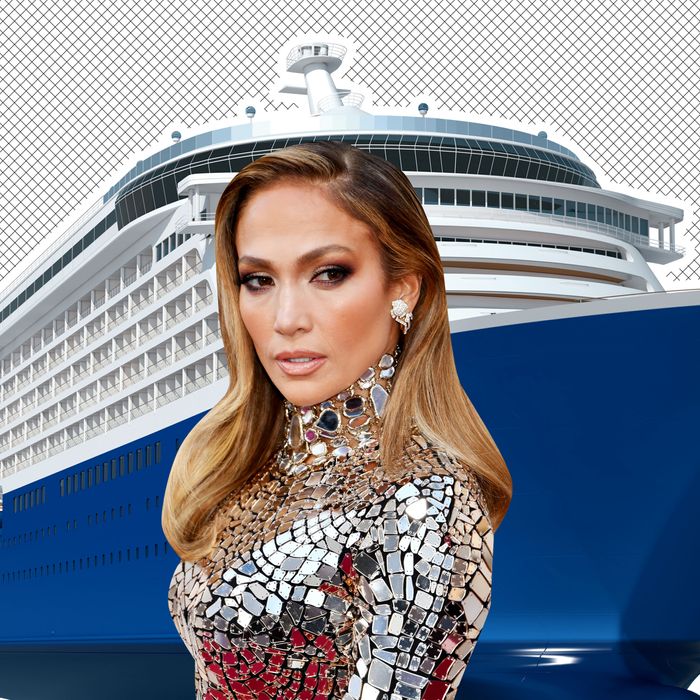 Photo-Illustration: by The Cut; Photos: Getty Images
Ahoy! Despite the many living nightmares that have happened on big ships in recent years, JLo is launching a cruise. A press release from Virgin Voyages, which dubbed JLo their Chief Entertainment & Lifestyle Officer last year in honor of Women's History Month (?), informs me it kicks off in Miami on April 14 and will celebrate "women who are making ship happen." Finally, a floating petri dish for the She-E-Os!
Will JLo be joining her honored guests on this voyage into the dark underbelly of female empowerment? Absolutely not. (She only does yachts, remember?) She will, however, make a pit stop at the "epic sail away party" to say "bon voyage" to whoever decided to step foot on this gargantuan vessel of doom. In all likelihood, she will pack up Ben Affleck with a little duffel and send him to grimace his way through sea-induced nausea and hand out iced coffees halfway through the trip. Frankly, I would risk severe seasickness to witness this.
Over the course of five nights, the cruise will follow Virgin's "Dominican Daze itinerary," sailing from Miami to Puerto Plata and Bimini. What else will happen over the course of this nautical adventure? Apparently, "Ted-talk-inspired seminars" (maybe one on e-mailing?) and "wellness programming." There will be some unspecified "JLo-inspired entertainment," which, as far as we know, will not involve JLo's physical presence whatsoever.
JLo is not alone in venturing into the celebrity-cruise sector — Gwyneth Paltrow has been championing a "Goop at Sea" experience for several years now. I'm not sure the attachment of a celebrity's name can persuade people to trap themselves on a gently rocking luxury hotel for days on end, but if so, I wish them luck.