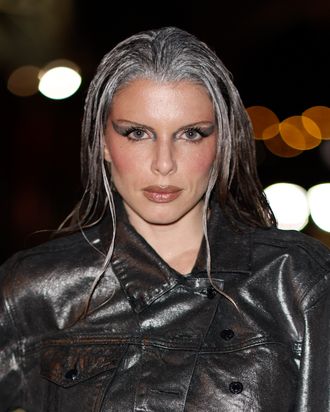 Photo: Rachpoot/Bauer-Griffin/GC Images
If Julia Fox is sending a message to the world right now, it's simple: Don't mess with her. She may not physically end you, but she might consider it. At least that's the takeaway from her new interview with Elle, in which she casually admits to stalking a drug dealer she thought gave her friend drugs that caused their overdose.
According to Fox, following the overdose of one of her close friends, she found out where the drug dealer lived, trolled his neighborhood, and would park outside his home with her dead friend's gun. "I would literally, like, sit across the street in my car, put the seat all the way down, and watch him through the little side mirror for ours, like coming and going," she said. In the end, Fox didn't pull the trigger. "I'm glad I didn't kill him," she told Elle, adding that her friend likely died from a mixture of factors, not just the drugs.
This is not the first time Fox has alluded to being pro-murder (or pro-murder adjacent). As the Elle profile pointed out, last year she answered in the affirmative when asked by Ziwe if she was "pro women killing men." Her exact words were: "I think that if the man deserves it, yeah, why not? Men kill women all the time — for no reason!" She then definitively stated that men shouldn't be allowed to have opinions.
As noted by Elle, Fox's stories are to be taken with a grain of salt. She is a performer, after all, and has been known to say some pretty outlandish things sometimes. It's part of her charm.
Elsewhere in the interview, Fox spoke about her exasperation with dating, saying, "I feel like knowingly engaging in a heterosexual relationship, you are signing yourself up for an unhealthy dynamic." (Some context: Her last public relationship was with a pre-antisemitic-social-media-posting-spree Kanye West.) She also said that she was "terrified" of the possibility that her son could grow up to uphold the patriarchy. "I'm like, 'Oh my God.' I cannot create, I cannot produce another one of these horrible men."