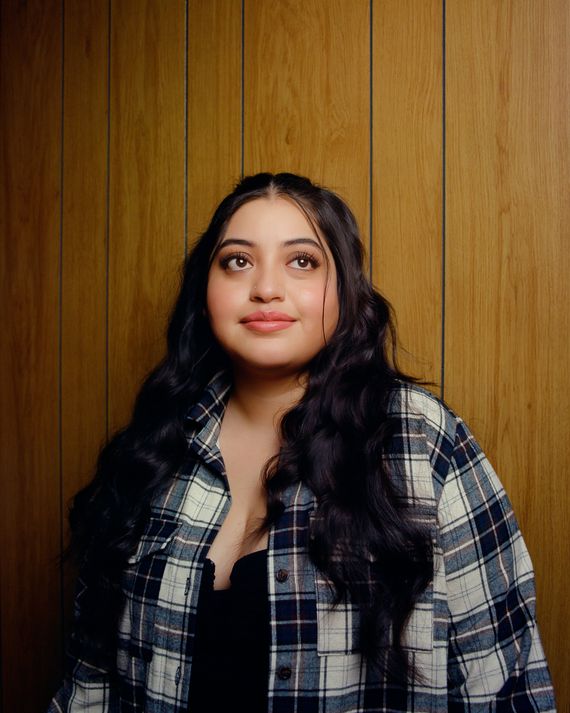 Photo: Steven Molina Contreras
Keyla Monterroso Mejia has a dark, shameful secret. She loves — no, she's obsessed with — videos of kids getting hurt. "I'm really sorry. I know this is so bad," she says. "I'm trying to correct my ways." Without skipping a beat, she asks, "Can I show you one of my favorites?" One turns into several, and over Shirley Temples and pizza at Jane Q in Hollywood, Mejia takes me on a tour of her guilty-pleasure videos, which include a baby body-slamming her dad with the technique of a professional wrestler, a brutal two-kid collision on a trampoline, and a blindfolded woman whacking a friend's head after mistaking it for a piñata.
This interest in physical comedy makes sense, as the 24-year-old actor is becoming quite the slapstick expert herself. Last year, Mejia captivated audiences with her performance in Curb Your Enthusiasm, which placed her tête-à-tête with Larry David. As Maria Sofia Estrada, an impossibly untalented wannabe actress whose father blackmails Larry into giving her a starring role in his autobiographical television show, she sparred with Cheryl Hines and Ted Danson, gyrating and body rolling her way into stardom.
Outshining titans of comedy is no small feat, and Mejia quickly caught the attention of none other than Abbott Elementary creator and star Quinta Brunson, who left a gushing comment on Mejia's Instagram. "I thought that was so cool, but I didn't think anything of it," Mejia says between bites of margherita pizza (with a bowl of marinara sauce on the side). "Then sure enough, a few months later, she told me, 'We think you'd be a great fit.'" Mejia told her team that she was interested in auditioning, at which point they made it clear that the part was hers for the taking — a career first for Mejia, who is no stranger to self-tapes and casting offices. "She's well within her right to ask for a tape, but the fact that she was so trusting made me just feel really good about myself," Mejia says of Brunson. "She did a lot for my confidence." It was only a matter of time before Mejia made a memorable appearance as Ashley Garcia, an incompetent aide in Melissa Schemmenti's (Lisa Ann Walter) class who is, at heart, closer to the second-graders she monitors than a teacher herself.
Now, with Freeridge, a coming-of-age dramedy and spinoff of Netflix's hit show On My Block, Mejia graduates from comic relief to leading role. She plays type-A teenager Gloria Salazar, who bears the burden of keeping her family functioning after the death of her mother. Between feuding with her feisty younger sister Ines (Bryana Salaz), the will-they-or-won't-they dynamic between her best friends Demi (Ciara Riley Wilson) and Cameron (Tenzing Norgay Trainor), and her blooming crush on her tío's new assistant Rusty (Michael Solomon), Gloria already has a lot on her plate. So when a hex brought on by a secondhand box threatens to upend life as she knows it, she springs into action to reverse the curse. "Gloria is the mom of the group. She's badass, super-independent, very smart," Mejia says. "It's her way or no way." Although being an eldest daughter is often joked about, Mejia admits that she shares this personality-defining birth order with Gloria. "She was just very easy to tap into, I think, because she was an extension of me," she says.
Mejia works overtime to animate all of her characters — even more one-note roles like Maria Sofia on Curb, who she decided was "experimenting with seltzers," had an obsession with G-Wagons (because the Kardashians drove them), and passed time by dancing to Doja Cat on TikTok. With Ashley on Abbott, Mejia took a magnifying glass to her psyche. "She's so unhelpful, and I had to find a way to justify why she was so bad at her job. It doesn't come from a place of being a bad teacher because she's lazy or she doesn't want to work. I think she's just so excited to hang around the kids and have fun that she forgets her responsibilities," Mejia says. She credits Walter with helping her locate empathy for the character. "She was such a big part of helping me find her and why she was the way she was. I'm not gonna lie — they tell you not to judge your characters, but I'm like, God, why is she so incompetent?" When it comes to a role as multifaceted as Gloria, the character-building took place on a much deeper level. "She can't do anything unless the house is clean or homework is done, she's made dinner, and she takes care of the bill," she says. "I felt more at ease with her for some reason. I just knew her."
Set in Los Angeles, Freeridge celebrates the Latinx history of the city and many of its inhabitants. In one of the show's most moving moments, Gloria, Ines, and their friends painstakingly prepare the ofrenda for their late mother's Día de los Muertos altar. (One establishing shot lingers on a bottle of Squirt, which struck Mejia as particularly affecting: "My mom's favorite soda is Squirt," she says.) Mejia, who is Mexican and Guatemalan, was thrilled to see accurate and well-intentioned cultural representation on Freeridge. "The way that it was done makes me feel really proud. I don't feel like a prop," she says. "I don't feel like my culture is just an afterthought. It's done in a beautiful way, and that was really rewarding, because sometimes it does feel like people want to check the box." While she maintains that she has never worked on a production where she has felt tokenized, Mejia is all too aware that media has long flattened, or downright ignored, cultures that aren't white. Sometimes, in an effort to overcorrect, attempts to champion diversity end up just as reductive. "The viewers are really intelligent, and they can spot when someone is trying to throw something in your face," she says.
Freeridge is enriched by the occult, dealing with everything from TikTok witchcraft to psychics and curses. Mejia says she inherited her superstition from her mother. She recalls a recent drive with her mom when she gleefully pointed out a dark owl with a white face. In Mexican tradition dating back to the Aztecs, owls are a bad omen, from the Nahua tecolotl (harbinger of death and illness) to the myth of La Lechuza (a spiteful witch who takes the form of the bird). This was news to Mejia, whose innocent admiration caused her mother to turn the car around. "My mom freaked out and was like, 'We have to go back and find this owl. We have to undo this hex that someone put on you,'" she recalls. "I was like, 'Mom, it's not that serious.'" But a few days later, when she arrived for the first time on the set of Freeridge, Mejia was disturbed to see a painting with three white owls hanging in Gloria's bedroom. "I remember asking the director, 'Hey, girl, can we remove them?'" The owl painting, however, had already been filmed in establishing shots and had to remain for continuity's sake, so now Mejia prefers to think of them as a good omen.
Perhaps Mejia was right to interpret a more positive meaning from her feathered friends. While owls may not have the best reputation in Mexico, in Guatemala they represent luck and abundance — something that has resonated with Mejia lately. Earlier this month, she celebrated the Freeridge premiere alongside her castmates, friends, and family. "It was crazy — they picked me up in the Escalade!" she exclaims, still in awe of her nascent fame. "My mom was an iPad mom taking pictures of everything." More gratifying than pulling up in the Netflix-sponsored ride, though, was sharing the accomplishment with her family — particularly her father, who hasn't seen her on the big screen since a student film she acted in years ago. "My dad doesn't say very much. He was crying," she says. "It was so nice to have them be proud of me."