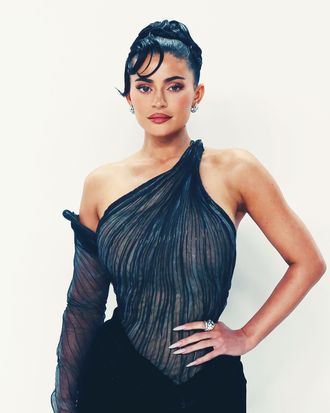 Photo: Taylor Hill/FilmMagic
Kylie Jenner revealed in an interview with Vanity Fair Italy that she's struggled with postpartum depression. When asked what advice she would give to women struggling with their mental health after giving birth, she said, "I have experienced it. Twice," adding, "I would tell those women not to overthink things and to live all the emotions of that moment to the fullest. Stay inside that moment, even if it is painful." She went on:
I know, in those moments you think that it will never pass, that your body will never be the same as before, that you will never be the same. That's not true. The hormones, the emotions at that stage are much, much more powerful and bigger than you. My advice is to live through that transition, without fear of the aftermath. The risk is to miss all the most beautiful things of motherhood as well.
Jenner welcomed her first child with Travis Scott, Stormi, in 2018, followed by Aire in 2022. In March of last year, six weeks after giving birth to Aire, she shared in an Instagram Story that she was having a difficult time with postpartum recovery. "This experience for me personally has been a little harder than with my daughter," she said. "It's not easy mentally, physically, spiritually."