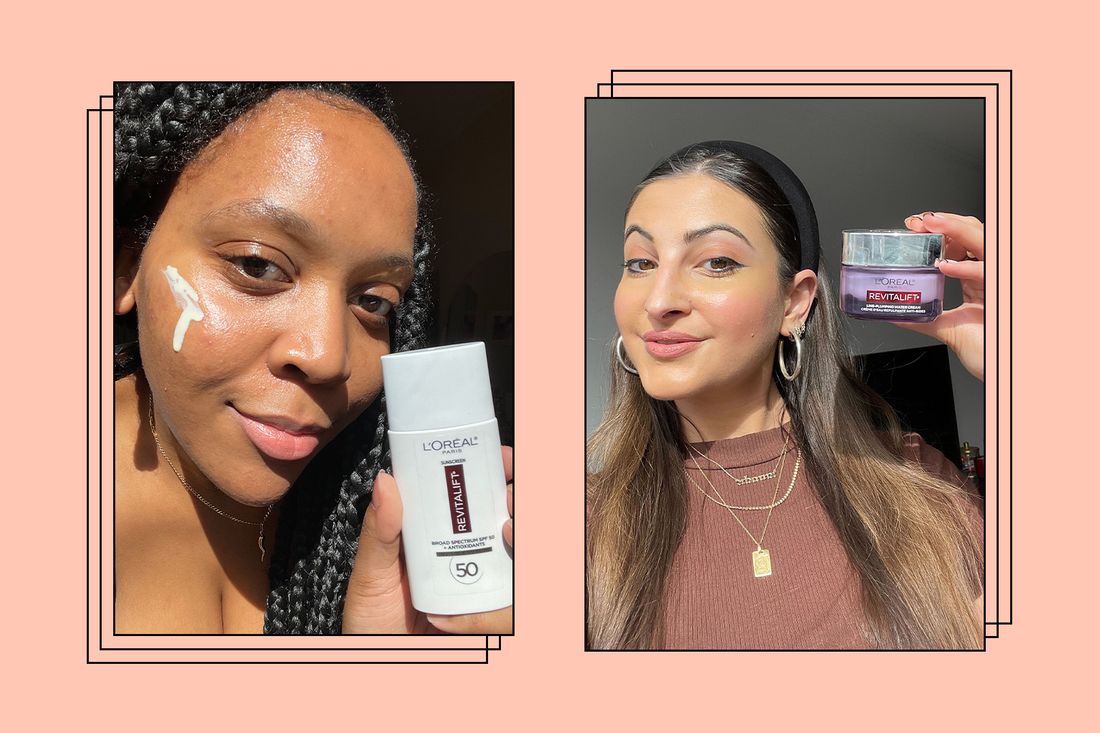 Photo: Kat Pierre and Alanna Martine Kilkeary; Photo Illustration: Juliana Campisi
Springtime means new makeup, new hair-care, and of course, new skin-care products. Whether you're trying out a product for the very first time or cycling back to a certain product now that the weather is getting warmer, spring skin-care is all about lightweight but effective moisturizers, non-greasy sunscreens, and powerful spot treatments.
To find out more about which products you should add to your spring beauty bag, five editors share their go-to picks from L'Oréal Paris.
L'Oréal Paris Micro Hyaluronic Acid + Ceramides Line Plumping Water Cream
Why Alanna Martine Kilkeary, managing editor, likes it: Switching up my daily moisturizer is key for me when approaching the ides of March, not because of any lunar change, but because past this point, warm spring days are on the horizon. I like to swap out my rich, thick winter moisturizer for something a lot more lightweight and airy to match my minimal spring and summer makeup routine. After all, blending a tinted moisturizer on top of a thick emollient is often a recipe for makeup pilling — not a look I want to sport on any warm, spring days, or ever. That's exactly what makes this water cream so appealing: It's feels luxurious and absorbs almost instantly making it a perfect product to moisturize the complexion when you want something with a lighter feel. I like to use this every morning after I cleanse and tone my face, and it leaves my skin feeling bouncy, soft, and refreshed.
The combination of hyaluronic acid and ceramides infused into this water-based moisturizer is what makes it unique. The hyaluronic acid works to powerfully help the skin retain moisture from the inside, while ceramides ensure that your skin won't feel dry and tight on the outside. The fact that it's not heavy or greasy also makes it ideal for all skin types, including combination and acne-prone skin. I've definitely seen a change in my complexion after using this product over time — it's helped improve the appearance of uneven skin texture from post-acne marks, and makes my skin feel as smooth as a marble statue in a museum — and who wouldn't want that?
L'Oréal Paris Revitalift Derm Intensives 12% [Niacinamide + Amino Sulfonic + Ferulic Acid] Dark Spot Serum
Why Reece Andavolgyi, associate editor, likes it: In the spring, my skin-care routine has two main focuses: Keeping my dry skin hydrated and fading hyperpigmentation so I can wear as little makeup as possible when summer rolls around. Along with my everyday staples — vitamin C serum and SPF — this dark spot serum is perfect for my routine because it's another way to fight dark spots. It has a creamy, hydrating texture which separates it from most serums that tend to have a lightweight, watery finish. This one melts into my skin without making it feel greasy, itchy, or irritated, which I sometimes experience with serums that contain active ingredients.
I use this serum in the evening, after cleansing and before moisturizing. I've used it for about eight weeks now and I see a noticeable improvement in the lingering post-acne scars on my cheeks, and my skin also looks more radiant. Niacinamide has brightening properties that all skin types can benefit from, and my dry, sensitive skin loves it. If you're looking to brighten your complexion for summer, add this to your routine and thank me later.
L'Oréal Paris Revitalift Triple Power Eye Treatment
Why Témi Adebowale, associate editor, likes it: As the weather gets warmer, I don't use as much foundation and concealer on my skin. But while I'm usually able to get away with a lighter foundation application in the springtime, I still find myself applying a lot of concealer to try and hide the combo of dark circles and puffiness I have hanging out under my eyes. This eye treatment has made that a thing of the past — the combination of retinol, vitamin C, and hyaluronic acid means my under eyes are now hydrated, smooth, and bright. Vitamin C helps with dark spots, hyaluronic acid helps with dry skin, and the retinol reduces the appearance of surface wrinkles and dark spots, which are all skin-care concerns that I have.
I typically wouldn't  think of applying those three skin-care ingredients under my eyes for fear of using the wrong amount or applying my products in the wrong order, but this cream expertly combines the powerful trio into a formula that is so lightweight and quick absorbing that you'll want to double check to make sure that you've applied enough.
I use it in the morning and evening after cleansing and before moisturizing. I squeeze a pea-sized amount of the cream under my eyes and massage it in with the metal tip as it absorbs into my skin. It works extremely well under makeup, and I've never had to worry about any creasing under the eye. I started using the eye cream in the wintertime and I noticed a visible difference in the puffiness of my under eyes after about a week, and after about a month of consistent use, I noticed a total change in the formerly dark and overly pigmented tone of my under eye area.
This eye cream is unmatched for me, and I would recommend it to both eye cream newbies that are looking to venture into their first eye treatment, or those who have gone up and down the beauty aisle trying to find a product that will work for them but haven't found it yet.
L'Oréal Paris Revitalift Derm Intensives Broad Spectrum SPF 50 Invisible UV Fluid
Why Kat Pierre, social media editor, likes it: As we move closer to spring, I'm getting ready to spend more time outdoors, which means I'm stocking up on the SPF. I recently got my hands on this sunscreen, and it's become a staple in my skin-care routine.
I'm impressed with how lightweight it is and the fact that it doesn't leave a white cast on my skin. I tend to get worried about trying new sunscreens because many tend to leave a white cast, but after a couple of minutes there's no visible trace of the product. I also love the ingredients. Formulated with vitamins C and E, it helps protect dark spots and hyperpigmentation while giving me a boost of hydration.
After moisturizing my skin, I wait a couple of minutes before applying the sunscreen. I put a line of sunscreen on two fingers to ensure I have enough coverage, then I apply it to my skin. I'm left with super glow-y skin that I love. While I think the SPF can work for all skin types, if you have oily skin, you might want to add a light dusting of powder to combat any possible shine.
L'Oréal Paris Revitalift 1.5% Pure Hyaluronic Acid Serum
Why Shalwah Evans, content director, likes it: Full disclosure: I use this product pretty much every day — year round. In spring, I tend to use more of it because I switch to a lighter moisturizer and my thirsty, acne-prone skin will become reactive if it gets drier than usual. This serum allows me to keep my face hydrated and fully moisturized without me feeling like I'm wearing an occlusive cosmetic veil. It's light but not runny, and it performs just as well as (and in some cases better than) luxury serums that I've used in the past.
One of the biggest benefits of this hyaluronic acid (HA) serum is how soft my skin feels and how dewy my skin looks after I use it. When you already have dry skin you're dreading what aging may bring —  more dryness, crepey texture and wrinkling — so I love that when I poke my cheeks I feel that immediate bounce back of the skin. It's this daily dose of topical hyaluronic acid that's giving me those results. Every morning and evening after cleansing my face (no skipsies — like, ever) I apply four to five drops of the serum to my palm, warm up the product with my hands, then rub and pat it into my skin. I even use it after I get chemical peels and I never have any irritation.
Since hyaluronic acid plays so well with actives and other skin-care ingredients, it's something that I can always turn to when I need a moisture boost. In the warm weather months it hydrates without adding shine, oil, and all the stuff you try to avoid as you sweat. I recommend that everyone use an HA serum in their skin-care routine if they're not already, and this drugstore pick will get you results without crippling your summer fun day funds.
This advertising content was produced in collaboration between Vox Creative and our sponsor, without involvement from Vox Media editorial staff.