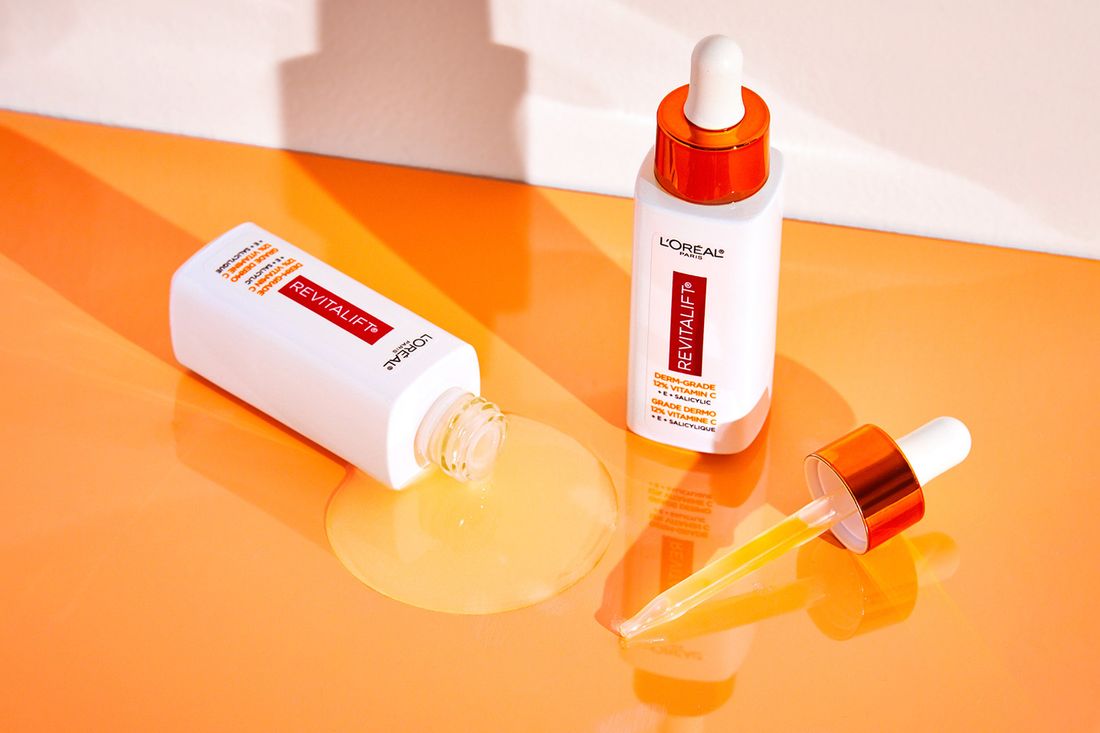 There are some skin-care ingredients that are just known for being powerhouses (meaning they help with multiple skin issues and work for a variety of skin types), and vitamin C is one of them. If you didn't know, vitamin C can increase the skin's brightness and radiance while also correcting the three signs of early aging — uneven skin tone, enlarged pores, and fine lines. So you can see why it's pretty popular.
I added vitamin C to my skin-care routine a few years ago, and while I loved how it helped fade my dark spots, I still battled dry and sometimes dull skin. I kept using face oils and hydrating serums to try to get the glass skin effect that I craved, and even started to give up on getting skin that was that dewy — until I tried the L'Oréal Paris Revalift Derm Intensives 12% Pure Vitamin C + E + Salicylic Acid Serum. The serum transformed my skin's texture and brightness, and when I look in the mirror I finally see where the "glass" in the term glass skin comes from.
The magic of this serum lies in the combination of vitamin C, vitamin E, and salicylic acid. Each ingredient is powerful on its own, but together, they're even stronger. Vitamin E is known to boost the skin's protection against free radicals that can be generated after exposure to UV rays, and it also helps with healing scars. Salicylic acid is a beta hydroxy acid that treats and prevents breakouts while also exfoliating, leading to smoother and dewier skin.
Fitting the vitamin C serum into my routine was also pretty easy. It can be used both morning and night, so if I'm not using any actives that day, I apply it twice a day, but if I need to use retinol before bed I just stick to a daytime application of the vitamin C. This process works for me but since everyone's skin is different I always advise speaking with a dermatologist about how to add vitamin C to any skin-care routine if retinol is already a part of it.
As with most skin-care routines, you'll want to start with a cleanser. After washing your face, add two or three drops of the vitamin C serum to your palms and gently press it into your skin. During the day, follow it up with moisturizer and SPF, and before bed, use your night cream afterward. The vitamin C serum is lightweight and absorbs easily, so you'll get that dewy, glass skin look without looking or feeling greasy.
After about a month, my skin started to look dewier and more radiant than before, with reduced blemishes and less texture. I also started using less foundation and concealer because my skin looks brighter and more even with just my new skin-care routine. When I do put on makeup, my products go on smoother.
I'm still amazed that one product could have such an impact on my skin, and it's made my entire skin-care process easier because I can use less products to get an even better result than before. It turns out that glass skin is in fact real, and all it took for me to get it was the right vitamin C serum.
This advertising content was produced in collaboration between Vox Creative and our sponsor, without involvement from Vox Media editorial staff.