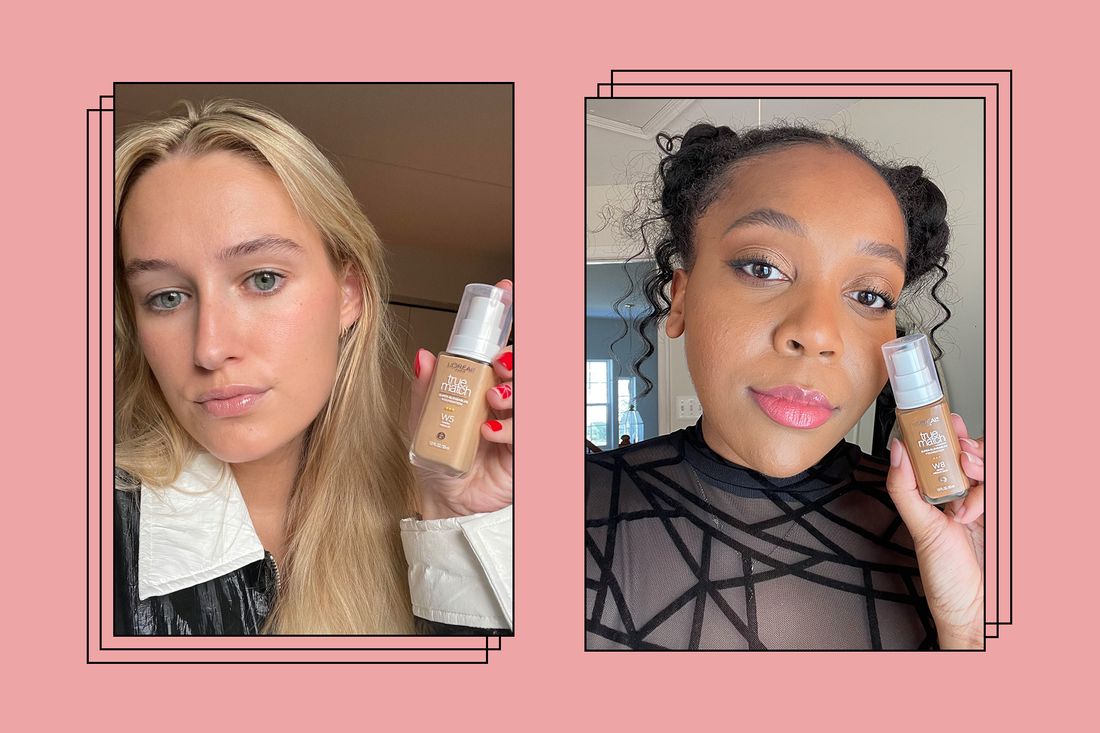 Photo: Jordan Julian and Kat Pierre; Photo Illustration: Sarah Duvivier
Hot take — foundation is only as good as its shade match. A certain formula can make your skin look poreless, pristine, and like an Instagram filter come to life, but if your neck is five shades lighter than your face, no one is going to notice how good your skin looks. It's a harsh reality, especially because finding the right foundation shade can sometimes feel like a pro sport.
The L'Oréal Paris True Match Super-Blendable Foundation is a cult favorite from the drugstore that's geared toward providing your perfect shade match. It recently got a facelift to include a mess-free pump applicator (here's to brands actually listening to consumer feedback), a vegan formula, and a slightly expanded shade range of 47. Turns out you don't have to splurge to find a comfortable foundation with a perfect shade match that gives buildable coverage, and that your-skin-but-better result. To test this foundation's wearability, skin-like finish, and shade range, we had seven of our team members with different skin tones and skin types (including combination skin) give it a try — here are their thoughts.
What Is the L'Oréal Paris True Match Super-Blendable Foundation?
The L'Oréal Paris True Match Super-Blendable Foundation is a liquid foundation that launched nearly 20 years ago with pioneer shade-matching technology. Since then, this drugstore foundation has gained a loyal following for its affordability, skin-like finish, and diverse shade range, organized by three undertones — neutral, warm, and cool — and five skin tones — deep, medium-deep, medium, light-medium, and light.
Along with its new pump applicator and vegan formula, for the first time ever, the shades are mixed with six different pigments: White, yellow, red, black, ultramarine blue, and cobalt green to create the perfect match. The formula also got a few enhancements with the likes of hyaluronic acid for a skin-friendly boost of hydration, plus it's now free of fragrance and drying alcohols to suit all skin types — including sensitive skin.
How Much Is the True Match Foundation?
$14. Or, two days of morning lattes, give or take a few dollars depending on where you buy your drugstore beauty products from. Most luxury foundations with vast shade ranges, pump applicators, and hyaluronic acid-enhanced formulas go for triple the price. This formula gives flawless skin that still manages to look like skin, plus a few extra dollars in your pocket.
Skin Type: Combination; Shade: N6, Neutral Medium
How Alanna Martine Kilkeary, managing editor, liked it: Often, I find that full-coverage foundations tend to have a heavy wear and can sometimes draw more attention to acne scars or uneven texture — two things which I usually prefer to conceal. This is why I've always been a religious CC cream or tinted moisturizer wearer for a more lightweight, natural, buildable finish. When a foundation product claims blendability, however, (particularly in its name) like this formula, I'm always intrigued to try it to see how it compares to the usual CC creams I rely on.
The first thing I noticed about this formula is that it's quite pigmented but it excellently matches my skin tone — it isn't too warm (read: orange) or cool-toned, instead, it's neutral enough to seamlessly blend with my olive complexion. The next thing I noticed is that it has a very lightweight, almost barely-there feeling, but the buildable finish allows me to still conceal pimples or dark marks with little effort.
This is not a foundation that sits on the skin, either, rather it sinks into it and dries down to a velvety-smooth finish. After wearing this for a few days, I noticed my skin looked more even-toned, less textured, and completely cake-free, especially in the areas that I wanted to keep camouflaged.
Would she recommend it: Yes. This blendable foundation just might replace the CC cream in my routine and that is a pretty big deal.
Skin Type: Dry, Acne-Prone; Shade: C7, Cool Medium Deep
How Shalwah Evans, content director, liked it: When you have a bald head the stakes are high for your foundation. Not only is your complexion just so much more prominent when you don't have hair to hide blemishes and discoloration, but you have to match your face, neck, and head for a seamless look. This foundation gives me that three-way match without me needing to mix two different shades.
For years I've faithfully used the same luxury powder foundation that looks like my skin and this drugstore foundation rivals its results. Not only is the silky texture easier to blend into my skin, but it also doesn't feel sticky or greasy in the way other liquid foundations often do. At times I forgot that I was even wearing foundation — it's so lightweight it almost fooled me into thinking that my skin just looks that great (it's the dream). The color match is so good that it actually did fool my mom, who commented that my skin looked really clear and that I was glowing.
I typically reach for neutrals in the winter but this cool-toned shade is the perfect match for me. The foundation also stands up to my face mask, which I still wear regularly on the subway and in other crowded places. My beloved powder foundation wears off throughout the day, even after I set it, so I was happy to see that this foundation stays on. It didn't rub off on my mom's clothes when I hugged her and it doesn't decorate the inside of my mask more than it covers my hyperpigmentation and dark spots.
Would she recommend it: Yes. I'm not someone who chooses to hide her natural face so this foundation is perfect for me because it lets my skin still look like skin, but it gives me (and anyone else) the option to build it up for additional coverage if I want a more flawless result.
Skin Type: Combination; Shade: W5, Warm Medium
How Jordan Julian, associate editor, liked it: Since I have combination skin, winter is a tricky time for me when it comes to finding a foundation that won't accentuate my inevitable dry patches. No matter how much I moisturize, prime, and prep my skin in advance, one swipe of full-coverage foundation is often all it takes to highlight previously invisible flakes of skin. This foundation surprised me in the best way — it lives up to its name, it's ultra-lightweight, and it's easy to blend and build up, even in problem areas like between my eyebrows. It offers medium coverage to even out my skin tone and cover blemishes without caking on the drier areas of my face.
I'm so impressed with the color matching. I am moderately obsessed with self-tanning, so I need a foundation that will match my tan skin without looking orange, which can be difficult to find. The W5, Warm Medium shade ended up being the perfect match for my faux-bronzed skin. I wore it for an entire work day and not once did it feel heavy or uncomfortable.
I did have some oily spots start to peek through as the hours went on, but it was nothing a little touching up with powder couldn't fix. To me, the best part of this foundation is the seamless blendability that actually cuts down the time of my makeup routine because I don't have to spend as long making sure it's fully blended out with my sponge.
Would she recommend it: Yes. Between the shade matching and the way it effortlessly melts into your skin, it takes the hassle out of foundation application.
Skin Type: Dry, Sensitive; Shade: N5, Warm Medium
How Reece Andavolgyi, associate editor, liked it: Two things you should know about me — I'm always down to try a new foundation and nine times out of 10, I'm going to pick the wrong shade. From the misleading fluorescent lights at the store to the unsuspecting shade names to the various undertones that somehow vary from brand to brand, finding a shade is a struggle. Because of this, I tend to mix my foundations in hopes that something will come close. That was not the case with this True Match foundation — I know I have neutral undertones and I know I'm in the light-medium to medium range so choosing my shade was easy and much to my delight, the one I chose is a perfect match.
After applying the foundation with a large fluffy brush, I was instantly impressed with how skin-like it looked. As someone who has dry, sensitive skin, I prefer a formula with a natural finish because a dewy finish can look wet and feel sticky (read: transferring onto clothes) while a matte finish can look flat and feel dry while emphasizing dry patches or eczema. This one is a nice mix of the two, offering a comfortable finish that looks and feels like skin.
The transition on my neck from foundation to skin was undetectable. The foundation also took me from morning to evening without any fading, transfer, or patchiness, which I tend to experience around my mouth with most foundations. I find that it looks even better as the day goes on, very much giving good skin day vibes because it conceals my hyperpigmentation and redness without looking cakey.
Would she recommend it: Yes! The bottle is mess-free, which I love, the formula upon application feels like skin, and I can't not mention the drugstore price tag. Needless to say, I'm a big fan of this True Match foundation.
Skin Type: Combination; Shade: N8, Neutral Medium Deep
How Témi Adebowale, associate editor, liked it: I have combination skin, so a good foundation for me is going to control the shininess in my T-zone without drying out the skin on my cheeks. I wore this foundation to a chill brunch day and then a basketball game and it lasted through both. The color match is pretty much perfect and I was super happy to see how many different shades and undertones the True Match Super-Blendable Foundation comes in. Even when a foundation has my shade, it makes me really happy to know that other people will be able to find a shade, too.
The foundation needs minimal touching up (just a dab of powder on my laugh lines) and it doesn't crease or look cakey throughout the day. I applied it with a foundation brush and a blending sponge and it took well to both. This foundation is more of a medium-coverage formula, which is a step outside of my comfort zone because I usually go for full coverage. That said, I really like the natural finish, and my skin looked even in tone and color while still looking natural.
Would she recommend it: Yes, it's so affordable and the skin-like coverage is great. I also love the fact that I don't waste any product on my hands because the pump is mess-free.
Skin Type: Oily; Shade: W8, Warm Medium Deep
How Kat Pierre, social media editor, liked it: The two main things I look for in a complexion product is something that looks like skin and something that has good wear time. I put this foundation to the ultimate test for a concert with friends and I have to say I'm impressed.
As I was applying the foundation in the morning, I loved how lightweight it felt on my skin and the fact that I was able to build up the coverage in the areas where I needed it the most. I finished applying my makeup before noon and I didn't get home until 3 a.m. When I looked in the mirror, I noticed a bit of fading around the areas that were under my mask, but overall, it held up pretty well. I was a bit oily in my T-zone, but it was still fairly intact.
My favorite part about this foundation is how well it matches my skin. I tend to struggle to find products that fit my skin tone because my forehead is a bit darker than the rest of my face, but I'm super happy with how seamlessly it adapts to even out my complexion. It's definitely a new go-to foundation for me and I love that it costs less than $14.
Would she recommend it: Yes! Being that it lasted throughout an entire concert, I can definitely recommend it.
Skin Type: Combination; Shade: N1, Neutral Light
How Hannah Packer, art director, liked it: I'm normally super picky when it comes to my foundation. I have combination skin so I need a product that glides over my dry patches, but doesn't accentuate my oily areas. I've heard really great things about L'Oréal True Match Foundation — particularly its skin-like finish — so I was more than excited to give it a try.
What surprised me the most about this formula is how well it matches my skin tone and looks like my skin. I'm extremely fair and it can be difficult to find a complexion product that doesn't leave me looking overly yellow or pink, but this specific shade is perfect for my neutral undertones.
As for the consistency, I wasn't expecting the foundation to be runny, but, since it's on the thinner side, it's easier to blend, it doesn't latch onto my dry areas, and it feels extremely lightweight, rivaling some of my favorite serum foundations. I also love that this formula is buildable yet light enough to still result in a glowy and hydrated look. Because of this, I'm able to apply a bit more to the oily parts of my face without looking cakey, which is a win in my book.
Would she recommend it: Yes. Overall, I'm extremely impressed with the formula (especially at a $14 price point) and can attest to its blendable coverage and natural, skin-like finish.
This advertising content was produced in collaboration between Vox Creative and our sponsor, without involvement from Vox Media editorial staff.