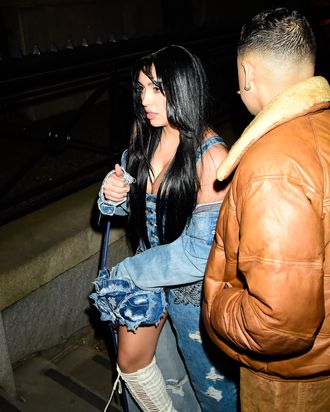 Photo: Raymond Hall/GC Images
Drama has arrived early to New York Fashion Week. On Thursday, a week before official scheduled shows begin, Lourdes Leon — model, choreographer, and Madonna's daughter — arrived at the Marc Jacobs show at the Park Avenue Armory only to be told by security she'd gotten there too late to enter the venue.
According to a TikToker who filmed the incident, Lourdes — who starred in Marc Jacobs's spring 2021 campaign — arrived exactly at 6 p.m., presumably the time the show started. In the video, she walks from her car to the stairs outside the Armory, where she's stopped by security guards who can be heard telling her, "We're closed."
Onlookers start shouting in her defense, "It's one minute!" and "She's Madonna's daughter!" while two people who arrived with Lourdes try to reason with the guards, who can be seen shaking their heads. Chants of "Let her in!" break out while other voices can be heard threatening to stop shopping at Marc Jacobs if she isn't let in.
Apparently the specter of losing customers was not enough to sway Marc Jacobs security. The Daily Mail claims Lourdes was never let in and eventually gave up and went back to her car. I guess being late — or even on the dot — is no longer fashionable?