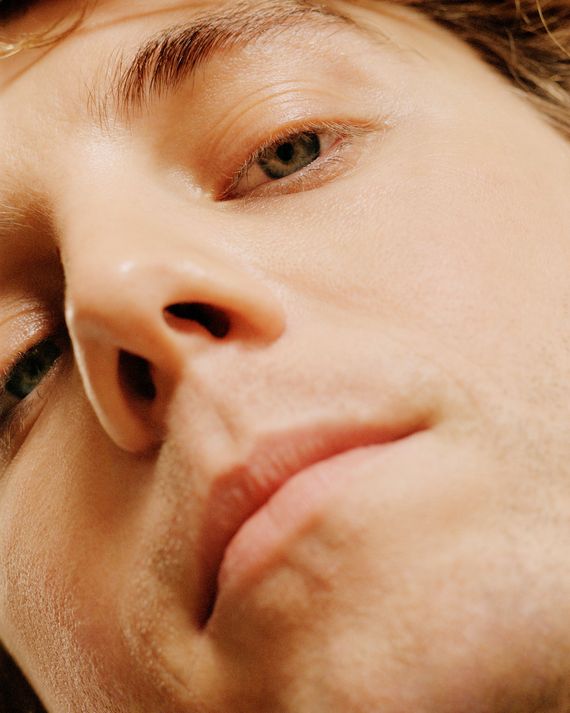 You're not hallucinating: Lukas Gage really is everywhere. In the past five years, you've seen the actor-slash-writer in Euphoria (as the victim of a teen psychopath and his baseball bat), The White Lotus (as a coked-out bellboy getting rimmed by his manager), Olivia Rodrigo's "Brutal" music video, and, most recently, Netflix's thriller series You (co-starring as the owner of a parodic Soho House). Indeed, he showed up in the series finale of the Gossip Girl reboot as himself, a meta nod to his increased presence in all corners of Hollywood. It's easy to be omnipresent when you already know everyone, which Gage does. He even knows me.
Gage and I both arrive late to our meeting at Mo's House of Axe on a weekday afternoon. We are actual friends, which means this is the first interview I've done in which a subject has comfortably borrowed my vape ("Strawberry! Yum," he says, before insisting, "I'm quitting") and veered into stories about ourselves. With its collection of mess-hall tables, Mo's feels like the perfect mix of summer camp and casual hang. It mostly attracts young TikTokers and straight people on dates because there's a three-drink limit (axes are being thrown here, after all). It's also right up Gage's alley. Dressed in a very casual L.A. getup (a '90s grunge flannel button-down over a "Yoko Was Framed" T-shirt), he frequently pushes back his long, messy blond hair mid-conversation, flashing a devious smile that contrasts with his endearing blue eyes.
Aside from his recurring roles in some of television's most talked-about series, Gage pops up with increasing frequency in the Instagram Stories of celebrities you follow, whether they be the comedian and Hacks star Meg Stalter, the nepo baby turned breakout Euphoria actress Maude Apatow, or the recently divorced Katie Maloney of Vanderpump Rules — the latter of which spurred dating rumors after the pair posted a (clothed) selfie in bed together, which Gage is genuinely surprised to learn. "I love how I'm Tom Schwartz's enemy now," he jokes, before confirming that they are "just friends" who hung out at a Vanderpump party at Tom Tom in West Hollywood.
With most celebrities and their social lives, having a varied friend group can come across as the result of some highly calculated social climbing. But Gage, an avid reality-TV viewer, is the opposite of one of those show contestants — he is actually here to make friends. Ever since he was a child in San Diego, he has known that building a community would help him prosper in his career. He was so obsessed with Donnie Darko that he memorized the entire screenplay at 9 years old and would make and edit his own short films with the neighborhood kids, like his very own version of The Fabelmans.
The collaborative aspect of filmmaking is what stuck with Gage, who is anything but snobbish. This is the type of guy for whom reality television is "a piece of art" and genuine friendships can be formed with the quick delivery of a DM. Wherever Gage goes, you're sure to find a hodgepodge of celebrities in tow: He recently befriended Real Housewives of Salt Lake City's Heather Gay when they appeared together on Watch What Happens Live and rented a limo to go out with Andy Cohen, Apatow, and more friends. He ended the night in Gay's hotel room, crying on her shoulder about how he had been bullied in middle school. "It was the most random night of all time," he says.
Bullying was fresh on his mind: He had just gone viral after a director dissed his apartment during a Zoom audition. He has since moved ("I got PTSD from being in that living room. I had to get out of there"), and I can tell from his face that he's exhausted even having to relate the story again. Gage never publicly named the off-camera voice, but TV director Tristram Shapeero eventually came forward and publicly apologized for the insult.
Gage posted the video online for a laugh while shooting The White Lotus in Hawaii and was shocked that it went viral. He garnered celebrity support all over Hollywood — from Joe Jonas ("my favorite" Jonas brother, he says) to Jake Gyllenhaal, with whom he recently worked (and, of course, befriended) while shooting a remake of the 1989 action film Road House. But the anxiety from the video wore him down as he found himself being pressured to name the director. "I'm not trying to cancel anybody. I'm not trying to do a witch hunt and take anybody down, because he could have had an off moment; things get misconstrued, and he could have meant it in a not as hurtful way. And he apologized in the video," he says. "I wasn't holding any anger about him. But in the moment, it hurt, and it was like, Fuck, we're in a pandemic and we're working our ass off and these people can give us a little bit more grace." After a few moments of sorrow, he reverts back to the cheerful, playful Gage I know well: "It's fine. Things happen."
The actor lands about a handful of bull's-eyes during his hour of axe throwing, but he's otherwise not great at it, which I should have assumed when he told me he felt the activity would "make for a cool story." While gearing up for another throw, he is recognized by an attractive 20-something guy who tries to offer him pointers. He's clearly hitting on Gage, who sweetly shuts it down and sends the man on his way. He is one of the most approachable celebrities I've ever met, mostly because he always makes eye contact with people who pass by as if he's inviting them to make a move. Online, it's no different. After the Zoom snafu, he found himself the subject of internet chatter once again thanks to that White Lotus rimjob scene. "I got to stop going viral. I got to just lay low," he says, laughing. (In case you were wondering: Yes, his mom has seen it, and she's supportive. "I feel really blessed to have someone in my life who is so nonjudgmental and always so proud of me," he says. "Her reaction to The White Lotus was like, 'Mike White? Slay.'")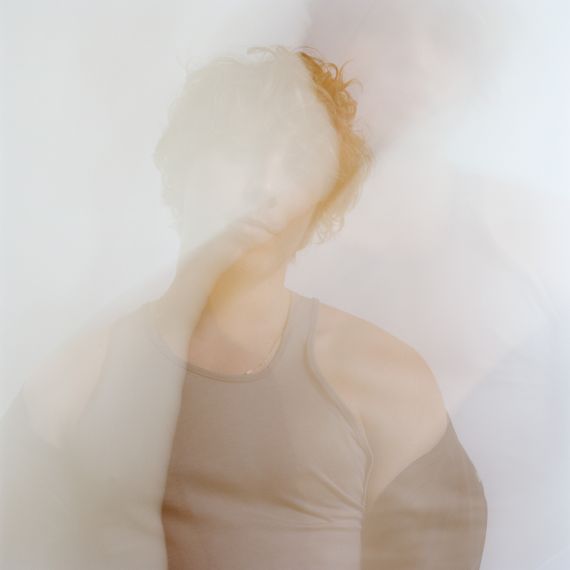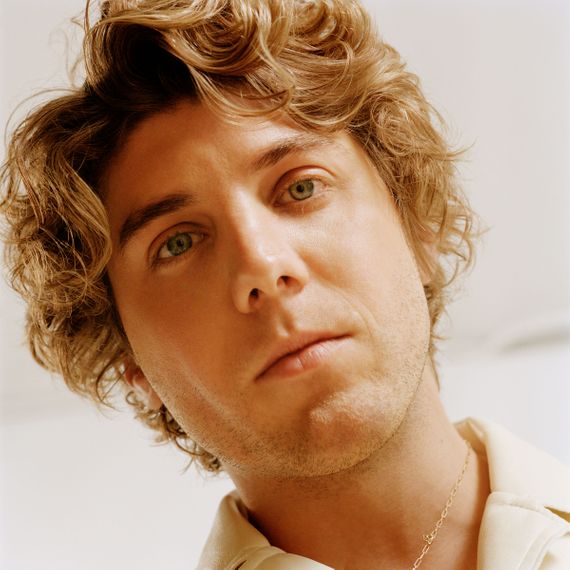 Unfortunately for Gage, I don't see him not going viral anytime soon. Without spoiling anything, let's just say his role in the upcoming season of You is sure to get people talking. He was excited to audition for the part of a man with a wife, thinking it would be a tame one, but, he says, "Episode two comes and I'm like, Goddammit. This is going to be another thing." As someone who was accused of queerbaiting by strangers on Twitter, he is already anticipating the memes (and if his responses to those assertions are any indication, he knows how to clap back). "I don't want to just be naked for the sake of being naked all the time," he tells me nonchalantly.
Fully ready to abandon our afternoon activity, Gage announces, "I suck, let's drink," and orders a hot toddy and a plate of chicken. The protein-heavy meal makes more sense when I discover he has been training at the Dogpound, a local gym that launched as a favorite of Justin Bieber, Taylor Swift, and Hugh Jackman. These days, you're more likely to see Addison Rae squeezing in a workout there. "I know it's so L.A. of me, but I fucking love that place," Gage says. "I just love to get yelled at by trainers." Like clockwork, another fan recognizes him at Mo's, which is also "so L.A.," and then he's recognized by someone he has worked with. "You know everyone," I reiterate.
In Gage's world, he doesn't live glamorously as much as he prefers to ball on a budget, something he chalks up to his suburban SoCal roots. Axe throwing at Mo's may be a typical cost-effective daytime activity, but for a classic night out, he'll rent a limousine with friends and go to a chain restaurant like Chili's — "a big part of my upbringing," he says, like a mischievous teen looking for debauchery after the prom, which, by the way, he didn't end up attending. If there's one life lesson to be learned from Gage, it may just be not to live every night like you're going to prom but to live it up so much that you never actually make it there. The destination isn't the point, after all; it's about who you're with, and Gage knows that better than anyone.