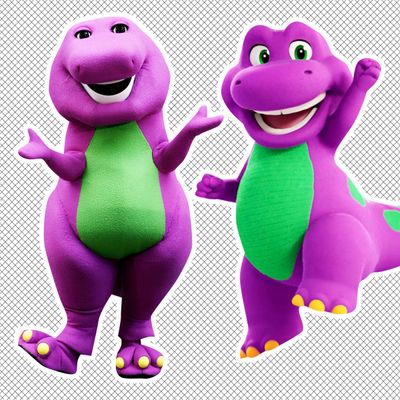 Photo-Illustration: by The Cut; Photos: Getty Images, Mattel
Reboots and makeovers go together like TikTok and makeup trends: You can't have one without the other. You would think a giant purple dinosaur might be exempt from this tendency, yet if we look at the new Barney, that's clearly not the case. In fact, new Barney looks so different from old Barney that fans are starting to question whether he went under the knife. (Don't worry, he's still super-creepy looking.)
Barney's 2023 glow-up comes courtesy of Mattel, which has announced it will relaunch the friendly-dinosaur franchise with a new animated series — not to be confused with the Daniel Kaluuya dark, live-action Barney movie reportedly in development. As noted by Variety, the animated series will be accompanied by online content, music, books, toys, and more. The SVP and general manager of Mattel Television said the new series will be a "modern take on Barney" to "inspire the next generation to listen, care, and dream big."
Barney's modern looks include rounder green eyes, shiny new teeth — fashionable small gap included — and fists that look like they may include some extra dinosaur fingers. Barney's jaw appears more angular, his nose is a bit more rounded, and, curiously, he now has nostrils where there were none. It is a shocking makeover for an imaginary dinosaur, prompting SNL writer and director Zack Bornstein to tweet a side-by-side comparison of the O.G. Barney and the new Barney with the caption "Rhinoplasty, lip filler, cheek implants, brow bone reduction, buccal fat removal, botox, eye lift." And he's not the only one.
At the very least, Barney likely picked up some color contact lenses and hopped on the popular buccal-fat-removal trend. One simply doesn't reappear after 14 years with a chiseled jaw, new teeth, and new nostrils without some kind of surgical intervention. But if you miss the presurgery
Barney look, fear not. Variety reports that Mattel will be launching nostalgic apparel and merch featuring the original giant. Still no word on whether "I Love You, You Love Me" will be coming back for a remix.