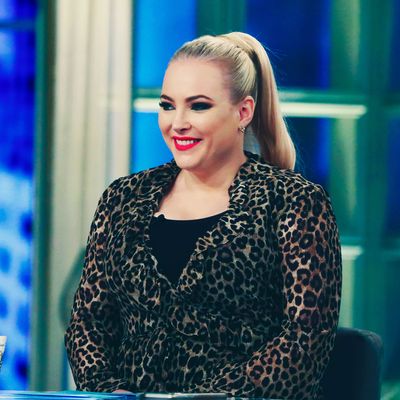 Meghan McCain says she's being "urged" to take Ozempic to "melt away the baby weight" after giving birth to her second child, she writes in a Daily Mail op-ed published on Monday. 
The media personality, and daughter of the late Senator John McCain, gave birth on January 19 and says she has been "astonished" by how many people, including "casual friends" and "industry acquaintances," have talked to her about the injectable diabetes drug that has become popular for its off-label weight-loss use.
"I'm told 'everyone is doing it,' as if that was ever a compelling case," she writes, adding that someone with "extra shots at home" offered her a dose. "Let me make one thing very clear," she continues. "I'm not taking it. I refuse."
McCain is one of a few famous people who have openly spoken about the drug. Chelsea Handler said her doctor put her on it without her knowledge. Kyle Richards of The Real Housewives of Beverly Hills and Khloe Kardashian have both denied taking the drug, and Jackie Goldschneider of The Real Housewives of New Jersey claimed that "a lot" of her castmates are on it.
McCain says she understands that some people who struggle with obesity need the drug, but she is not one of them. "There's a clear moral issue here," she writes. "It's hard to take a drug because swimsuit season is around the corner, while others need it to stay alive."
Despite side effects like vomiting, nausea, and dizziness, off-label use of Ozempic for weight loss has become rampant in recent months, leading to a shortage that has left diabetes patients who actually need the medication scrambling.
"I was just pregnant for 9 months," McCain writes of the side effects. "I'll take a pass on that."