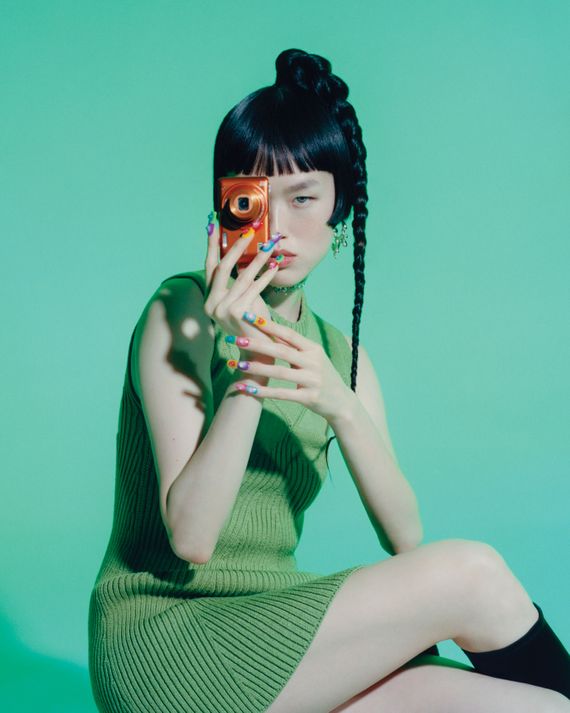 Jil Sander
By Lucie and Luke Meier Cotton Mini-dress and Satin High-Knee Boots,
available at jilsander.com.
Hannah Jewett
Invite Only and Puddle Play Earrings and
Strawberry
Barbed Wire Necklace,
available at hannahjewett.com.
Photo: Fumi Homma
Mei Kawajiri's process is magpie bricolage; she uses objects like salt and pasta when she creates nails, and she steals shapes and colors too. A dark-green foamlike design was inspired by a matcha shop in Japan. When a pink puffy couch caught her eye while scrolling through Instagram, she created ten teeny-tiny nail-size versions.
Kawajiri grew up in Kyoto and started as a painter; at 19, nails became her chosen canvas. At 21, she moved to Tokyo to work at a salon. Two years later, she opened her own shop in Harajuku called Foxxy. In 2012, Kawajiri came to work in New York at the now-closed Valley Nails and amassed a clientele of what she describes as "downtown cool girls." Her completely over-the-top talons — nails with nipples, nails with nails of their own, nails with the kind of nails you hit with a hammer — landed her features in magazines and gigs backstage for Marc Jacobs, Tom Ford, Miu Miu, and Moschino, and her work has adorned the hands of Bella Hadid, Dua Lipa, Cardi B, and even Seth Rogen.
"My mood shifts are crazy. I'm not always the same person, so sometimes I want crazy, dynamic nails. And other times I want simple ones. Those ups and downs help me create many different types of nails," she says. She approaches all her designs like a mad nail scientist. "I used a transparent neon-pink base and a very thick gel to make the 3-D bubbles," she says of her pink-couch shapes. For a neon-yellow set spiked with chrome accents, Kawajiri created holes in the tip of each nail with a machine drill, the same tool she's used to achieve a puzzlelike diagonal design in royal-blue nails.
How to pose with them? "Stand in front of the mirror with one hand holding the phone, the other hand next to your face to show off your design," she says. But she's quick to add, "With nails, there are no rules."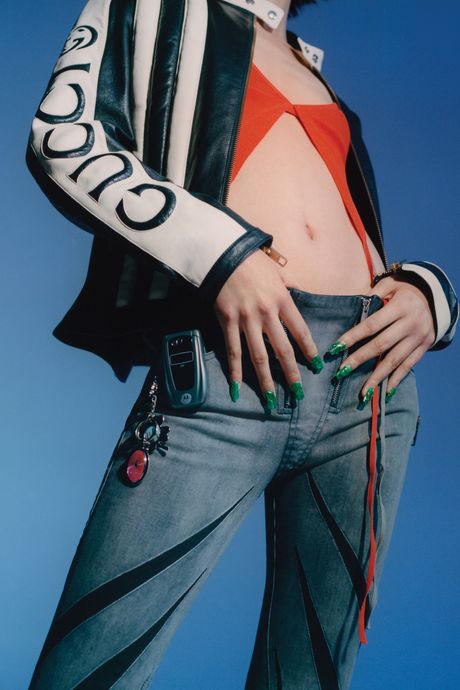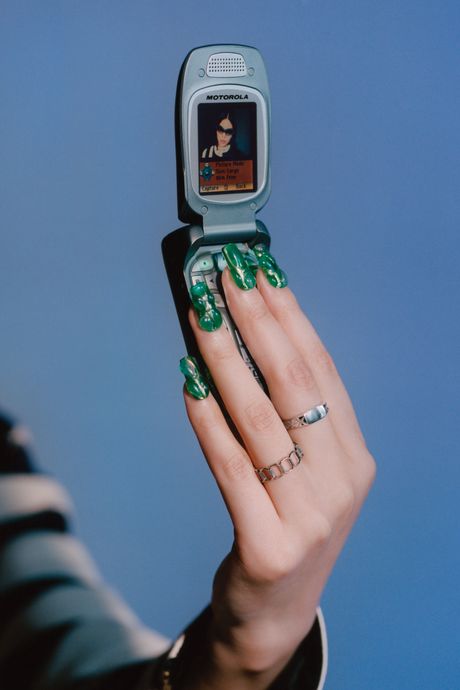 More From The Spring Fashion Issue
See All