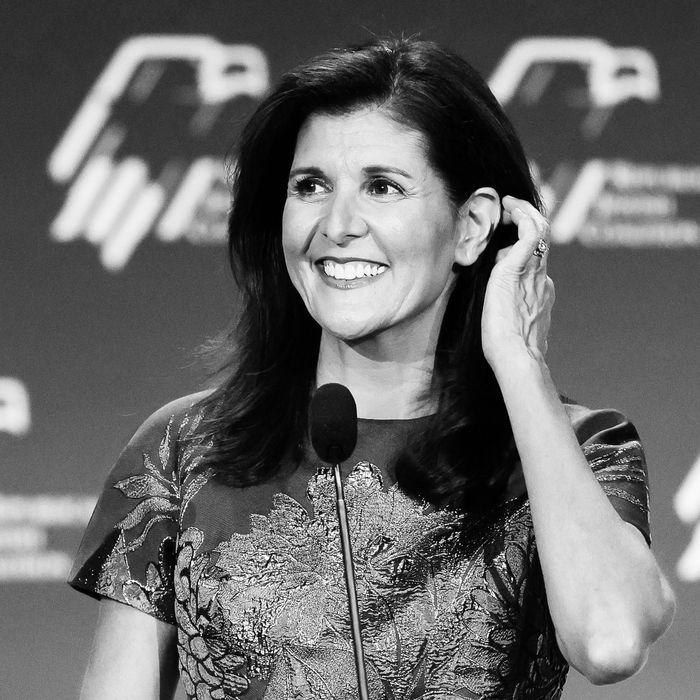 Photo: Wade Vandervort/AFP via Getty Images
Ivanka Trump may have strategically excused herself from any involvement in the 2024 presidential race, but there will be at least one empowered Republican woman in the GOP field. On Tuesday, former U.N. ambassador and South Carolina governor Nikki Haley announced her run for president.
In a video announcement filmed in her hometown of Bamberg, South Carolina, Haley referred to herself as "the proud daughter of Indian immigrants," referencing her parents, who moved to Bamberg from India before she was born. She pointed out that "Republicans have lost the popular vote in seven out of the last eight presidential elections" (true), adding that "it's time for a new generation of leadership." She pledged to "secure our border" and addressed the looming threat of China and Russia. "I don't put up with bullies," she said. "And when you kick back, it hurts them more if you're wearing heels." (Technically also true, I guess.)
Haley is the second politician to enter the GOP race, joining former president Donald Trump, who announced his bid in November. Despite criticizing Trump throughout his 2016 run, Haley was appointed U.S. ambassador to the U.N. under his administration, a post she left suddenly after 18 months (though not before the State Department spent $52,000 on curtains for her New York apartment).
At the time of her resignation, Haley went out of her way to deny any plans to run against Trump in 2020, and reiterated that position a few years later, telling reporters she wouldn't run against Trump in 2024 if he announced a bid before her. I guess her stilettos had other plans?