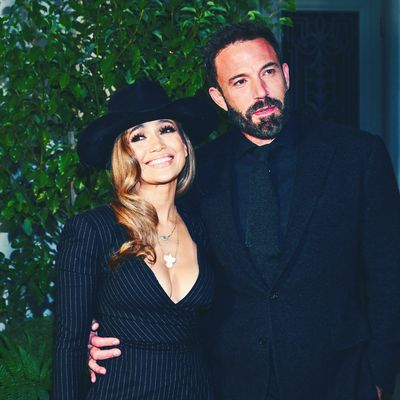 Photo: Michael Buckner/WWD via Getty Images
While I approve of Ben Affleck's Dunkin' Donuts obsession and empathize with his curmudgeonly, anxious state at public events, I'll be the first to admit that he hasn't always had the best taste in tattoos. A dolphin, barbed wire, a cross. Who can forget the colorful full-back phoenix of 2015?
But what I love about Affleck is that he's not a quitter. Getting dragged did not keep him from getting new ink this year. Mr. and Mrs. Affleck celebrated their first Valentine's Day as a married couple by getting some new his-and-hers tattoos, according to photos J. Lo shared on her Instagram.
"Happy Valentine's Day my love," she captioned the post, which included old and new photos of her with Affleck along with several hashtags, including "#commitmentissexy."
J.Lo's new ink, on her ribcage, features an infinity symbol with an arrow and the names Ben and Jennifer scrolled in cursive. And I'm happy to share that Affleck's tattoo is small and simple. This time he got two arrows crossing with the letters J and B.
It's safe to assume Lopez had a say in Affleck's tattoo design. After Affleck's phoenix tattoo went viral, she told Andy Cohen that she thought it had been an "awful" choice. "I would tell him: 'What are you doing?' It has too many colors. His tattoos always had too many colors. They shouldn't be so colorful. They should be cooler."
I'm not sure if the arrows are cooler, but they are a huge step forward from where we've been. Sometimes that's all we can ask for.