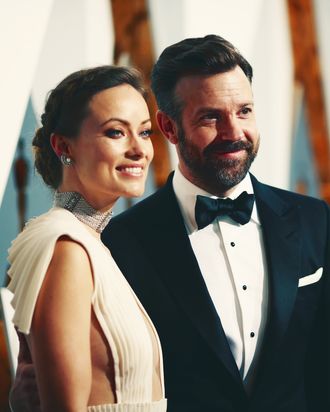 Photo: Christopher Polk/Getty Images
Well, it was nice while it lasted. After a few months out of the tabloids, Jason Sudeikis and Olivia Wilde are making headlines once more thanks to a new lawsuit filed by their former nanny.
Ericka Genaro filed a complaint against the couple — as well as against ML Management, LLC, the company through which Genaro was paid — this week, claiming wrongful termination, discrimination, and more, all stemming from the former couple's 2020 split, which Genaro's attorney, Ron Zambrano, said caused "emotional chaos." The complaint, filed in California, alleges discrimination, failure to accommodate, failure to engage in the interactive process, and retaliation under FEHA (California's Fair Employment and Housing Act).
Per the lawsuit, Genaro was hired in 2018 as a live-in nanny for Wilde and Sudeikis's two children — Otis, 8, and Daisy, 6 — but she began experiencing anxiety and stress when the former couple split in 2020. "Wilde's sudden absence from the home had an adverse consequence on its emotional state, including Sudeikis leaning on the presence of Plaintiff for support," the suit reads. While Genaro and Sudeikis bonded over their "shared trauma," the filing says that the nanny became increasingly anxious, as "she ostensibly felt she had to 'pick sides' between the parents of the children she was ostensibly the primary caretaker." The suit also claims that Genaro began working on her days off and "filling in Wilde's absence for the children."
Genaro claims that by early 2021, she was experiencing "physical pain, anxiety, and stress," prompting Wilde, Sudeikis, and Genaro to attend group therapy. But when a doctor prescribed Genaro 72 hours of uninterrupted rest, Sudeikis fired her instead. "Plaintiff is informed and believes, and thereon alleges, her termination was because of her disability of anxiety/depression, and for seeking the reasonable accommodation of a three day leave of absence for same," the suit states. The Cut reached out to representatives for both Sudeikis and Wilde for comment and will update when we get a response.
The lawsuit echoes claims previously made by a former nanny, now believed to be Genaro, who anonymously gave an interview with the Daily Mail in October. In that interview, the nanny claimed, among other things, that Sudeikis fired her without severance or a recommendation letter. (This was the same interview that also said that Sudeikis became furious when Wilde made her superspecial salad dressing for Harry Styles, her boyfriend at the time, and when Wilde had rehomed her dog, Gordon, to spend more time with the pop star.)
At the time, Sudeikis and Wilde released a joint statement, calling the allegations "false and scurrilous." They added, "Her now 18-month-long campaign of harassing us, as well as loved ones, close friends and colleagues, has reached its unfortunate apex. We will continue to focus on raising and protecting our children with the sincere hope that she will now choose to leave our family alone."