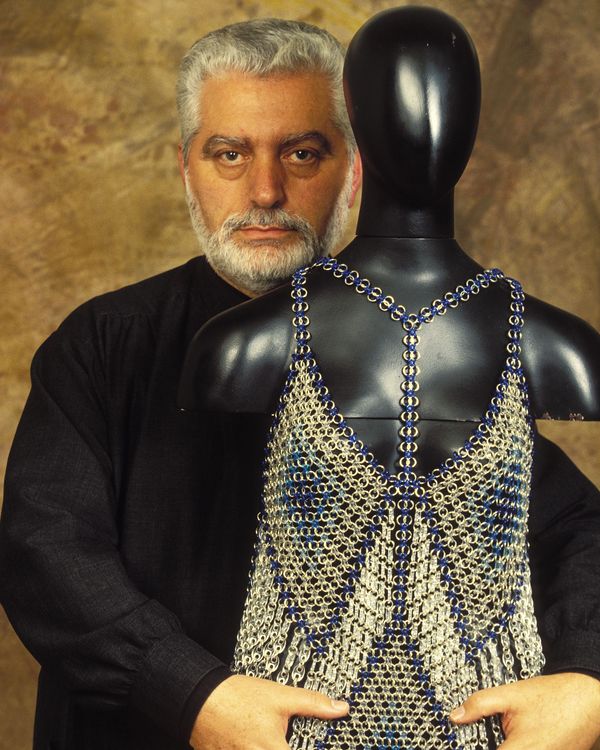 Photo: Pool BENAINOUS/MARCHETTI/Gamma-Rapho via Getty Images
Spanish fashion designer Paco Rabanne has died at the age of 88, the Business of Fashion reports. The news was confirmed on Friday morning by Puig, the beauty and fashion conglomerate that controls the Paco Rabanne fashion and fragrance brands.
Rabanne's namesake brand shared the following message in an Instagram post:
"The House of Paco Rabanne wishes to honour our visionary designer and founder who passed away today at the age of 88. Among the most seminal fashion figures of the 20th century, his legacy will remain a constant source of inspiration.




We are grateful to Monsieur Rabanne for establishing our avant-garde heritage and defining a future of limitless possibilities."
Rabanne was a pioneer of fashion's space-age movement, inspired by the then-ongoing space race in the '60s. The revolutionary designer used materials like metal and plastic to create dresses and accessories made of chainmail and paillettes that brought glamour to a Jetsons-like fantasy of the future. Boundary-pushing pieces in silver and gold metals soon became his signature. The futuristic materials and silhouettes were a favorite among stars like Peggy Guggenheim and Françoise Hardy, and were worn by Jane Fonda in Barbarella.
Rabanne told the New York Times in 2017 he saw creating armor-like designs for women as political. "In France, during the '60s, we had a similar women's liberation movement as in America." He explained, "At the same time I was doing the costumes for the movie Barbarella. So it was a moment when women emerged to be warriors because they needed to affirm their desire of emancipation, freedom, and liberty."
Rabanne was influenced by fashion at an early age — his mother was a seamstress for Cristobal Balenciaga. Rabanne went on to study architecture at l'École Nationale des Beaux-Arts and did stints in construction and drawing fashion sketches before going on to design jewelry at Dior, Balenciaga, and Givenchy and eventually launching his own line in 1966. Soon after, Rabanne signed a deal with Puig to launch the brand's best-selling fragrances.
Rabanne often took inspiration from the mythical and astrological, describing himself as clairvoyant and recounting his experiences with mysticism and predictions in a book. His values of mysticism became a heavy theme in his work, as Julien Dossena — the current creative director for the Paco Rabanne fashion brand — told Hero Magazine in 2020.
Rabanne retired from the fashion world in the late '90s to pursue art. Dossena thanked the late designer on Instagram for the legacy he left behind. Dossena's latest ready-to-wear collection for Paco Rabanne is scheduled to show during Paris Fashion Week.