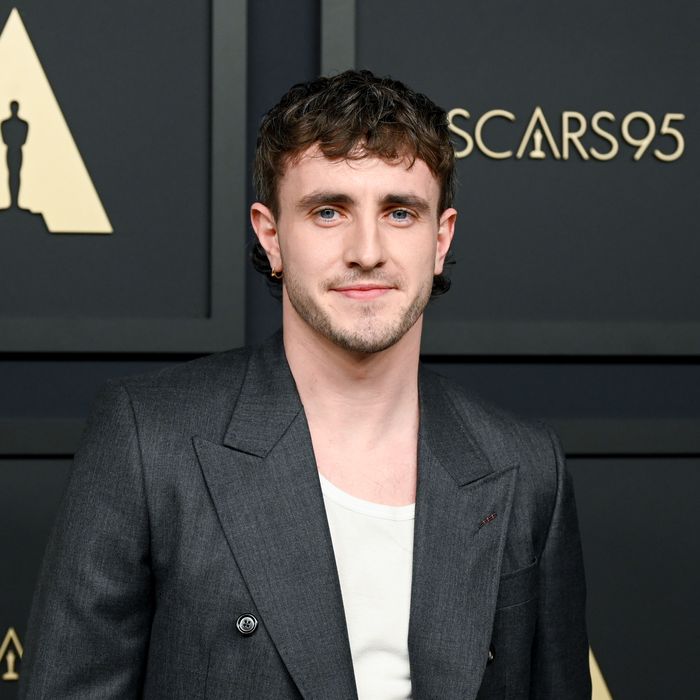 Photo: Gilbert Flores/Variety via Getty Images
When Paul Mescal was nominated for an Oscar for his performance in Aftersun, you might have hoped that this would mean more info on his relationship with Phoebe Bridgers. Sorry to crush your hopes and dreams.
Mescal and Bridgers dated for a little over a year and were even rumored to be engaged in October before rumors of a breakup began circulating in December after Bridgers was spotted out and about with director and comedian Bo Burnham. They continued to be seen together in December, when they reportedly attended a comedy show together, per Jezebel, and in January, when they were spotted at an airport, sparking dating rumors that took over a certain corner of emo Twitter. Neither Burnham nor Bridgers has commented on the status of their relationships — with each other or partners they were previously linked to — and Mescal isn't going to either.
Speaking with Vanity Fair, the Oscar nominee refrained from commenting on his relationship status, but he did set one thing straight: He won't be commenting on his personal life going forward — period. "I definitely feel the temptation to say the status of my whatever — that will always be there," he said, when asked how he felt about the speculation of his relationship. "The temptation still exists to be like, 'Shut the fuck up. This is my life. This is what's going on. Or this is what's not going on.'" Mescal added that, at the start of his career, after Normal People's release, he was more straightforward about his personal life in interviews, but "it didn't actually serve me." So he's resolved to keep his private life private, especially if whatever he says is just going to become "Twitter fodder."
Just because he won't comment on the rumors, however, doesn't mean that all the speculation doesn't affect him. "Sometimes I can drown it out and then other times it makes me really mad and upset," he told Vanity Fair. That said, he seemed to understand the fascination with him as a public figure, and stressed that a majority of people he meets are "really kind about their support for me," adding, "That's my predominant experience."