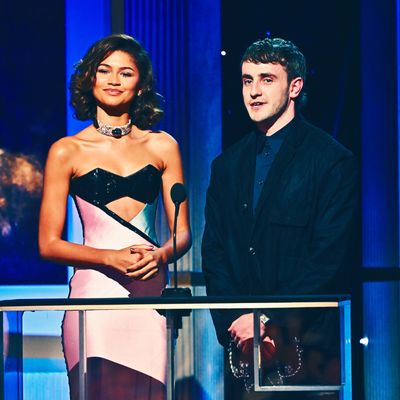 Photo: Michael Buckner/Variety via Getty Images
Nothing brings two unexpected stars together like presenting an award. The never-ending trek to the stage, the canned teleprompter dialogue — it's like broadcasting the first 30 seconds of a blind date on national TV. This weekend, the SAG Awards served as our demented celebrity matchmaker, offering a particularly fun series of pairings: twin ghosts Aubrey Plaza and Jenna Ortega shared the podium for a blessed half-minute, while Paul Mescal and Zendaya teamed up for a notably uncomfortable moment of awards-show awkwardness.
Zendaya and Mescal presented the Female Actor award together, standing up from what appears to have been the same table to make their way onstage. En route, Mescal offered Zendaya a hand that she either missed or smoothly declined, forcing Paul to keep his arm suspended respectfully in the air near her body for their entire trip to the stage.
Once they made it up there, Paul glanced at her and let out a little giggle, perhaps to acknowledge the surreal humiliation of being accidentally rejected by Zendaya. Generally speaking, Paul and his little mullet both seemed pretty flustered to be in her presence — which, now that I think of it, makes a lot of sense.