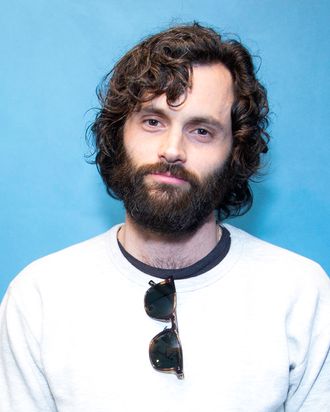 Photo: Santiago Felipe/Getty Images
Penn Badgley isn't a serial killer, he just plays one on TV. And after playing the sexy serial killer Joe Goldberg on Netflix's You for four seasons, he is in a unique position to explain our cultural fascination with murderous men, and to call out Netflix for making serial killer kinda hot.
Badgley has never shied away from ensuring the audience of You knows that Joe Goldberg is not a man to lust for. In 2019, he went viral for calling out fans tweeting about their thirst for Joe, and he's been keeping that energy up ever since. So, it's not that surprising to hear that he'd have something to say about Netflix's other hit serial killer show, Dahmer — Monster: The Jeffrey Dahmer Story. The show, which starred Evan Peters as the famous serial killer, was accused of glorifying a murderer, specifically one who targeted Black, brown, and gaymen, without giving voice to his victims. It also sparked a wave of online comments from people who suddenly found themselves attracted to Peters as Dahmer. Not great.
So, recently when he was asked by Entertainment Tonight to send a message to those who might find themselves attracted to serial killers, it's not surprising that Badgley responded by pointing the finger at Netflix itself. "You need to look at that inside," he said, gesturing to his heart, before continuing, "To be fair, with our show, you're meant to fall in love with [Joe]. That's on us. Ted Bundy? That's on you. Jeffrey Dahmer? That is on — Netflix. That is squarely on the shoulders of Netflix." (As ET pointed out in a TikTok of the quote, Netflix is also home to a movie about Ted Bundy starring known heartthrob Zac Efron.)
On a more serious note, Badgley added that he had more "long" thoughts on why such attraction exists, but summed it up as "weird." Meanwhile, the actor also jumped on Twitter to tell Ghosts actor Danielle Pinnock that she didn't need to continue watching the series she tweeted about not liking the show. "Friend @nicolebyer wants me to complete the series," Pinnock tweeted in part. "Lemme pray on it." Badgley responded, "No stay strong you don't need to do anything. Lemme talk to @nicolebyer."
Friends don't make friends romanticize serial killers, and neither does Badgley — even when he's playing one.