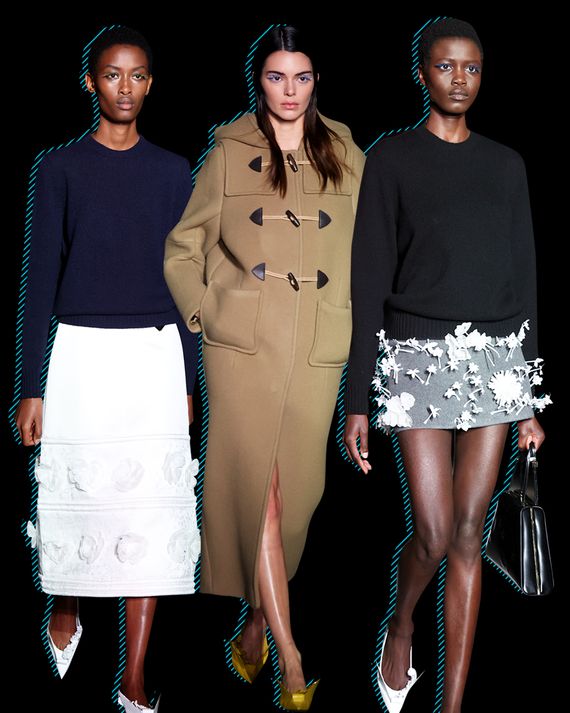 Photo-Illustration: by The Cut; Photos: Getty Images
The sense of being under intense pressure is one of the characteristics of our times. In one way or another, everyone feels it — from inflation, from the nonstop advance of technology, from the pandemic, from the effects of climate change, from the bombardment of images, from the trauma caused by earthquakes and war.
Before Prada's fall 2023 show began on Thursday, in the enormous hall on the grounds of the Prada art foundation, the ceiling seemed unusually low, as if we were in a basement or a parking garage. The seating was concrete-gray blocks, in contrast to plush, cinema-style seating of a year ago. In order to find their places in the darkened space, people had to use the light from their phones. Once the show began, the ceiling silently rose, higher and higher. The models were walking in snow-white skirts and white flats. The lights were up. And high on the many structural iron I-beams were dense masses of Casablanca lilies.
The moment, provided by Miuccia Prada and Raf Simons, as well as the staging masters at Prada, was a metaphor for hope. The amount of white at the opening of the show — mini- and mid-length skirts in couture silks embroidered with white flowers, a fuller skirt with frills, a longer '50s-style swing skirt — was an unmistakable nod to marriage. The top half of the outfits was decidedly utilitarian, and a bit jarring as a result, as if you rushed off to City Hall in your bridal whites but decided to keep on your basic dog-walking crewneck. Other tops included oversize dark suede blazers. Maybe the split reflects our hectic times.
From the start of their collaboration, Prada and Simons have sought to give their clothes a solid grounding in reality. There's plenty of newness. Indeed, no one in the high-fashion sphere is better at raising the roof of anticipation than these two, and that's partly because their ideas are not frivolous. Rather, they arise from the fundamentals of fashion — shape, proportion, a new way of looking at beauty and the past.
"What I care about now is to give importance to what's modest," Prada said backstage afterward. "To value modest jobs, and not only what's glamorous." Simons added that they considered a variety of uniforms, conspicuously those of nurses, pilots, and military people. "We wanted to give them another importance in a way," he said. And they wanted to treat weddings (and its fancier trappings) not as something for one special day but every day. That sensibility also applied to traditional couture shapes, like draped or loose backs — a style associated with haute couture in the late '50s and early '60s. A number of slim-line parkas and preppy toggle coats had humpbacks. Weird-looking if you don't know the reference, which seems the intention. You have to be in the know. A white mini could have been based on the puffy form of a down jacket or an ethereal Parisian skirt.
Designers have been borrowing styles from the laboring and professional classes for more than a century. Think of Coco Chanel's maid's collars and fishermen's blouses in the years around the First World War. Think of how workwear influenced the radical designs of Yohji Yamamoto and Rei Kawakubo of Comme des Garçons, who also did a show based on brides. As recently as February 2020, Demna of Balenciaga did a collection around power uniforms.
So the terrain is well traveled, though still open to interpretation. There was an abundance of terrific individual styles in the show, notably the coats and masculine, workwear jackets; shirts with pointy, detailed collars; and the flats adorned with what looked like scraps of paper curls (or collar points?). For me, though, the most compelling things about the collection were the ways in which Simons and Prada made the modest seem glamorous — Julia Nobis in her austere, mid-length black dress, the slim-fitting slacks in pale-pink wool with either a mint-green or yellow crewneck sweater and black high heels. About the only things that didn't work were long and lean shirtdresses in nurse-white and khaki with fishtail hems that tangled in the models' feet. Reach for the scissors.
At a show attended by lots of celebrities — Dua Lipa, Sienna Miller, Letitia Wright, the Chinese singer-songwriter Cai Xukun — there will be a question of whom these modest "uniforms" are ultimately for. Another feature of our age is that luxury brands tend to have it both ways, and Prada will. I'm also reminded, thinking of those pristine white skirts, that in the mid-1700s, when males of the British aristocracy began inventing the modern suit, they took the idea from the workers and tenants on their rural estates, and then had the plain wool coats tailored to perfection and their white linen shirts kept in immaculate condition — something the working classes could never have achieved. It was a class distinction in a different form.