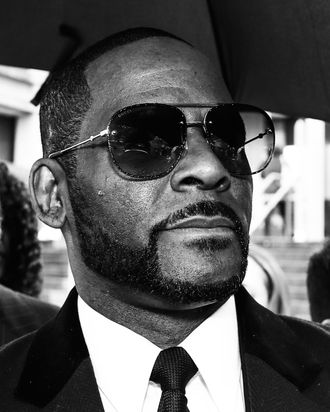 R. Kelly
Photo: KAMIL KRZACZYNSKI/AFP via Getty Images
Five months after R. Kelly was convicted of sex crimes in Illinois — including producing child pornography and coercing minors into sex — a federal judge has sentenced the disgraced singer to 20 years in prison. Per the New York Times, he will serve all but one of those years concurrently with his 30-year prison sentence from a federal judge in New York, following guilty convictions of racketeering, sex-trafficking, bribery, and sexual-abuse charges there. Kelly's latest trial was effectively a do-over of a 2008 child-pornography trial that ended — quickly — with his acquittal.
Another notable change from 2008: The woman allegedly pictured in one of Kelly's abuse tapes — "Minor 1" — testified, reversing her position from the first trial. Back then, she told a grand jury that she wasn't the person in the video, a decision prosecutors now say followed threats and bribes from the singer to stay quiet. Without her participation, jurors in that case later said they couldn't be sure who appeared in the video. But whereas that panel only had one tape to consider, jurors in 2022 viewed at least three others.
For his part, Kelly continues to deny any and all wrongdoing, and the singer still faces two more criminal trials now that this one has wrapped. Here, what to know about the federal trial in Chicago.
What were the charges?
Kelly faced 13 counts pertaining to his alleged coercion of five minors into various sex acts, the creation and receipt of child pornography, and obstruction of justice. He was found guilty of six of those charges, three counts related to child pornography and three charges of criminal sexual abuse, and was acquitted on seven other counts, including obstruction of justice.
Two of his former employees faced charges, too: Derrel McDavid, who used to be Kelly's business manager, and Milton "June" Brown, who also worked for him, were accused of orchestrating the payouts and bribes said to have silenced key witnesses as well of helping track down the tapes. Both co-defendants were found not guilty on charges related to receiving child pornography; they were also acquitted of attempting to rig the singer's 2008 trial in his favor.
What is this videotape, and who is Minor 1?
In 2002, a grand jury indicted Kelly on a suite of child-pornography charges, pegged to a video in which Kelly (then in his 30s) allegedly had sex with a 14-year-old girl and peed on her. According to the Associated Press, the girl — referred to as "Minor 1" in this trial — met Kelly in the late 1990s, when she was in middle school. Her aunt, the singer Sparkle, brought Minor 1 to Kelly's recording studio, a meeting that apparently led to the girl informing her parents that he was going to be her godfather. But within a few years, Sparkle discovered the tape and showed it to Minor 1's parents. Per the AP, the R&B star allegedly filmed the footage sometime between 1998 and 2000, in a "log-cabin-themed" room in his Chicago home. Although she and Kelly allegedly had sex hundreds of times, in this particular instance, she can be heard calling him "daddy" on film — a demand Kelly frequently made of his victims, which came up again and again throughout testimony in his New York trial.
Minor 1's parents say they confronted Kelly but were told, "You're with me or against me," per the AP. Court documents claim that her "mother did not want to go up against Kelly's power, money, and influence by not following what he said," and complied when he told them to get out of Chicago. He allegedly sent them to the Bahamas, then to Cancún, and when the family was called to testify to a grand jury, everyone denied Minor 1 was the girl on-camera. But as the AP points out, an attorney for Kelly sat in on the testimony, relaying everything back to the singer. When the case finally went to trial in 2008, jurors declared him not guilty on all 14 counts within hours.
What's the relation to the 2008 trial?
Prosecutors have said Kelly interfered to intimidate the witnesses in 2008, all of whom — Minor 1, now 37, and her parents — testified at this trial. They argued that Kelly and his co-defendants spurred the woman's change of heart, paying off her and her family to prevent them from speaking out.
According to the New York Times, prosecutors alleged that — once he heard federal investigators were looking into him — Kelly and McDavid paid hundreds of thousands of dollars to recover missing sex-abuse tapes Kelly had made with minors. (Apparently, he used to carry these around in a duffel bag that accompanied him wherever he went.) One person they hired to complete this task allegedly threatened to go public with the tapes' existence, eliciting a $170,000 payment from Kelly and McDavid in order to call off the press conference. In some cases, victims' families allegedly received similar sums in exchange for their noncooperation with law enforcement. In this manner, Kelly and his employees induced witnesses to "conceal and cover up evidence, including videos, relating to Kelly's sexual contact and sexual acts with minors," according to court documents. They allegedly persuaded them to lie to the police and even removed victims' families from the country to keep them from speaking with investigators.
As for Brown, he and McDavid allegedly "agreed to intimidate, threaten, pressure, persuade, and attempt to persuade" victims and their families to stay quiet, at Kelly's direction.
The woman previously known as Minor 1 testified that Kelly sexually abused her on video when she was 14; her mother testified the same.
The woman known as Minor 1 in the 2008 case took the stand under a pseudonym, testifying that R. Kelly had sex with her "hundreds" of times when she was underage and confirming that they were the two people who appeared in the video when she was 14. Per the New York Times, the woman told the court that her aunt Sparkle introduced her to Kelly when she was 13 and that the singer, who eventually became her godfather, started speaking to her sexually over the phone before initiating physical abuse, which included repeated sexual assaults at his home and recording studio and on his tour bus. (For her part, Sparkle has denied that she enabled Kelly's abuse, calling portions of her niece's testimony about her involvement "not true.") After law enforcement obtained the video in 2002, the woman said Kelly sent her and her parents outside the country, where investigators could presumably not access them, and convinced her to deny her identity on the tape before a grand jury, even paying for her lawyer. Recalling her fears over what would happen to Kelly as well as being "extremely scared" her parents would find out about their sexual involvement, the woman said she went along with the singer's requests, giving his lawyers a necklace of hers that was visible on the tape.
The woman's mother took the stand under the pseudonym "Susan," telling the court she had lied to a grand jury in 2008 about her daughter's identity on the tape, because the family "feared for our lives and were intimidated" by the singer. According to the Chicago Tribune, Susan told the court that she and her husband met with the singer and McDavid at a hotel in Illinois following reports that Kelly was having sex with her then-14-year-old daughter. Susan told the court that Kelly "never admitted" to the allegations but said he was "sorry" and cried; Kelly and McDavid allegedly told Susan and her husband that they "needed to leave town right away." Susan told the court, "They were going to harm us if we didn't do what they told us to do. We were fearful … we packed our bags, and we left town." Per the Tribune, when a prosecutor asked Susan who really appeared on the tape, she replied: "My daughter and R. Kelly." Jurors watched 17 clips from three explicit videos allegedly featuring Jane and R. Kelly; in the audio, a female voice can be heard repeatedly referring to her "14-year-old body."
Three more survivors testified that R. Kelly engaged them in sexual acts—some on video tape—when they were minors.
Three more survivors testified under pseudonyms and alleged that R. Kelly engaged them in sex acts — some of them videotaped — when they were minors, Rolling Stone reports. A 37-year-old woman, "Pauline," took the stand and told the court she met R. Kelly through Jane Doe, her childhood "best friend," and had her first sexual encounter with the singer when she was 14, after walking in on him kneeling before a naked Jane at his Lake View Mansion.
Pauline said R. Kelly claimed he was looking for bruises on Jane's body, telling Pauline, "We all have secrets" before allegedly engaging in sexual touching and oral sex with the two girls. According to Pauline, R. Kelly supplied the girls with alcohol and had multiple threesomes with them thereafter, some of which he filmed. She testified that later encounters included another minor, "Brittany," another accuser in the trial.
By the time she was 15, Pauline claimed she and R. Kelly were having penetrative sex and that the two continued their relationship for years, with Pauline describing the singer as "best friend meets boyfriend meets dad." When asked why she lied to detectives ahead of R. Kelly's 2002 indictment on child-pornography charges, as well as why she didn't mention her current allegations during a 2019 interview, Pauline said she "loved him." But she sees his actions in a new light now: "Things I thought were cool when I was a teenager … that's not okay when I'm a 37-year-old mother," she told the court.
The other survivor, "Tracy," testified that R. Kelly propositioned her when she was a 16-year-old recording intern in 1999. Tracy, now 40, said she initially met R. Kelly at a his recording studio and turned down his advances. During another recording studio meeting, Tracy testified that she told the singer she was 16, at which point he kissed her and allegedly began masturbating in front of her after she declined to participate in a sex act. "I tried to pull back, but he had a hold of my shirt and he was pleasuring himself," said Tracy, per the Sun-Times. "When he saw I was upset, he said he was really sorry and he didn't mean to upset me … he promised that that wasn't his usual behavior." Days later, Tracy alleged the singer "forced himself" on her in a hotel room.
Tracy alleged the two had sex for the first time later that summer before going on to have multiple sexual encounters, including a threesome with her, R. Kelly, and Jane that she accused the singer of filming. "I was crying and he told me to stop being a baby," Tracy told the court. (According to Rolling Stone, Tracy filed a civil lawsuit against Kelly in 2001 that was settled out of court for $250,000, a sum Tracy claims hasn't been paid in full.)
A third survivor, "Nia," testified that R. Kelly molested her twice when she was 15, in 1996. According to the Chicago Sun-Times, Nia met R. Kelly at an Atlanta shopping mall, where she says she approached the singer for an autograph and he gave her his number instead. Per Nia, the two started a phone correspondence. Despite knowing her age, the singer allegedly arranged for Nia to come to one of his Minneapolis concerts, touching her breasts and masturbating in her hotel room the morning after the performance. Following the incident, Nia told jurors she and a cousin visited R. Kelly at his Chicago recording studio, where the singer allegedly fondled her in private.
Brittany did not take the stand.
Federal prosecutors claim R. Kelly paid exorbitant amounts of money to recover video tapes of the singer having sex with a minor.
Charles Freeman testified that R. Kelly had paid him hundred of thousands of dollars over nine years to retrieve at least one of the missing tapes after it was allegedly stolen by the singer's ex-girlfriend Lisa Van Allen. Per the Chicago Tribune, Freeman, who testified under an immunity agreement from prosecutors, told the court that he'd befriended Kelly while working on merchandising for one of his tours, before getting a call from the singer in 2001 asking him to "recover some tapes" in exchange for a reward. At the time, Freeman claimed he didn't know what the footage contained (Kelly's associates allegedly told him that they were "performance" tapes) and that he signed a $100,000 contract to retrieve them with the promise of a million-dollar reward if he could provide "originals." He recovered three cassettes from a house in Georgia. Freeman told the court that one of the tapes contained footage of Kelly "with a young lady having sex," adding that he made multiple copies of the tapes for fear he wouldn't be paid the full reward. Freeman claimed that McDavid contacted him in 2003 or 2004 to recover another "performance" tape with "Lisa Van Allen, Robert, and the young lady" on it. Freeman, who claims he never received his full reward, told the court he finally turned over the tapes to law enforcement in 2019, after his lawyer told him that "police was coming to get me, because my name came up that I was holding child pornography for Robert Kelly."
R. Kelly and Brown both declined to testify, while McDavid told the court he was "embarrassed" to have once believed in the singer's innocence.
While Brown and R. Kelly both declined to testify, McDavid took the stand, claiming he believed in the singer's innocence during the years he participated in alleged cover-ups. Per CBS News, McDavid told jurors he trusted R. Kelly when the singer repeatedly denied sexually abusing underage girls. Recalling the meeting he, R. Kelly, and Jane's parents had in 2002, McDavid admitted he paid for Jane's family to leave town, but insisted he did not believe that sex tapes between Jane and R. Kelly actually existed. After news of the alleged tapes broke in 2002, McDavid recalled a "broken" R. Kelly started therapy, which he interpreted as another sign of the singer's innocence. "Why would you waste your time [with a psychiatrist] if you're not going to tell the truth?" said McDavid, who added that he has different views about the singer's innocence now after witnessing the current trial unfold: "As I stand here today, I'm embarrassed," he told the court. "Sad."
A twelve-person jury found convicted the singer of sex crimes.
During closing arguments, prosecution attorney Elizabeth Pozolo described R. Kelly as a "sexual predator" who abused "many girls over many years," crimes she said the singer's associates helped "cover up." "[Robert Kelly] committed horrible crimes against children. And he didn't do it alone," Pozolo told the court, per the Chicago Sun-Times. Focusing specifically on R. Kelly's alleged relationship with Jane, Pozolo said the singer "took advantage of Jane's youth" and "forever memorialized" her abuse on video. "Who does that?" she asked jurors. "Who uses a 14-year-old child to film a video like this? This man. Robert Kelly."
In their closing statements, attorneys for R. Kelly's co-defendants argued that their clients didn't definitively know about R. Kelly's alleged sexual crimes or the content of the tapes they stand accused of concealing. Per ABC News, R. Kelly's lead attorney, Jennifer Bonjean, called for a mistrial twice, arguing that the singer can't have a fair trial because closing arguments for his co-defendants relied on the presumption that "the world now knows Mr. Kelly is a sex predator." "The presumption of innocence is abolished for him," said Bonjean, who further argued that the women testifying in the case were doing so in the interest of money and self-protection, calling R. Kelly a "victim of extortion and financial exploitation." A 12-person jury convicted the singer last September after a day of deliberation.
Kelly was sentenced to 20 years in prison for sex crimes.
Kelly, 56, was transferred from Brooklyn's Metropolitan Detention Center, where he was serving his 30-year prison term, to Chicago's Metropolitan Correctional Center last summer. While federal prosecutors had pushed for Kelly to serve a 25-year sentence after his 30-year prison term, arguing that the singer would reoffend if released, Bonjean maintained that Kelly was "likely to die in prison either way" and would not pose a danger to society in his old age. She is currently appealing Kelly's convictions in Brooklyn and Chicago. Meanwhile, the singer faces state-level charges in Illinois and Minnesota.
This post has been updated.