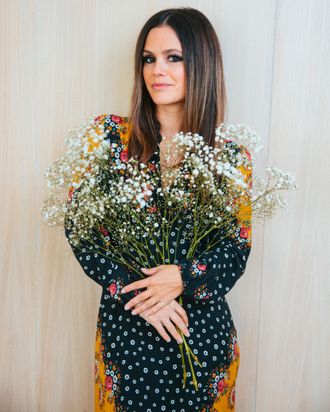 Depending on which tier of millennial to which you belong, you know Rachel Bilson either as the iconic SoCal popular girl with a heart of gold on The O.C., Summer Roberts, or the fish-out-of-water Dr. Zoe Hart of Hart of Dixie. Now, Bilson is returning to television in Fox's Accused, an anthology show in which each episode tells the self-contained story of a crime. In the episode "Danny's Story," now available on Hulu, Bilson plays a hospice caretaker who moves in with a widower and his two sons. The twist? She might or might not have killed the boys' mother and seduced their dad for his fortune. Neither Summer Roberts nor Zoe Hart would approve.
Because each Accused episode tells a new story, Bilson will appear in only one episode. But before you get sad, remember: Bilson is a pretty busy woman. During the pandemic, when everyone was stuck at home rewatching their favorite TV shows, she launched an O.C. rewatch podcast with Melinda Clarke titled Welcome to the OC, Bitches! After that became a success, she was approached to do another podcast, which became Broad Ideas With Rachel Bilson, a relationship, sex, and lifestyle podcast co-hosted with her friend Olivia Allen. The best part: Bilson, who shares daughter Briar Rose, 8, with her ex Hayden Christensen, could do it all from her home. "For me, being a mom is No. 1, so to be able to have these other outlets was super-appealing," she tells the Cut.
Fans of The O.C. and Hart of Dixie are definitely going to see a new side of you in Accused. Is it true it's more fun to be bad?
It was a really fun character to play. Aside from the whole hospice-nurse thing — the people who do that are incredible. I can't imagine having that for your job. But being able to go there and explore something so different was exciting. It was something I'd never done, and that's always something I'm striving for: to push myself and try new things.
As a fan of The O.C., your performance really terrified me because I didn't want to believe Rachel Bilson could be a murderer!
Yeah! The whole point was, when I was playing her, I really wanted to play against the villain. I was trying to make her likable because you don't want it to be super-obvious, right? But then again, it's also a television show, and there is a bit of on-the-nose stuff because that's just entertainment. It was a fine line between the two, but so fun.
I will say, I do think Summer Roberts could kill someone during one of her rage blackouts.
Yeah, the early Summer.
Summer changed a lot in the first half of season one of The O.C. Do you remember a moment or scene where you felt like you really understood her as a character?
You know what's so funny? I actually have a memory of this, and I have no memory of anything. My memory's terrible. There was a scene in the first season and Summer's leaning against the lockers, and it's the first time she really shows her vulnerability. Josh Schwartz told me that in that scene: "Oh, you really showed the audience, and us, that you can be vulnerable." And it was this moment of thinking that we can maybe take Summer a little further, which I thought was cool. That was really nice to hear.
[Author's note: After a deep dive into The O.C. season one, I am confident that Bilson is referencing the scene in episode 12, "The Secret," when Summer asks Seth out on a date.]
You recently had Mischa Barton on your podcast. Was there anything that surprised you about that reunion?
It was so good to see Mischa. We really went through something so special together. I have nothing but so much love for her. And for us to be able to watch her final moment together — 'cause I could never watch it; when the music would start, I just couldn't do it — to be able to do that with her, I felt like, Okay, we can support each other in this. It was just a really special moment, and I'm so happy that we got to do that together. I just would love to see her and catch up because you don't go through things like that often — or ever — in life. I just want her to feel supported, and hopefully we can spend some more time together, because I just really love her.
On Broad Ideas, you had a different kind of reunion when you interviewed Gabby Neiers and Alexis Haines, members of the "Bling Ring," which targeted you in the mid-2000s. Your show really focused on acknowledging past mistakes and accountability moving forward. Is that something that's important to you?
Accountability is huge. And to have the awareness to have accountability is a really great quality. When we spoke to the Bling Ring girls, they were holding on to it. But I'm a mom, and it's been so long — I've had really good practice in letting go. So hearing them, especially the younger one who's had such a hard time letting it go, I wanted to create the space to be able to have the dialogue and just say, "Hey, I'm okay. I healed from this. I was the one targeted — you're still dealing with it. Let's try to move on, because what else is there?" In life, you have to, whether it's forgiveness or whatever is needed. You have to have the conversation and acknowledge that it's important to let things from the past go.
I have a really vivid memory of a photo shoot that I think you did with Teen Vogue that was in your closet —
Oh my God. I think this was Seventeen or something? It was something so old school and in my apartment. I see those pictures and I'm like, Holy shit. Kind of mortifying.
I remember thinking it was so cool! And I remember how you differentiated yourself from Summer on the red carpet and carved out a space for yourself as a fashion icon. Was that a conscious decision?
No, it wasn't. I met my stylist, Nicole Chavez, because she worked on costumes on The O.C. That first year, we were going to a lot of events, and she was like, "You know what? I might wanna be a stylist. Do you want to be my first client?" And I was like, "Yeah, let's do this." We were friends, and she had impeccable taste, and I have my own sense of style, and we kind of forged this partnership that started 20 years ago and is still going to this day. We just had fun with clothes, and it was never a thought to be like, I'm going to break free from X, Y, or Z. It was just, Let's have fun. Let's experiment. Let's go for it. Because of our passion for clothing.
Is there a piece of clothing you remember wearing during that time that you loved that was totally different from Summer's style?
I bought this vintage black Givenchy dress from the '60s. It's not Summer at all. I got that way back then, and I still love it to this day. It's a real collector's piece. I was really into collecting vintage designer pieces at the time because I thought it was so cool, but that's one piece that sticks out.
Are you preparing for your daughter, Briar, to watch The O.C. or Hart of Dixie?
Hart of Dixie is probably the first thing my daughter can watch. I don't think The O.C. needs to be on her radar for quite a while. But I was trying to think if I could find an episode of Hart of Dixie that was super, super-tame for her. I don't even know if she cares to watch it. She knows what her parents do, but she doesn't think about it.
Before I let you go, I know you're a huge Bachelor fan. Have you started the new season yet?
Oh my God, you just reminded me! I forgot the first episode aired on Tuesday! I was a little on the fence when they picked Zach Shallcross. He seems like a nice guy, but I want a little more complexity, a little more flavor, if you will. I'm always like, Why do they do this? Why are they not calling me for castings?
Let Rachel Bilson cast The Bachelor — I agree! I also think they should be older. They're too young.
One-thousand percent. What 23-year-old knows what they want? I agree with you; they should at least be 30 and up. I keep seeing these ads to be on the senior Bachelor, and I'm waiting for that to air. I'm so curious what they consider "senior," first of all, and second of all what that's gonna be like. It might be my new favorite show.