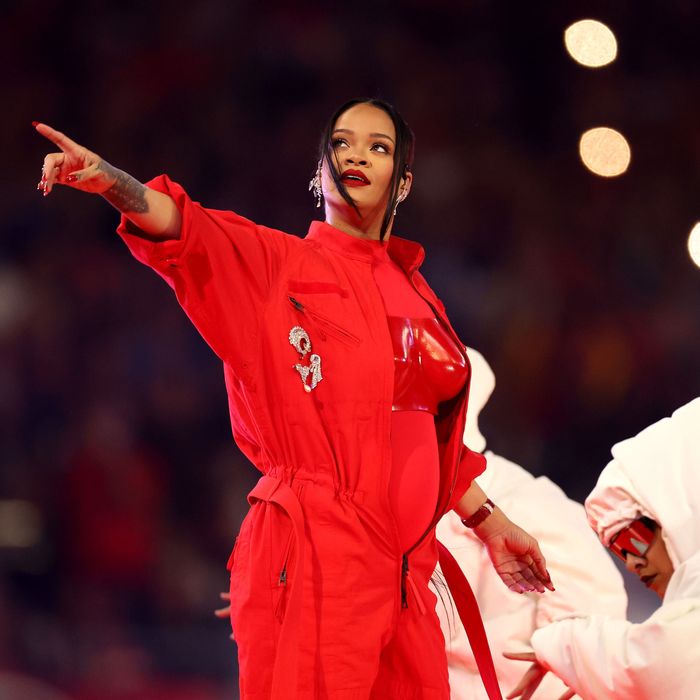 Photo: Ezra Shaw/Getty Images
Rihanna's Super Bowl Halftime performance was always going to overshadow any silly little game, super or not. The singer and beauty mogul hasn't performed live in years, so the second "Bitch Better Have My Money" (the first of many hits she performed tonight) started blasting through that arena, fans/the world/probably Adele because she was in the audience naturally lost their shit. But if they were waiting for surprise musical guests, well, they're still waiting. There was one "surprise" though that had everyone asking each other the same uncomfortable, perhaps wildly inappropriate, just-hear-me-out-though question.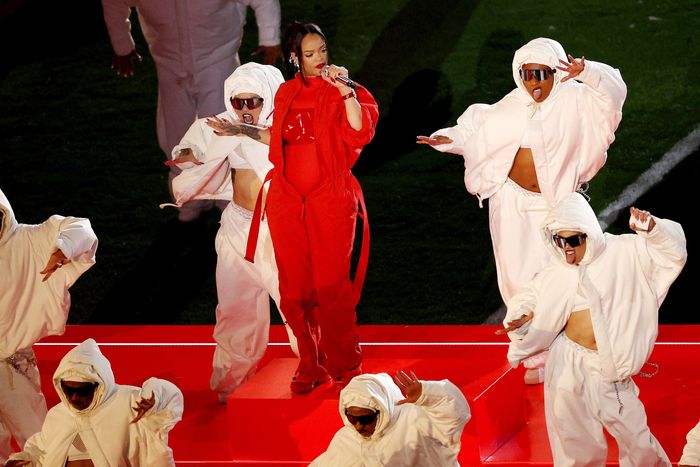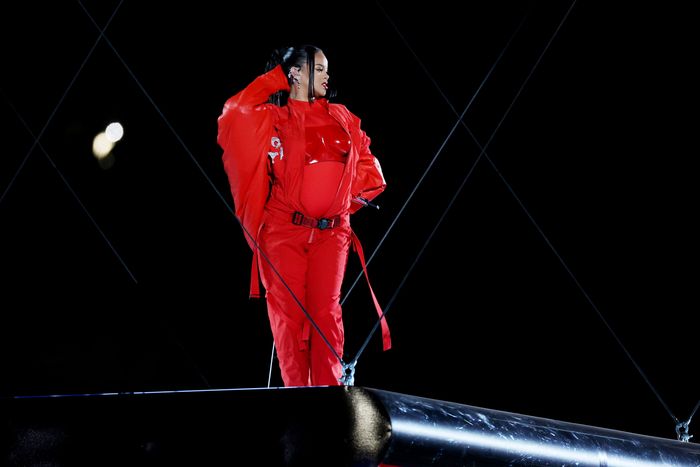 Well, turns out, the answer is: YEP. Rihanna's reps have confirmed to People and The Hollywood Reporter that she is indeed pregnant.
Rihanna welcomed her first child, a boy, with A$AP Rocky, in May of last year. Before any official confirmation, thanks to some belly rubs throughout her performance (along with oh, I don't know, suss expectations about what women's bodies are supposed to look like!! And also this tweet from a CBS anchor), fans speculated about whether or not Rihanna was readying to welcome her second. (By the way, A$AP Rocky was caught recording some of his girlfriend's performance on his cell phone from the sidelines and it's all very cute.) Rihanna didn't explicitly announce that she's pregnant during the set though, and the body-hugging red Loewe jumpsuit, paired with a matching Loewe bustier and Alaïa jacket and MM6 Maison Margiela x Salomon Cross Low sneakers, made it a bit tough to tell for sure.
A few days before the show, Rihanna talked about juggling new motherhood and her career, telling Apple Music's Nadeska, "The balance is almost impossible. No matter how you look at it, work is always something that's going to rob you of time with your child." Headlining the Super Bowl while pregnant would certainly be a way to solve that little problem, at least partly! (We've also reached out to Rihanna's team for comment and will update here when we hear back.)