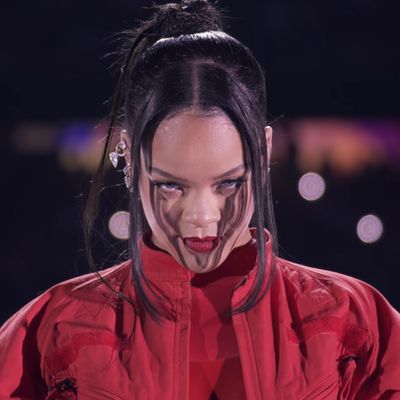 We were almost ten minutes into Rihanna's Super Bowl Halftime medley when my husband asked, "Is she pregnant?" By that point, the question was all over the internet, though the answer was not immediately clear. As pregnancy reveals go, the performance was remarkably ambiguous.
Rihanna, who gave birth to her first child last May, has already established herself as having little regard for the typical conventions of pregnancy. On Sunday night, she opened with a bleeped version of "Bitch Better Have My Money" while suspended above the stadium and dressed in head-to-toe red. The look — which included a Loewe leather breastplate and jumpsuit unzipped to reveal a subtle bump — was a far cry from traditional maternity silhouettes, which still tend to skew flowy and feminine. Adding to the ambiguity was Rihanna's "refusal to do bump hands" — which, as Kathryn Jezer-Morton has observed, has become the preferred way influencers and celebrities signal that body fluctuations are indeed a pregnancy.
The performance ended with "Diamonds," giving Rihanna the opportunity for a casual belly rub to the lyrics "when you hold me, I'm alive." But even now that her reps have confirmed that she is expecting, the most striking image of the night was not of her body, but a close-up of her face. In the moment before the show began, Rihanna looked directly at the camera. Her gaze is flirty and a little irreverent. Above all she seems confident and in control.
It's her confidence I can't stop thinking about. As with her previous pregnancy, which was defined by styles that showcased her bare belly as much as possible, her Super Bowl performance once again put her maternal body in the spotlight. New York Times fashion critic Vanessa Friedman predicts that her outfit will "probably set maternity trends for the next decade." But more than the specifics of what she wears, I'm struck by Rihanna's presentation of her pregnant body as a source of power — something to be celebrated and exalted.
It's an attitude I admire, even if, pregnant for the second time myself, I find it out of reach more often than I like to admit. Even as I recognize that my body is doing something incredible, my day-to-day feelings about pregnancy usually fall closer to embarrassment and sheepishness. The prospect of going to the office or a party mostly inspires dread about the speculation I might invite about my changing appearance. I consider myself lucky to be able to work remotely, though I still would have preferred to spend the majority of my first trimester in bed on sick leave.
A central part of Rihanna's appeal has always been that she does things on her own terms — like turning the most-watched television event of the year into a pregnancy reveal. Floating over the crowd, her nonchalance seemed to raise the question: Why wouldn't I perform on the world's biggest stage while pregnant? At the same time, it feels reductive to call her performance a pregnancy announcement or even a celebration of fertility. It was also just Rihanna being Rihanna. And that's the image that will stay with me: the power of a woman in control.