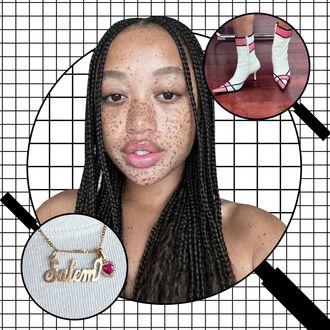 Photo-Illustration: by The Cut; Photos: Salem Mitchell
For more of the Cut's favorite fashion, beauty, and home finds, sign up for the weekly Cut Shop Newsletter.
The model Salem Mitchell tries not to buy new things. Instead, she opts for swapping clothes with close friends. "My friend group is so eclectic, and they all have unique senses of style," Mitchell explains. They'll often style the same piece in entirely different ways.
Mitchell is a big fan of thrifting, too —thanks to her mom, who's a big fashion fan and thrifter herself. She frequently browses Grailed and shops like Awww90s on Depop, where she has managed to get gems from Miu Miu and Blumarine. She also loves shopping in person, whether at New Top Jewelry, Café Forgot, or Kalimera.
"We've lost the art of going to the mall and just discovering a piece," she explains. Some of her best finds have been from her favorite stores like Terminal 27 and H. Lorenzo; her most recent (classic UGGs) was from Nordstrom.
Where did you get the inanimate object that brings you the most joy?
My heart mug is from Urban Outfitters. I love heart-shaped things. I have a lot. Valentine's Day is one of my favorite holidays, and I think I bought it around that time. Something about it just felt very special. I never bought home décor when I was living with my grandparents, and that was the time I was coming into my own money. So after buying it, I put it in the cupboard and told myself I wouldn't touch it until I had my own place. It was the first thing I brought to my first apartment in L.A. I use it every morning!
I'm starting to shop more for décor. The place I live in now is going to be a longer-term space for me, so I'm more intentional. I've been into sourcing vintage stuff. There's a place in L.A. called Sunbeam Vintage where I got my couch, my credenza, and my dining table. I've been looking on Facebook Marketplace. There's also a place called Midcentury L.A. Their prices are kind of high, but it's nice to get some references to figure out what I'd like to find online.
What's your morning routine?
I usually wake up really early. I brush my teeth and do minor skin care, have some tea, and then exercise. Lately, I've been running and doing Pilates. When I get back, I make my bed. I've been trying to be really diligent about making my bed. There are studies that show that if you make your bed, your day might go a little better.
I have to go to work with a bare face, but I use Peter Thomas Roth Hydra-Gel Eye Patches to depuff so I'll look a little more refreshed. If I ever have to come camera-ready, my beauty routine is super-simple: cleanser, toner, moisturizer, Tatcha Skin Mist, Boy Brow by Glossier, and Laneige Lip Sleeping Mask.
Where did you get something that changed the way you approach life?
All About Love, by bell hooks, was a gift from a friend a couple of years ago. One of my resolutions was to read more. Social media has shortened my attention span, so I really want to strengthen it, disconnect, and learn more. That was my first challenge of the year. This book taught me so much, not just about romantic love but how love relates to your family. I went to New York with my mom, and we both had it in our suitcases. I was going through something romantically with someone, and my mom brought it because she said it pertained to our relationship. So it's cool how a book can mean so many things to different people.
Where did you get your favorite piece of clothing?
I bought my gorgeous purple Acne dress by accident at Terminal 27. I have a great friend named Andrea; she has an immaculate style and is a really good gift giver, so I wanted to find her something nice at this store. I found her a couple of things, and as I was leaving, I saw the purple Acne dress. I told myself, If I try it on and it's amazing, then I'll buy it. As soon as I tried it on, I loved it. I'm really into purple right now. I collaborated with Wildflower Cases, and my first case was purple because that's one of my favorite colors. I'm always looking for things that match my phone case, too.
Where did you get the item you'll never get rid of?
My Camp CTRL T-shirt is from SZA's "Broken Clocks" music video. I had no idea what I was getting into. I have a wonderful friend named Sage, and they were SZA's creative director and asked if I wanted to take some pictures at Runyon Canyon; that's how I met SZA, and we had a pretty good relationship through that. Once it was time for the music-video rollout, they asked me to be in the "Broken Clocks" video. I just showed up. I drove from San Diego to L.A., and we ended up going to this camp. We were rivals with this other camp that was preppy, and Camp CTRL was more grounded, per SZA's whole aesthetic. They made us these T-shirts and let us keep them.
Where did you get your favorite pair of shoes?
My pink-and-white boots from Depop are so perfect, and they weren't more than $200. They're so fun. They give me a go-go-boots vibe but a little more sophisticated. One thing I love about Depop, the person selling them didn't put the brand label in the listing, but when I got them, I looked it up and I was able to find more boots by that same brand.
Where did you get the item you wear the most?
My necklace is from someone I dated for a long time. He gave me the heart when we first started dating, and it was symbolic. For Christmas, he gave me the "Salem" chain. We broke up, but the necklace is my favorite thing ever. I get so many compliments. I decided to combine them on the same chain. I really like layering, but sometimes it gets tangled so putting them on the same chain makes it look more cohesive. I've been getting a lot of jewelry on Ssense lately because I wanted to play with newer brands. I really like Jiwinaia. Anytime I'm in New York, I go to New Top Jewelry. Jane has the best gold ever.
Where did you get the item you splurged on the most?
It's my Marni jacket from H. Lorenzo. I was trying to find a birthday dress before my 24th birthday, and I found a beautiful one by Collina Strada. However, I was shopping with someone, and they grabbed the jacket and said I should try it on. So I did, and it fit. Sometimes it's rare to see ready-to-wear pieces in store, so I had to have it. I had never seen anything like it, and it was a big-girl purchase, but it's been a great closet staple.
Where did you get your favorite item to layer?
At Kalimera in Brooklyn. My friend always does closet sales there, and I wanted to check it out. They posted this coat on Instagram, and I tried it on. It was so warm, and I expected it to be expensive but it was only around $150.