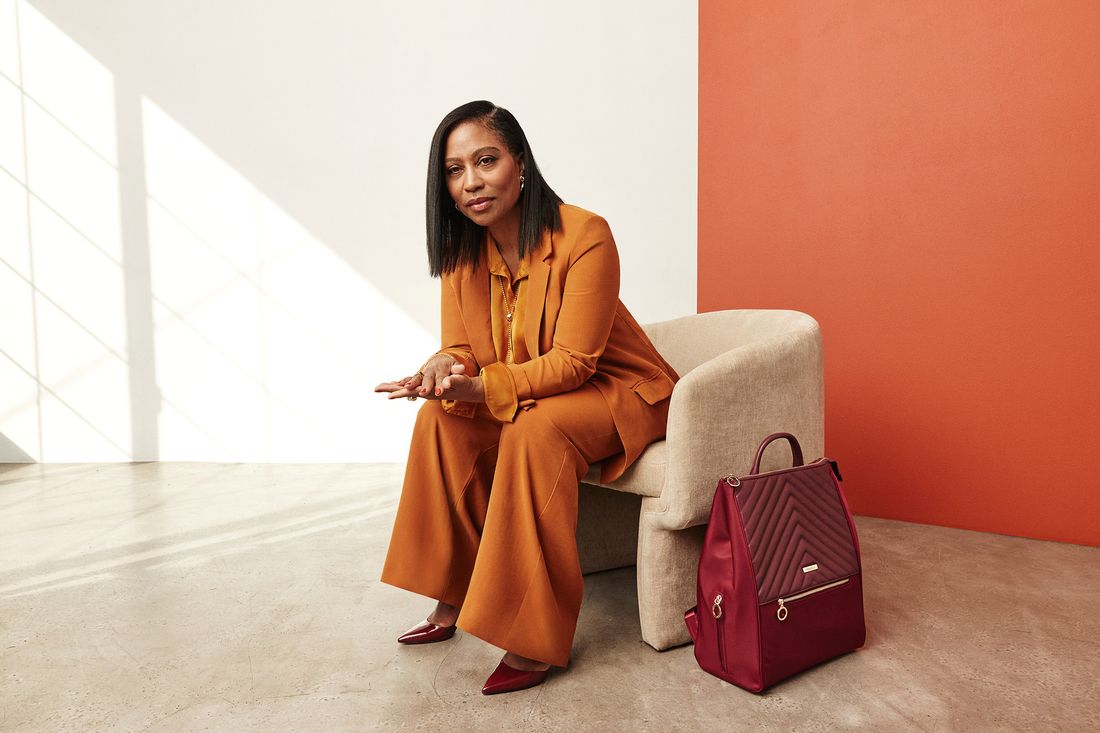 If you spend any amount of time commuting to work, you know schlepping heavy bags is just a part of the deal. We have laptops, snacks, books, and beauty products to carry. Even our reusable tote has its own tote. It's what MinkeeBlue founder and designer Sherrill Mosee calls the "overload bag syndrome." Between her purse, a bag for her lunch, and another one for her gym clothes, she was frustrated with carrying multiple bags on the train for her daily commute. But unlike the rest of us who resort to uselessly complaining or — less uselessly — shelling out for chiropractor appointments, Mosee turned her frustration into a fascination — and a successful handbag brand.
"I started to pay more attention to what and how other women carried everything they needed for the day," Mosee says. "I saw shoes playing peek-a-boo from a plastic grocery bag inside of a larger bag. There was fruit and foiled wrappings inside a disheveled open bag. When I couldn't find one bag to carry everything I needed for the day, I decided I would be the one to make an organizational bag that was stylish and functional."
A successful crowdfunding campaign, two utility patents, and almost a decade later, Mosee has solved all our bag problems. These days, she helps women all over the world stay organized with her products, and you can shop her bags at Macy's. For Black History Month, the retailer is spotlighting Mosee's brand, as well as other Black-owned brands, as part of its Mission Every One commitment to amplify diverse voices. We chatted with Mosee about how she got her start, what success means to her, and the importance of uplifting Black-owned businesses.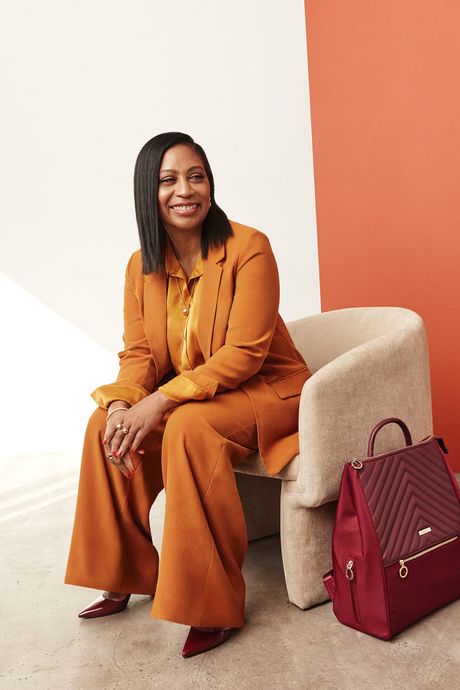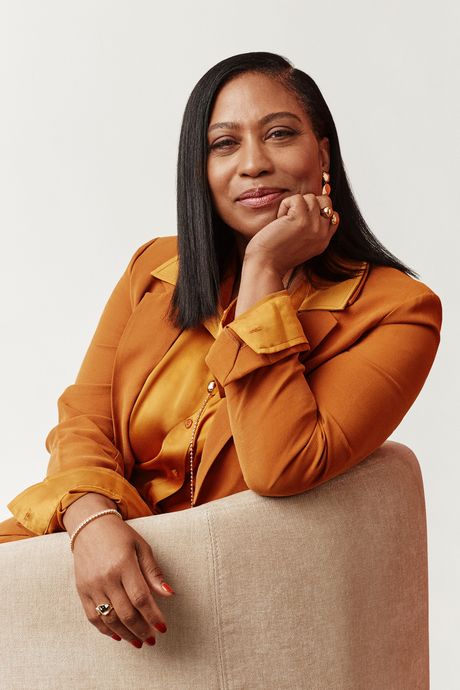 On finding her calling:
Mosee wasn't always in the business of bags, but helping women has always been at the core of what she does. Before striking out on her own, she ran a nonprofit organization that raised funding to help low-income moms in college pay for childcare expenses. It was there that a seed began to form.
"I would see the moms coming into my office struggling with their diaper bag and book bag," she says. "I realized I was doing the same thing commuting to work." Her solution? Designing one quality bag that would replace all others, ultimately ending the "three-bag schlep."
Mosee knew she wanted her products to fuse purpose, functionality, and style — and she had just the right background to get started: A master's degree in engineering. "Engineering is all about solving problems," she says. "I put my degree to work to design my patented folding shelf in the middle of the bag to structurally hold items on the top shelf without collapsing. Every detail in one of MinkeeBlue's bags is designed to make travel a little bit easier, from the folding shelf to the insulated lunch bag to shoe bag to the key fob."
On creating her own opportunities:
Mosee understands firsthand the challenges female business owners face, especially Black female business owners. She credits her ongoing zeal in propelling her forward. "I like to say I have passion sprinkled with a little obsession. That's my extra kick!" It's worked for her. To date, Mosee has successfully pitched her brand in multiple national TV spots (including a live shopping competition show!) and secured two utility patents for her designs.
But any underrepresented entrepreneur will tell you that sheer will can only get you so far. You have to recognize the people who not only understand the importance of giving you a seat at the table, but who will also pull out the chair for you. And Mosee has been smart enough to gravitate toward those willing to give her a chance since the beginning.
"Historically, it's been difficult for small brands, especially minority-owned brands, to partner with a big retailer at any stage," she says. "Macy's recognized these barriers years ago, and with its DEI initiatives that support and prepare small business owners to work with big retailers, we have access to people and resources that have previously been out of reach."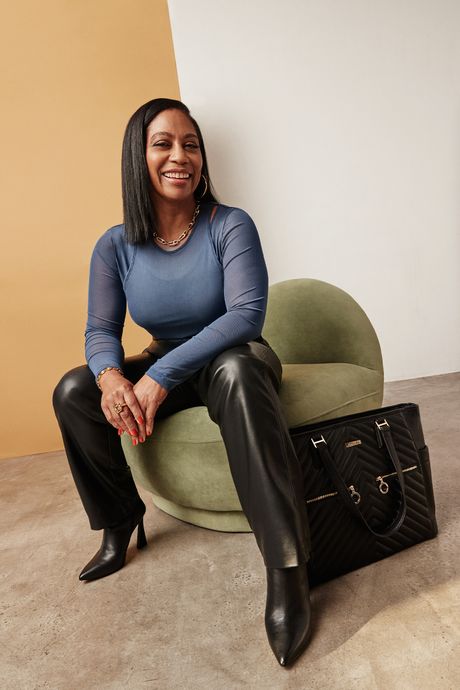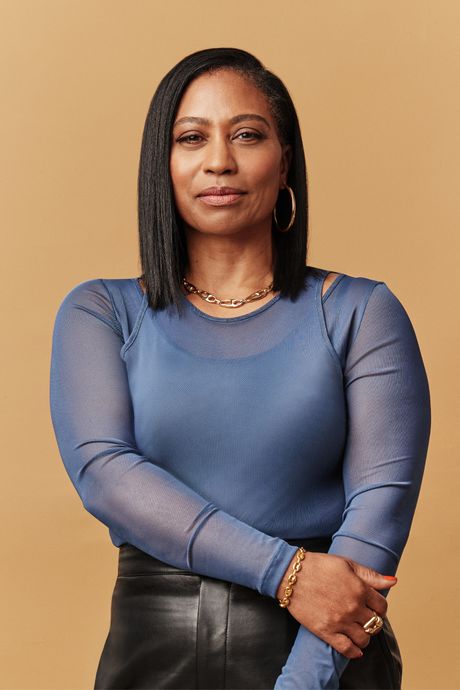 In 2021, Mosee graduated from The Workshop at Macy's, the retailer's vendor accelerator program for underrepresented entrepreneurs, and soon after secured a deal to stock MinkeeBlue at Macy's. For someone who used to walk through the retailer's handbag department back in 2014 and say to herself, "My bags will be here one day," it's truly a full circle moment for Mosee.
On paying it forward:
She may be the main character of her own story, but Mosee is quick to acknowledge she's had a lot of supporting roles around her. After all, it's never a one-woman show. "Growing a successful business takes grit, perseverance, commitment, determination, and commitment — and it involves mentors, peers, and team support." That's why she'll happily play the supporting role to somebody else's main character if it means helping other business owners like herself find success. "I believe it's really important that we lift each other up," she says.
This Black History Month, she'll be packing her MinkeeBlue bag with Black-owned products — everything from shoes to accessories to beauty products — and sharing all about it on social media. In fact, many of the brands she loves supporting are also available at Macy's, including Smash Shoes, Oma The Label, Simone I. Smith and BEN ŎNI. "When one wins, we all win."
This advertising content was produced in collaboration between Vox Creative and our sponsor, without involvement from Vox Media editorial staff.