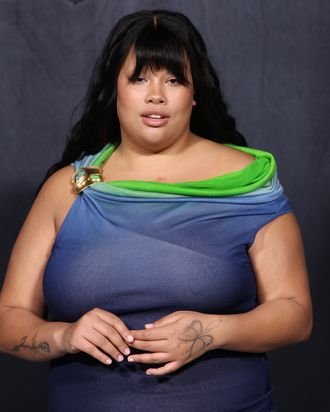 Photo: Daniele Venturelli/Daniele Venturelli/Getty Images for Salvatore Ferragamo
"Hello? Hello? Is anyone there? It's the coochie calling." Behold the opening lines to one of Shygirl's recent songs, "Coochie (a bedtime story)" — unabashedly horny and quite the opposite of coy, as her stage name may otherwise suggest. Privately known by her real name, Blane Muise, the 29-year-old has found an increasingly growing, ever-eager (some might say thirsty) audience since she began putting music out in 2016.
Known for her boldly honest and empowering lyrics, Shygirl often finds herself boxed into "strong woman" stereotypes with little room to explore her innate femininity. "It's hard to kind of portray that delicacy and femininity that I also do enjoy and, I think, is very powerful," she says. With her most recent album, Nymph, and her continued foray into the fashion world, Shygirl is aiming to explore and showcase her own divine power.
When we connect over the phone, she's in the middle of getting her nails done — "something neutral," she says, to complement the drapey blue-and-green Ferragamo dress she's wearing to the fashion house's show in Milan. I ask for more details about the frock, and we both agree it's one that Meg from Hercules would kill to wear. (Shygirl says much of her inspiration comes from Disney movies.) She has known Ferragamo's creative director, Maximilian Davis, for years and was one of the first to wear a custom design of his to the British Fashion Awards. The artist, who has now become a muse to the brand, chatted with the Cut ahead of Ferragamo's show in Milan and shared some secrets about her upcoming single with Tinashe.
Tell me more about what you're wearing to Ferragamo. What's the story behind the look?
There's always some messaging in the look. Whenever I start planning, I'm like, Who am I trying to be? I like something that moves as I move. I want to amplify the minimal movement that I do. I like anything that feels very feminine in terms of material. And I'm wearing heels, which I'm always trying to run away from, but I think it goes with that delicate vibe that I wanted to portray. I like to appear delicate and feminine, and I think that's not uncommon, especially in this setting where I'm around so much beauty.
What does femininity look like to you?
In this context, it's being suggestive. I don't feel like I need to show a lot of skin, but I do like to do that sometimes. I think it's being flirtatious with outfits and with materials and wearing things that I know make people want to touch what I'm wearing or look touchable. I want people to imagine dressing me, undressing me. I want the clothes that I'm wearing to lean into that message. I also like classic silhouettes or things that remind me of the muses of old, especially at the moment, where I'm kind of living in my own Nymph references.
What's a non-clothing Fashion Week essential you have on you at all times?
Vicks VapoRub, just to wake me up. At the moment, I also have Isamaya's new lip balm, which I've been carrying around with me because it's shaped like a penis. It's kind of fun, and I think it's kind of shocking to bring it out at a normal function.
Is that the weirdest thing in your bag?
Let me check. I still have some random earrings. I just got back from Tokyo and bought like 20 different earrings. I have a thing about earrings. I ended up going to Tokyo for three weeks, and I got a lot of inspiration there and went out to Kyoto and filmed a video for one of my songs.
Okay, I have to ask about this single with Tinashe I'm hearing about.
It's the first single off the deluxe edition of my album. Tinashe was one of the first people I really wanted to work with. I was just so pleased when she reciprocated that same energy with me. I just had been so taken by her voice and her energy and the potential of what we could do together. And as soon as she started working on the song, it was like she was always meant to be on that song. We actually worked on it in her house, in her home studio. It was so nice to be invited into her space. It didn't feel transactional; it really felt like a genuine collaborative moment.
The rest of the collaborators come out Tuesday. It's all female features. I think it's a unique collection that only I would be able to bring together on the record. I can't imagine other people having the collection of people that I've managed to get together, which is nice. I can feel smug about that.