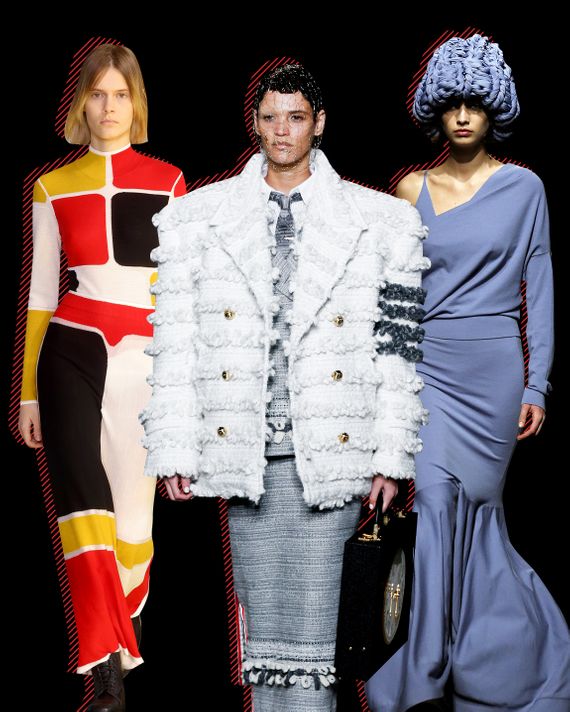 Photo-Illustration: by The Cut; Photos: Greg Kessler for Gabriela Hearst, Courtesy of Thom Browne, Getty Images
If each day of New York Fashion Week had a theme, Tuesday would be "What I Read Over My Summer Vacation." Thom Browne chose The Little Prince, by Antoine de Saint-Exupéry, and re-created its imagery — a plane crash in the Sahara, planets, a wandering golden-haired boy — at the Shed on the West Side of Manhattan. Gabriela Hearst picked the modern design philosophy of the Irish architect Eileen Gray with a dash of Thomas Carlyle and advice from her dharma. And Joseph Altuzarra liked mythology. He even left a book on the topic on guests' seats with pages marked to show early Greek drapery and prints based on inkblots and feathers.
The imaginative leaps of Altuzarra and Browne had less to do with wanting to escape to distant periods or worlds than with refusing to be limited by the present one — and making clothes that are predictable and safe. "I really wanted to meet the moment — the austerity, the way the world is — with a lot of joy and a lot of imagination, and not necessarily realism," Altuzarra said. An avid reader of mythology, he and his team began working eight months ago on fabrics, many inspired by the ways in which the ancients would read the magical world — through inkblots, say, or botanical compositions. He treated those details simply, with long dresses that were either fine knits or jacquards. Some dresses were layered over a patterned bodysuit. Essentially the shapes were T-shirts or a floaty slip dress.
A few designs were more literal, like a gorgeous series of draped dresses in ivory, burnt yellow, or lilac jersey. Still, he didn't overdo the ancient drama. Altuzarra said he also had in mind the polish and formality of feminine dress in the 1950s and early '60s — hence the number of matching coat and dress looks and the opening parkas (an Altuzarra signature) with those Rorschach-like patterns. He finished the show by amping up the scale of his parkas, in couture satins with embroidery and big fake-fur-trimmed hoods or collars.
"This collection came from a very personal place," the designer said, acknowledging that it's out of step with the trend toward "real clothes." But singularity and belief in what one does, especially when it's done with consideration, is a wonderful form of resistance and maybe a way of staying alive to one's craft. Besides, it's a big world. Not everyone wants a black pantsuit.
That was kind of the point of Thom Browne's trippy story, too. "For me, the shows are pure creativity," he said. "I don't think about the business and commerce at all. It's all about ideas and concepts."
In Saint-Exupéry's novella, in brief, a boy who has been living on an asteroid called B-612 meets up with a pilot who crashed in the desert. Other characters appear — a businessman, an astronomer, a geographer, a snake (the model Anna Cleveland got that part, wearing a long, figure-hugging black-gray dress embroidered with stacks of sequins wrapped in tulle). There's also the rather difficult character of a rose — rendered by Browne in embroidery and a 3D black leather bag. He came up with his own cheery ending for the story: An angel (Precious Lee) rescues the boy as the entire cast pairs off and circles the set to Josh Groban's version of "You'll Never Walk Alone" from Carousel.
You expected Browne to be a grouch? A pessimist?
For me, the fascinating thing about this show was its scale, the monumental size of the models, thanks to their platform shoes (which featured round heels that resembled clocks) and their extra-beefy shoulders and galactic hairdos or hats. Some of them also had superlong and curling nails that made you think they had been rusticating somewhere for a century. They would certainly be living alone with those toes and fingers.
Anyway, Browne made his reputation years ago with a shrunken tailored look. And today, everything around us seems ridiculously oversize, from furniture to food to footwear. Browne's thick, white-soled brogues (if that's the correct word) looked like tanks. I also loved the way, later in the show, he deconstructed those big tweeds and pinstripes, breaking them down and abstracting the suit pieces as more streamlined and almost flat-looking dresses. Each one was worn over a sleek, molded dress. Think of a Stockman dressmaker's dummy and you have a picture of the underdress.
"I always challenge myself to push it," Browne said of his creative process, adding, in reference to the scale, "My eye is not seeing men and women anymore. It's just this beautiful world."
Hearst's press notes were a ramble about a phallic drawing she made, some thoughts from her dharma, a trip to Ireland, and a long meditation on the work and influence of Gray, who called her home in the south of France "E-1027." Hearst is hardly the first designer to reference Gray (Karl Lagerfeld was a big admirer). Nonetheless, the connection makes sense for Hearst's practical kind of modernism. She opened with a plain black coat and pair of trousers with a buttoned-up white shirt that was vintage Jil Sander, but she moved on quickly — with some great-looking shirts in wool or leather that recalled CPO jackets; a full black leather skirt with a chunky ivory sweater; and spare, color-blocked knit dresses that seemed a nod to Gray. Above all, her collection felt complete.