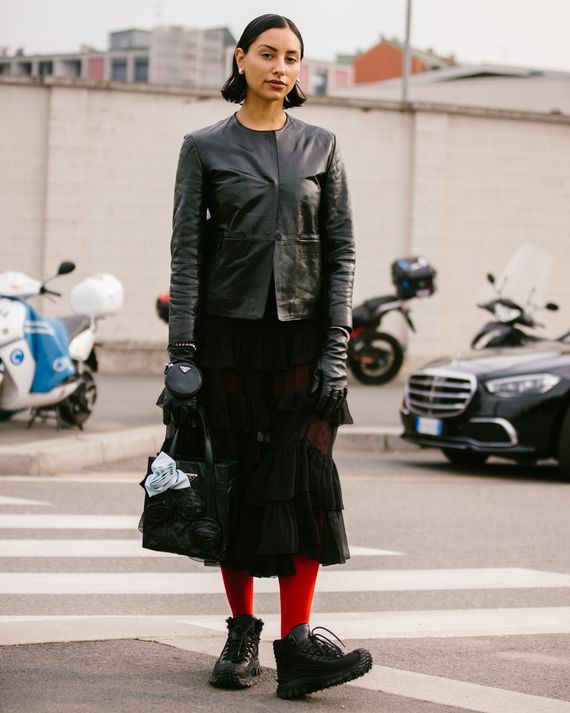 Photo: Christina Fragkou/Christina Fragkou
Every season, fashion month's most stylish attendees prove again and again that the looks outside the shows can be just as good as what's on the runway. Here, some of the best street-style looks, as captured by Christina Fragkou.
Tenicka Boyd
Boyd wore a Max Mara top and pants, Jil Sander shoes, an Attico bag, Dior sunglasses, and vintage earrings.
Instagram:@tenickab
Ciinderella Balthazar
Balthazar wore a Sandro jacket, Longchamp bag, and Falke tights.
Instagram: @CiinderellaBalthazar
Mayara Moreno
Moreno wore a vintage sweater, shirt, and scarf; Zara pants; New Balance sneakers; and Maralü jewelry.
Instagram: @mayara.moreno
Olivia Pezzente
Pezzente wore a Miu Miu jacket; Prada skirt, bag, and gloves; and Moncler shoes.
Instagram: @oliviapezzente
Gabriella Karefa-Johnson
Karefa-Johnson wore a Coût De La Liberté sweater, a Target skirt, Chanel shoes, a Prada bag, and Alexander McQueen sunglasses.
Instagram: @gabriellak_ j
Tania Sarin
Sarin wore an Equipment sweater, Sportmax pants, Versace shoes, a Carolina Santo Domingo bag, and Saint Laurent sunglasses.
Instagram: @taniasarin
Steinberg
Steinberg wore Margiela coat, Acne Studios suit, an Alexander McQueen shirt, Polaki boots, and vintage gloves.
Instagram: @st.einberg
Estelle Pigault Chemouny
Pigault Chemouny wore a Prada coat, Philosophy pants and top, and Acne shoes.
Instagram: @estellechemouny
Georgia Medley
Medley wore an Acne top, CultNaked pants, and YSL shoes and bag.
Instagram: @georgmedley
Anaa Saber
Saber wore a Prada coat, a Philosophy dress and shoes, and Lexxola sunglasses.
Instagram: @anaasaber
Soha
Soha wore Attico pants, an Alexander McQueen bag, and a Loewe bag.
Instagram: @Sohamt
Jade Nguyen
Nguyen wore an Ines de la Fressange trench coat and Buffalo boots.
Instagram: @nnguyenjade
Jordan Anderson
Anderson wore full Missoni.
Instagram: @symbiosity
Tess McMillan
McMillan wore a Comme des Garçons coat, a thrifted top and jeans, Raf Simons shoes, and Alexis Bittar earrings.
Instagram: @tess_mcmillan
Isze Cohen
Cohen wore a Massimo Dutti coat, vintage dress and bag, and Repetto shoes.
Instagram: @frostiedelite
Jessica Neises
Neises wore a Series NY blazer, Yan Yan Knits cardigan, Cosabella skirt, and Frye boots.
Instagram: @jessicaneises
Jessica Gonsalves
Gonsalves wore a Supreme x North Face jacket, Misfits T-shirt, Champion shorts, Martine Rose x Nike shoes, Ferrari hat, and a Chanel bag.
Emili Sindlev
Sindlev wore a Proenza Schouler jacket, Miu Miu pants, and Saint Laurent shoes.
Instagram: @emilisindlev
Lauren Caruso
Caruso wore a Materiel Tbilisi jacket.
Instagram: @laurencaruso
Candace Marie
Marie wore a The Sei top, Isabel Marant boots, and a Proenza Schouler bag.
Instagram: @marie_mag_
Jazzelle Zanaughtti
Zanaughtti wore full Area.
Instagram: @uglyworldwide
Michelle Li
Li wore a Charlotte Simone coat, Open Product skirt, J.Crew shoes, and Comme des Garçons bag.
Instagram: @himichelleli
Jenny Walton
Walton wore a Prada jacket, top, and accessories; vintage pants; and a Louis Vuitton bag.
Instagram: @jennymwalton
Yaminah Mayo
Mayo wore an Asos coat, vintage top and skirt, and Loewe shoes and bag.
Instagram: @spicy.mayo
Valentine
Valentine wore a vintage sweater, coat and boots; Diesel Industry jeans; and a Bottega Veneta bag.
Instagram: @b1tchiest

Margaret Zhang
Zhang wore a Samuel Gui Yang jacket, Khaite skirt, Prada shoes, and Dior sunglasses.
Instagram: @margaretzhang
Kristen Bateman
Bateman wore a Miu Miu coat and boots, Prada dress, Dollchunk jewelry, a Vivienne Westwood bag, and Vaquera teddy bear.
Victoria Fawole & Awar Odhiang
Odhiang wore an Aritiza coat and top, Lululemon pants, Nike sneakers, and Acne scarf.
Fawole wore a Zara coat and shoes, a vintage T-shirt, Levi's jeans, and a Michael Kors bag.
Instagram: @victoriafawole
Cheyenne Maya Carty
Carty wore an H&M coat, and top, skirt, and boots from Carolina Herrera. Her jewelry is Swarovski.
Instagram @chey_maya
Richie Shazam
Shazam wore full Coach.
Instagram: @richieshazam
Hunter Abrams
Abrams wore a Stüssy jacket, Willie Norris Workshop T-shirt, Dries Van Noten pants, Hoka shoes, and Sies Marjan bag.
Alyssa Coscarelli
Coscarelli wore an Acne coat, Geel skirt, Simon Miller shoes, and Heavn bag.
Instagram:@alyssainthecity
Dania Curvy
Curvy wore a vintage jacket and skirt, Zara sweater, Sam Edelman boots, Loewe sunglasses, and Celine bag.
Instagram: @daniacurvy
Chrissy Rutherford
Rutherford wore a Brandon Maxwell jacket and dress, Manu Atelier bag, and MSGM shoes.
Instagram: @chrissyford
Jill Kortleve
Kortleve wore a vintage coat and skirt, Paloma Wool top, Doc Martens shoes, and Chanel bag.
Instagram: @jilla.tequila
Sasha Payton
Payton wore a Frankie Shop jacket and pants, Zara top, vintage earrings, and Margiela shoes.
Instagram: @sashapayton_
Aliyah
Aliyah wore a Zara top and skirt, iGirl chain, and Demonia boots.
Instagram: @Aliyahsinterlude
Mariana Santana
Santana wore an Acne jacket, Miu Miu skirt, and Gucci bag.
Instagram: @marianaosantana
Ana Gimeno Brugada
Brugada wore a Margiela x The North Face jacket and a Prada top and pants.
Instagram: @anagimeno222
Sophia Roe
Roe wore full Fendi.
Instagram: @sophiaroe

Toni-Blaze Ibekwe
Ibekwe wore a Numero 21 coat, top, and skirt; Prada boots; and Linda Farrow x The Attico sunglasses.
Instagram: @toniblaze