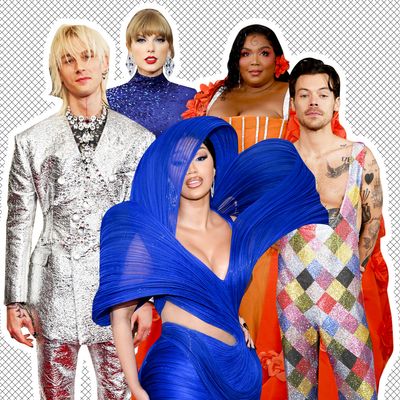 Photo-Illustration: by The Cut; Photos: Getty Images
It's impossible to tell if everyone who showed up on the Grammys red carpet was actually attending the same event: We saw cloaks; we saw whale tails; we saw opera gloves; we saw feathers, crossing the line from tasteful to ornithological; we saw monochromatic group looks; and we saw … Harry Styles as a sexy clown. Some, like Anitta, wowed us with their tasteful choices, while others, like Shania Twain, wowed us … for other reasons. We've got the best, wackiest, and most-likely-moist looks gathered for you right here.
Best Dressed: Cardi B
Miss Belcalis Marlenis Almanzar did not come to PLAY. She looks jaw-dropping in this look from Gaurav Gupta Couture, which debuted during Paris Fashion Week just a week ago. This is how you do a hooded-dress look. My jaw is still on the ground.
Sexiest Jester: Harry Styles
America's boyfriend wore a colorful, bedazzled bodysuit by Egonlab covered in Swarovski crystals. He gave the viewers at home exactly what they've been craving from every red carpet: man cleavage (meavage?). I'm still trying to decide whether I LOVE this outfit or I simply LOVE this man. TBD. Either way, honk-honk, bitch.
Most Regrettably Gobsmacking: Lizzo
I regret to inform you all that I love Lizzo's look, which fills me with sorrow solely because she's decked out in Dolce & Gabbana. From cloak to corset to ring to glam, she looks perfect. I feel both happy for her and sad for us that it had to be Dolce that did it.
Our Sovereign Queen: Laverne Cox
Laverne Cox is a queen on all fronts, but she looks especially so tonight. Her jewelry (breaking an apparent no-necklace spell on red carpets recently), golden-toned makeup, hair, and a dress by Kim Kassas Couture makes her look like true royalty. She said the story she was telling with her outfit was "Cleopatra meets Goldfinger 2023," and I concede!
Most Sweaty (Probably): Doja Cat
Listen: Doja, as always, looked amazing in this Versace outfit. The dress is allegedly vinyl, but looks quite latex, and if you've ever worn latex, you know there is very little breeze to be felt inside your outfit, and things in there can get … clammy. We salute you, Doja, for likely getting sweaty in the name of style.
Most Easy to Spot: Shania Twain
The icon that is Shania Twain walked the red carpet in a Harris Reed outfit Cruella De Vil would find aspirational. That's all I have to say about that.
Most Avian: Blac Chyna
Blac Chyna looks like she's either ready to take flight or bury her head in the sand. She's crossed the line from auspicious to ostrich.
Most Time-Warped: Jack Antonoff
I'm scared to ask what decade Jack Antonoff just came from and how he reentered this year with a relic still attached to his suit in the form of a "Kennedy for U.S. Senator" campaign button. Someone call Marty McFly or something.
Most Masterminded Look: Taylor Swift
Of course, our queen of manipulation (admittedly so, courtesy of her song "Mastermind") arrived in a midnight-blue Roberto Cavalli dress covered in crystals, presumably a nod to her most recent album release. Swift also wore her once-beloved two-piece signature look, which is perhaps the most surefire signal we're headed toward a real-life 2014-style renaissance.
Most Potentially Murderous: Jack Harlow
At first glance, Harlow looks like he's serving nothing more than a light, academic look — he could very well be a librarian — until we get to the black gloves … I've watched too many episodes of Law & Order for those random gloves to not incite a bit of fear in my brain. We're watching you, Jack!
Most "Vans Warped Tour" Ready: Lil Uzi Vert
And for you, Lil Uzi? A bit of our best-dressed list! Weeeeeeeeeee! The hair is reaching scrumptiously dangerous heights and defying gravity like any good punk hairdo should.
Most Likely to Survive a Desert Storm: Miguel
Any good cowboy knows the surest way to keep your skin safe in the extreme winds that get kicked up in the Wild West is by sporting denim, and Miguel has clearly prepped himself for such an event in this head-to-toe jean moment. Understandably so, given the unforgiving weather Los Angeles often has in store.
Most Oscar-Worthy: Machine Gun Kelly
I know this is an entirely different awards show, but I say this because the musician wore a look that feels like a dupe for the Tin Man's look in The Wizard of Oz. Click those heels, MGK!
Best Product Placement: Nile Rodgers
The icon that is Nile Rodgers looks incredible in this lime-colored suit and backwards Chanel cap.