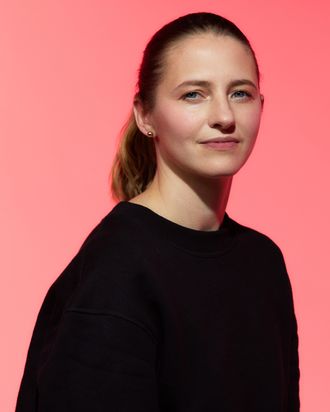 Sara Ziff
Photo: Reed Young
Former model Sara Ziff established the Model Alliance, a New York–based advocacy group that works to promote fair treatment of and practices toward models and workers within the fashion industry, in 2012. At the time, there were very few legal protections for models. "I started this work over a decade ago, and when we looked at the laws on the books, we saw that even child models — who were under 18 years old — in New York were not protected under labor law," Ziff says. "Which is pretty remarkable."
Last year, the group proposed the Fashion Workers Act, which would create labor protections for those in the industry. The bill (co-sponsored by New York State Assembly member Karines Reyes and State Senator Brad Hoylman-Sigal), which is currently in committee, proposes to address basic workplace guidelines by requiring management companies to pay models and creatives within 45 days of completing a job, to provide them with copies of contracts and agreements, along with other things that revolve around pay transparency. In the meantime, Ziff is promoting awareness of the Adult Survivors Act (ASA), which was passed by New York governor Kathy Hochul on May 22, 2022. The law gives sexual-assault survivors until November 23, 2023, to report their abuses and seek justice in a civil court against their abusers and the institutions that enabled the abuse no matter how long ago the abuse happened.
Ziff and the Model Alliance have collaborated with model Ambra Gutierrez, model and gender-based-violence advocate Carré Otis, TikTok influencer and survivor Barrett Pall, and more to release a PSA about ASA.
"There is a predatory labor structure in the modeling industry that makes people uniquely vulnerable to sexual abuse," Ziff says. "And it makes it hard for people to report abuse because of fear of retaliation and financial dependence."
I think a lot of people outside the industry don't understand that models don't have many legal protections. 
There were none when I started. In 2013, we helped introduce the Child Model Act that at least gave kids protection. We are now really focused on making sure that adults are covered under labor law as well. And, you know, it's not just models — it's hairstylists, makeup artists, photographers, etc. Most creative artists working in the fashion industry work through management companies, which are unlicensed and unregulated, and because of that multilevel structure of hiring, our community is basically cut out of labor law and doesn't have basic rights and protections at work.
Depending on the degree of sexual misconduct, the length of time that the victim has to report, known as the statute of limitations, varies. Why is it important to extend the statute of limitations?
Many people who experience sexual abuse were time-barred from filing a complaint, and so legally they didn't have options. Now, with the ASA, they do.
What do you think the failure in the industry is?
When you're dealing with a mostly young, female, immigrant workforce who don't have basic labor rights, who are put in compromising situations because of a power imbalance, because they're shooting with big established brands and powerful photographers that could be putting them on the spot to pose nude — it's an environment ripe for abuse. It happens in every industry, but fashion and modeling are particularly prone to this type of abuse because there aren't any safeguards in place.
Emily Ratajkowski's 2020 essay touched on being young and getting into situations in which early-career models are preyed upon. Do you see this continuing to happen post–Me Too? 
I'm familiar with Emily Ratajkowski's essay — and her book, which was terrific. Quite a few models have been outspoken about these issues and think there's more awareness for sexual misconduct, but there hasn't been much process-led justice; there hasn't been any meaningful change. We continue to hear from people who are experiencing these abuses. So there's a real need to think about how we not only pursue justice but work toward prevention.
What insight did your collaborators Ambra, Carré, and Barrett bring to this PSA? 
It's clear that this type of abuse happens across the board; it's not specific to gender. For example, we know that there are men who are survivors in our community, who I think face this double stigma. It's hard enough to speak out about that type of abuse often. There's a sense of shame and deep trauma, but I think that when men are speaking about sexual abuse, it can be that much harder. I'm really grateful to Barrett and Kai [Braden], who participated in our PSA, and we've certainly heard from male survivors through our support line.
Have you all received any pushback since the law was passed?
I'll be frank: The modeling agencies have been trying to push back on us for a long time.
Where do you see the most abuse of models?
Abuse is happening by agencies — the very same people who are representing the models' interests. Carré, who is in the PSA, has been outspoken about the abuse she says she and at least 15 other models faced by their former agent, Gérald Marie. He, at this point, is out there and has been named by many women, but he's not the only one — people who work in the industry, or people who pose as agents, who prey on the aspirations and naïveté of people who aspire to work in the industry. Currently, modeling agencies evade any licensing or regulation. They're not held to any standard, and yet they exert a huge amount of power and control over their talent. That's largely why we are working to pass the Fashion Workers Act, our signature bill that would establish basic protections for fashion's creative workforce.
Say a model, for whatever reason, doesn't act within the one-year window that ends on November 23. What else is in place to make sure that their voice is heard?
Once the window closes, they no longer have access to the courts. So if they want to pursue a civil claim, it's really important that they reach out and begin the process. If you work in the fashion industry, we welcome you to contact our support line at support@modelalliance.org, which is safe, confidential, and secure. We can't provide legal advice, but we do connect people with attorneys — if that's what they're looking for — who we trust and who are experienced in this area of law. So don't wait until November. And the ASA is obviously not just for models; it's for survivors of sexual abuse who are interested in pursuing claims in New York.
What do you hope to see in the fight for models and creative workers' rights in the next ten to 20 years?
In order to permanently change this industry for the better, we need to upset the balance of power that's always been skewed toward the people in corporations making money off us and return that power to the young people, who this industry is built on the backs of. And I think we need to ensure that models and other creatives have control over their bodies, their paychecks, their future. Considering how slow changes in this industry are, I don't know — let's talk in 20 years.