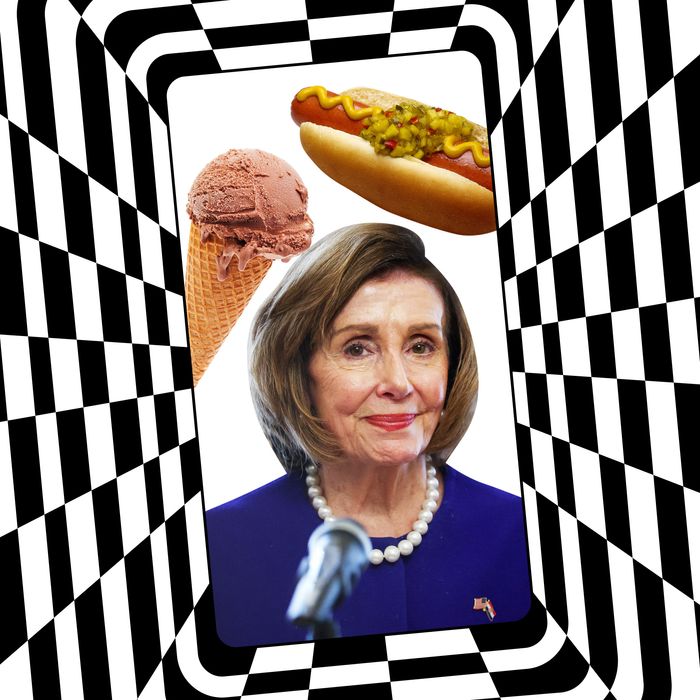 Photo-Illustration: by The Cut; Photos: Getty Images
I Can't Shut Up About: Deep dives into my online obsession of the week.
When former Speaker of the House Nancy Pelosi stepped down from Democratic leadership in November, we were left with some questions. Namely, does Nancy Pelosi really eat a hot dog every day for lunch? After her announcement, Pelosi was asked what she planned to eat as a celebratory lunch, and she apparently said it'd be the same thing she eats every day: a hot dog with relish and mustard. Truly a power lunch.
As much as I'd love to think of Nancy Pelosi enjoying a daily dog, I'm sure she doesn't eat a hot dog every day for lunch. However, as Business Insider's Sophie Kleeman shared early this week, Pelosi's diet is surprising for a woman who undeniably reads as an Almond Mom (à la Yolanda Hadid). Kleeman, who embarked on a journey to eat like Nancy Pelosi for a week, described Pelosi's food habits aptly: "The 82-year-old former Speaker follows the diet of a wealthy toddler with zero parental supervision." Well, the parents are away, Nancy! What are you going to eat for breakfast?
"I've been eating dark-chocolate ice cream for breakfast for as long as I can remember," Pelosi told Food & Wine in 2017. Hell yeah. I won't tell Mom if you don't. And it seems that habit hasn't stopped. During an early quarantine appearance on The Late Late Show With James Corden, Pelosi briefly gave a tour of her freezer. It contained 11-ish pints of Jeni's ice cream, which became a whole thing with conservatives, I guess? For context, the interview came out about a month after Gal Gadot's "Imagine" video.
Pelosi also told Food & Wine she doesn't see how having some morning ice cream is "different from having a cup of coffee." (Pelosi also doesn't really do coffee. Or alcohol, despite having the palette of a drunk college student.) Because Nancy is apparently powered by the mere suggestion of caffeine, breakfast is typically dark-chocolate ice cream, often Jeni's. An issue I care passionately about is that Jeni's ice cream is very much worth its $12-a-pint price. However, there is an overlooked and slightly more alarming detail regarding how Pelosi takes her morning ice cream. She takes it … in a cone. Imagine, if you will, former Speaker of the House Nancy Pelosi making her way to Congress at the crack of dawn, with a scrumptious little ice-cream cone in one hand and a gavel in the other. Picture her devising a plan to clap sarcastically at Donald Trump while ice cream melts onto her hand. Do you think she had an extra scoop before ripping up Trump's 2020 State of the Union? What about after she and other democratic congresspeople wore a kente cloth while kneeling in silence for George Floyd? If it helps, Pelosi is also known to eat ice cream while pedaling on a stationary bike. Would she, could she … with a cone?
Pelosi's affinity for hot dogs and ice cream is really the most notable part of her diet. She's definitely a desserts girlie; she's been more consistently vocal about her support of chocolate than she has progressive issues across the board. She also says she's a fan of carbs; perhaps she'd like to try Robert Pattinson's potato cleanse. If nothing else, it is refreshing to see a public figure's diet that doesn't involve avoiding "chewing foods" or fasting two days a week. Maybe 2023 is the year we all give in to our carnal desires and feast like toddler kings.