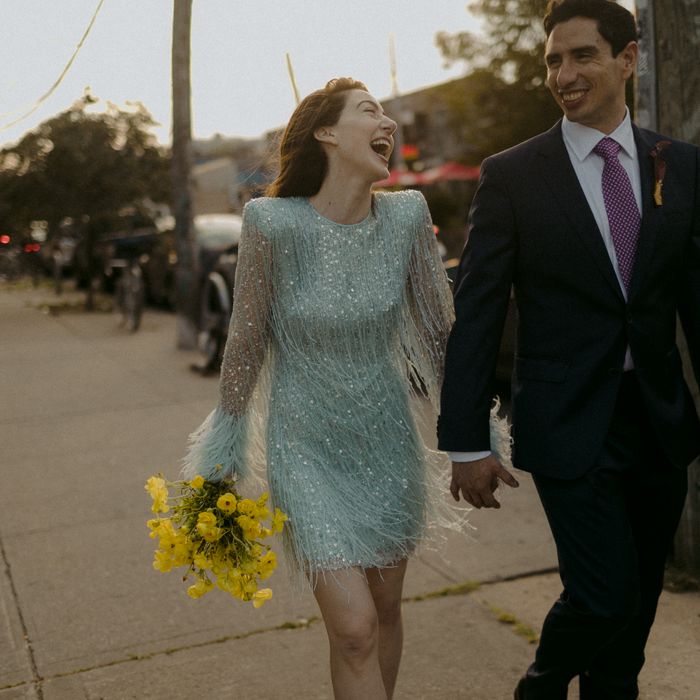 "A main reason why I think we work so well is because we both know who we are, having gone through our 30s figuring it out on our own before we met," says Jessica.
Photo: Unique Lapin Photography
When we ask newlyweds to think back on what they wanted most for their big day — and we've interviewed hundreds of them over the years — the most common response is "For it not to feel like a wedding!" Despite our new (pandemic) normal, that answer hasn't changed. If anything, these days, gathering with old friends and eating mini grilled cheeses in formalwear to celebrate love feels more special than ever, even downright miraculous. And the betrothed have never been less attached to the old wedding handbook — and the need to please their great aunt. So in a flurry of pampas grass and perfectly mismatched-to-match bridesmaid dresses, how do you pull off a non-cookie-cutter affair? For the answers, we decided to interrogate the cool couples whose weddings we would actually want to steal — right down to the tiger-shaped cake toppers.
Here we spoke with Jessica Rifkind, who works in data analytics at L'Oréal, and Mannie De La Rosa, who's in finance. Straightlaced corporate jobs aside, the pair throw themselves into artistic pursuits — he dabbles in pottery and writing, while she paints watercolors — and took their August 2022 wedding as an opportunity to get creative … and dramatic. Cinematic touches, DIY elements, an officiant in drag, and stilt walkers all featured in their Bushwick celebration.
Jessica: A main reason why I think we work so well is because we both know who we are, having gone through our 30s figuring it out on our own before we met. I've always been really obsessed with immersive theater: Sleep No More, Then She Fell, little indie Bushwick theater things. I like how it's an experience.
Mannie: We looked at the Wythe Hotel and it had a movie theater. That started us looking at movie theaters, which is how we ended up with the Syndicated Theater in Bushwick. Early on, we were like, "if Wes Anderson directed a movie about a wedding, this would be that movie." Or Fellini's 8 ½ , and the scene in the sanatorium where everybody's super dressy and it doesn't jive. I like that surreal aspect.
Jessica: There's the main room, which has really tall ceilings with skylight windows, and the theater, which has Art Deco vibes. We were originally thinking of having the ceremony in the theater aisle, but our photographer Sheena — who really was like my coach/mentor the whole time — saw the space and said, "No, it's not going to photograph well. It's dark." She and our planner, Diana, said, "This is what we're doing," and I was like, Thank you. I needed someone to orchestrate.
Mannie: Budget was our biggest restriction. If we'd had more money, we'd have wanted old-timey cigarette girls walking around. We worked with an event producer, Abby Hertz of AHz Concepts, and she had some suggestions.
Jessica: It started being funny: "Is this a wedding?" The producer's idea was, "Well, you have such tall ceilings, you should get stilt walkers. It'll really have a big impact."
Mannie: When Jessi told me stilt walkers, I was like, "How is this going to work?" and then, "I trust you."
Jessica: The mutual friend who introduced us in 2019 is a hobby aerialist, so we wanted acrobatic, aerialist performers. It suddenly clicked that the stilt walkers would be like my bridal party — a dramatic way to clear the aisle.
Mannie: I'm also Colombian, and in Colombian weddings it's super common to have dancers in the middle of a wedding. So for me it was, "Oh yeah, sure. This is normal."
Jessica: We decided to focus on spending money on the things we like — of course, the entertainment, and the cake and flowers.
Mannie: My mom is very, very big on the whole flower thing — she's in the gardening club — so it was really important for us to have something wow. Neither of us wanted to over-decorate the place, but we also didn't want it to look sparse.
Jessica: Our planner, Diana, recommended our florist, Fleurotica. With a big space and a limited budget, going big on really bold, bright flowers felt like the right choice. The roses were just … I don't even know how they were real, they were so beautiful.
Mannie: Oh, my mom absolutely loved it. She took photos of every single flower arrangement for her club.
Jessica: I was pretty indecisive on the wedding dress. I decided to get a custom gown, and that was a disaster.
Mannie: There were two weeks to go to the wedding and Jessi was not happy with the dress and I was like, "Okay, you have to show me." She showed me, and I could see creatively where she wanted to go, but it was not executed. I said, "You need to go to Bergdorf."
Jessica: I spent ten hours on the internet and then went to Bergdorf and started grabbing at every sequined dress I saw. When I put on that blue fringed one by Naeem Khan, it was just, "This is obviously my dress." It was really a happy accident and a dream come true.
Mannie: I knew that she didn't want a white wedding dress. She wanted to wear something fun. That blue dress was awesome.
Jessica: Then I had also ordered a pink feather gown by 16Arlington on Net-a-Porter, and they both worked. I was really jazzed to be able to wear something that felt like me, and I liked what they represented — in not necessarily wearing white.
Mannie: Around the time we got engaged, my father had gotten sick and eventually passed away from COVID. My dad would wake up on Sunday morning and get fully dressed in a  button-down shirt every single day of his life. He was a very properly dressed gentleman. So I wanted to dress in a way that my dad would be proud of. I wanted a blue suit, a royal blue [Hugo Boss]. Jessi had a hand in choosing the color.
Jessica: The day of, the guests entered the movie theater. I was hiding in the rafters, getting my makeup touched up. Then we played our preview.
Mannie: Jessi had approached our producer about playing a video at the beginning, maybe a montage. "I want to do something like claymation." She told us that would cost a lot of money, so it was kind of dead. Then we went to a movie at Alamo and watched one of their hilarious little videos at the beginning, and there was an Instagram handle for the person who made it, Cressa Maeve Beer. Jessi reached out to her. She asked us to her place in Brooklyn and took a couple of photos — "Now act surprised" — and stitched them together into the video. She killed it!
Jessica: We found the officiant because he was friends with people at the House of Yes, which is near Syndicated.
Mannie: Jessi was like, "I found this great officiant and he can be either his drag persona, Prince Powderpouffe, or he can be Eric. Are you cool with that?" Absolutely. It sounded fun. Why not?
Jessica: He interviewed us about how we fell in love. My story was that I knew he was the one when we were laughing while watching What We Do in the Shadows. Eric was drumming up these stories [during the ceremony], and then we heard someone fall to the floor and a glass break.
Mannie: It was a super hot day, and really hot in the theater.
Jessica: One of our guests fainted. We stopped the ceremony and paramedics came, but she was fine. She's a fainter. Drama was part of the theme! It gave us a breather; nothing makes you more present than when your friend faints.
Mannie: We took photos during the cocktail hour. When you only have 40 guests and the venue has a minimum, it's like, "Guys, drink whatever you want." I mean, it has its pluses at the end of the day.
Jessica: I got really into the signature cocktails being movie-themed. The "NeverEnding Negroni," like The NeverEnding Story, had cocktail sticks with the movie's dragon, Falkor, on them. And there was a spritz, "When Harry Met Spritzy," and the cocktail spinners had Harry on one side and Sally on the other.
Mannie: The food was fantastic, from a place close to the theater called Otis. The menu they came up with was basically Italian, which was perfect because we had already decided our honeymoon was going to be in Italy, and it played into the Fellini thing. One of my favorite things was this mushroom gnocchi, and a braised pork-shoulder pasta that was just astounding. They definitely overfed us. My only regret was that I didn't eat more.
Jessica: Mannie's dad always used to say that if there's good food and there's good music, then everyone will have a good time. The food was a win. We had a DJ, Kevin from AHz Concepts, who's one of those guys who doesn't really use the internet and used to own a record shop. Very funny, curmudgeonly. He did some Italian songs and eclectic, Wes Anderson–type soundtrack songs, then went into LCD Soundsystem.
Mannie: Part of the reason why all of this worked is because there were a lot of characters involved. The DJ's musical selection was outstanding. Once we had finished eating, people were getting up, chatting, the aerialist was doing her thing again, and the flower girls were dancing. We also played movies on the wall: 8 ½ and Funny Girl.
Jessica: We did a couple cake tastings, because is there any point in getting married if you're not doing cake tastings? This woman, her business is called Cake Hero, does amazing children's birthday party cakes. As we were throwing back and forth ideas, Mannie said, "This should have something to do with us as a couple," and it sparked the idea to do a Yayoi Kusama cake.
Mannie: We got engaged in the New York Botanical Garden at the exhibit of hers, so it has some meaning for us. She's Jessi's favorite artist.
Jessica: I have her version of Alice in Wonderland, and I picked a flower from that. The cake designer just knocked it out of the park.
Mannie: It was sour-cream vanilla cake with raspberry and chocolate buttercream.
Jessica: I had three or four pieces. We had the venue until midnight and we had a minimum that we hadn't blown through. In the last half an hour they were like, "You have $2,000 of alcohol that you need to drink." So it was shots, and then I asked the bartender in a non-douche way, "What's the most expensive drink you can make for us?" He made rounds of Last Words for everyone.
Mannie: Jessi was just … She was glowing, and very happy. She had been anxious in the lead-up to the wedding, so it was very nice to see it all come together to what we wanted it to be.
Jessica: Friends went off and had an after-party, but we wanted to get home. We sat and ate popcorn and watched The Big Lebowski.