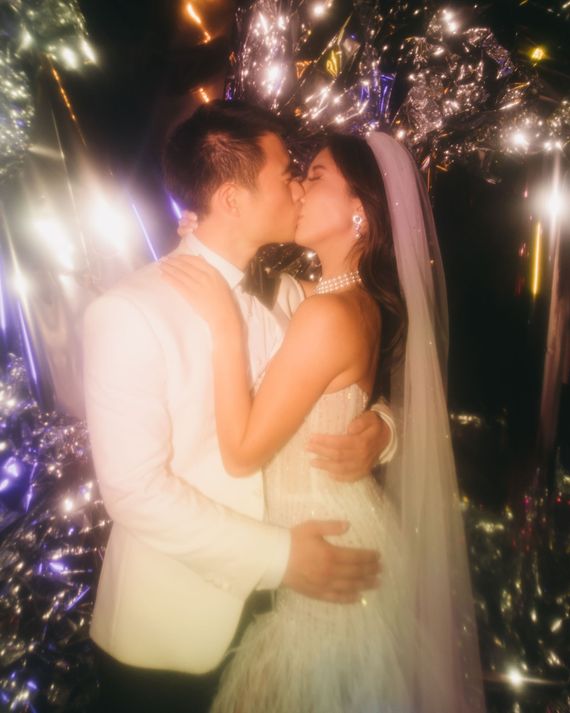 When we ask newlyweds to think back on what they wanted most for their big day — and we've interviewed hundreds of them over the years — the most common response is "For it not to feel like a wedding!" Despite our new (pandemic) normal, that answer hasn't changed. If anything, these days, gathering with old friends and eating mini grilled cheeses in formalwear to celebrate love feels more special than ever, even downright miraculous. And the betrothed have never been less attached to the old wedding handbook — and the need to please their great-aunt. So in a flurry of Pampas grass and perfectly mismatched-to-match bridesmaid dresses, how do you pull off a non-cookie-cutter affair? For the answers, we decided to interrogate the cool couples whose weddings we would actually want to steal — right down to the tiger-shaped cake toppers.
Here we spoke with Linda Wang and Lucas Chi, a Brooklyn-based couple who both work for the digital marketplace TPT (formerly Teachers Pay Teachers), where educators buy and sell original curricular materials. After nearly a decade together, they exchanged honest, non-cutesy vows — and then threw a wild "space disco" party — in the Catskills in June 2022. Pop star Dua Lipa inspired much of the color palette and visuals, and her music ushered the 132 guests onto a glowing dance floor for a choreographed number. 
Linda: We met on OkCupid nine years ago. I made my profile on a Sunday, and by Thursday I had set up five dates. Lucas was actually the one I was looking forward to the least.
Lucas: I didn't know if I'd be that interested. I wasn't a big fan of her bangs.
Linda: I was playing solitaire by the Astor Place cube — very symbolic! — and I looked up as he was crossing the street to meet me. It was that movie moment, where it felt like time slowed down. He was so cute. There was an insane physical attraction.
Lucas: In person, I was like, Oh, wow. She's way out of my league.
Linda: We talked about marriage for years and years and years. We did a lot of things backwards. Over a weekend in January 2021, we made an offer on an apartment on Friday, visited our top-choice wedding venue on Saturday, and he proposed at brunch on Sunday.
Lucas: I had far fewer ideas about what my ideal wedding would look like. I would probably say more traditional.
Linda: I had dreamed of a space wedding for a really long time.
Lucas: I was bewildered sometimes. I mean, I think she definitely wanted my opinion and wanted me to feel comfortable with what we were doing.
Linda: Lucas thought it was stupid. He was like, "What are you going to do? Have aliens?" Maybe! I was having a hard time explaining the theme, but then Dua Lipa's Future Nostalgia album came out and I was like, Finally, something I can point to.
Lucas: My thought was, Oh, man, can we make this work? But I'm glad that we did all the things we did. I may have viewed them as a risk.
Linda: There aren't a lot of Pinterest boards for "space disco," but thankfully we had a great wedding planner, Bethany from Modern Kicks, who helped us pull it off.
Lucas: The biggest criteria for the venue was somewhere that could house all of our 132 guests on-site, within a two- to three-hour drive of the city.
Linda: With the pandemic, and my dad dying in 2019, I wanted a weekend away with my friends and family where we were celebrating something really sweet. It was the first wedding of my generation for my very big family. So that was really, really important to me.
Lucas: Callicoon Hills fit our budget, fit everybody on-site, and the food is great. It's very scenic and it had good vibes.
Linda: Our reception was in a barn, but you feel very earthbound in a barn. I thought of Mario Kart's Rainbow Road running through the space, but had no idea of how we'd do that. Bethany filled in the gaps with a lot of great ideas about a light-up dance floor and iridescent fabric. She suggested that the colors could start out muted and intensify as you progressed through the day. But I didn't want the ceremony white and blush; I wanted the whole day to feel vibrant and alive. So we ended up with warmer, daytime, happy colors for the ceremony florals, and at night it was that purple — more galaxy colors. Our florist, Of the Flowers, was awesome. Some of the flowers seemed out of a Dr. Seuss illustration.
Lucas: Linda brings all the style in the relationship. My tux by Enzo Custom was actually meant for another wedding that got canceled because of the pandemic. I was like, Hey, this is a tux, it fits.
Linda: I did not expect to fall in love with a very feminine, tulle-y, embroidered kind of dress. I looked at probably thousands of wedding dresses online before I made my appointment at Lee Petra Grebenau, and it was the first I tried on. I knew that for the reception I wanted something a little sassier, so I liked the idea of two distinct looks — the ceremony felt more ethereal and beautiful. The sleeves were actually custom, really billowy, like a cloud.
Lucas: She would ask me what I thought her wedding dress would look like, and I was pretty off. I think I expected her to be in something tighter or more revealing. It was very sweet!
Linda: We wanted to make sure the ceremony didn't feel religious because neither of us are. We had a friend officiate, Ethan, who was in Lucas's fraternity. He's kind of the dad of the group for Lucas's college friends. And we wrote our own vows.
Lucas: It was definitely stressful because this is probably the most important thing I'll write. I got out a lot of things that I wanted to say, wrote a draft, and realized I hated it. When I rewrote it, I essentially went back and I was like, Okay, what is really meaningful about this relationship?
Linda: Something really important to me was that I didn't put too many jokes or cutesy stories. Frankly, a lot of the eight and a half years together were really hard. It wasn't all sunshine and rainbows. We had nothing in common except that we love each other and feel so comfortable together, and I wanted our vows to reflect that.
Lucas: My family's Taiwanese, her family's Chinese. We had this Chinese marriage symbol, a neon-pink double-happiness sign from Etsy, there for the rehearsal dinner and the ceremony. Now we have it hanging in our living room.
Linda: After the ceremony, we took more pictures and there was a cocktail hour where we got to mingle.
Lucas: We had his-and-hers cocktails — mine was smoky, with mezcal, and hers was nonalcoholic because she doesn't like the taste. There was a fried-chicken slider that was great. The food was catered by Callicoon Hills. It was a very, very relaxed vibe, with people near the firepit and playing cornhole.
Linda: Dinner was served family style. Callicoon Hills made a number of adjustments to make the meal healthier — less fried or heavy foods — but still really tasty, which I appreciated. There was a salad and marinated cucumbers to start, then roasted trout or short rib, with sides of succotash, charred broccoli, and fried potatoes.
Lucas: Our first dance was to "Can't Help Falling in Love," covered by Beck. Our one COVID disruption — our choreographer got COVID, and then we got COVID. We only practiced in the days before, booking studio space in Brooklyn for the entire week leading up to the wedding. Our choreographer, Shelly Hutchinson, pushed for us to do the lift with Linda on my shoulder. She was like, "I think you could do something more advanced!"
Linda: During speeches, Lucas and I ate about five bites of food. My mom was very genuine and open, as she usually is, and said how proud my dad would have been if he was there that day. That meant a lot.
Lucas: Linda's maid of honor started by saying that she met Linda in Econ 101 when she was wearing a super-short, electric-green skirt. Really, both my best man and her maid of honor were roasting us.
Linda: Then we ran off to change into our second looks. My second dress and veil were also from Lee Petra Grebenau. It felt more maneuverable than having this long veil for the rest of the night. I liked the party vibe, and the feathers were really fun. We did a choreographed dance to "Levitating," by Dua Lipa, with the floor lighting up. It was wild. Lucas was so nervous about doing a first dance, let alone a second.
Lucas: I'm not a dancer. I was definitely nervous and I wanted to get it done well. It felt incredible because you practice and you see yourself progress slowly; I remember feeling so happy in the moment, like, Damn, we're killing it.
Linda: The morning after, Lucas told me, "I'm so glad we did that because I felt so much adrenaline and euphoria." I said, "This is what I've been trying to tell you!" When you perform something and nail it and everyone's cheering, it's so fun. I've been dancing since I was 7.
Lucas: I kind of like being the center of attention?
Linda: A couple of weeks ahead of time, I sent out the ending sequence to guests so anyone who wanted to learn could join us for the last minute.
Lucas: A lot of people learned it the weekend of, making friends in the courtyard. Our moms love dancing, so this was great for them. They practiced together because they were so excited. Mine was like, "It took you two weeks to learn this?"
Linda: Then the DJ went straight into this fire set, which was great because everyone was already on the floor and super-hyped. He was the best wedding DJ I've ever heard, and no, I'm not biased.
Lucas: They left both sides of the barn open for the reception, so you could go back out and play cornhole or sit by the firepit, or stay inside and dance. The cake by Lael Cakes was great: a vegan cake with half strawberry-basil and half chocolate-matcha. We wanted something artistic and a bit on the spacey side, and it was great.
Linda: Ultimately we came up with something that looks like a nebula. I loved it! I wish I could tell you how the night wound down. I remember our planner Bethany was like, "Are you sure you want a six-hour open bar? Will people even be able to drink that much?" You don't know my friends. We cleared Callicoon Hills out of all of their Casamigos, and then the Espolòn. We had an after-party in the main boarding house.
Lucas: The bar was still open, and we had more food, like chicken fingers, wings, and potato skins. I think it went until one or two?
Linda: I was in bridal pajamas. We tried to do a projection of Daft Punk's visual album Interstella 5555, and I don't remember if we pulled it off.
Lucas: It was the best weekend of my life.