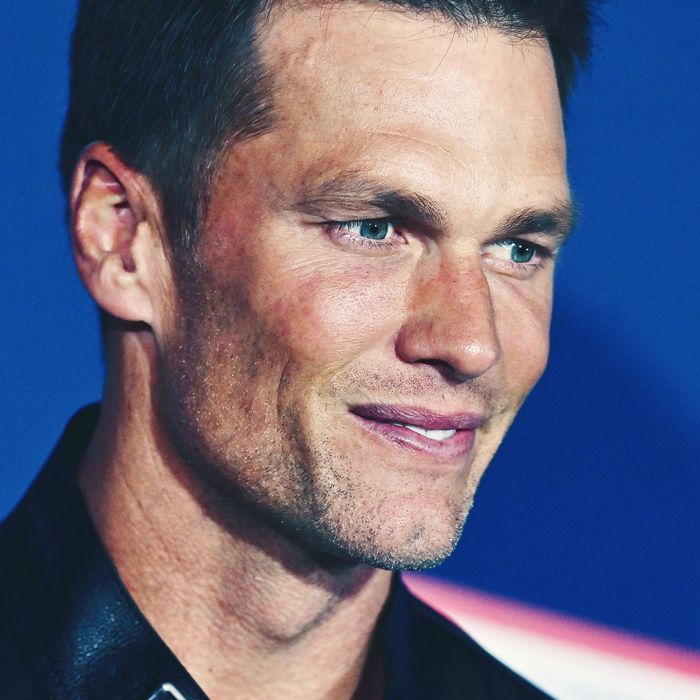 Tom Brady is doing underwear selfies now.
Photo: Axelle/Bauer-Griffin/FilmMagic
Last week, I surprised even myself by wondering if, against all odds, I suddenly felt sort of bad for Tom Brady given the tenor of his past year. It was a rough one: Weeks after making a big show of retiring, he did a 180 and signed on for another season of quarterbacking (misguided). This resulted in a string of losses, temper tantrums, and his wife — supermodel Gisele Bündchen — leaving him, all of which must suck. Then, after he succumbed to the inevitable and retired for real, his soon-to-be ex responded by publicly wishing him all the best in his future endeavors. Ouch. But now Brady is back on his bullshit. Gisele may be riding horses on a Costa Rica beach with her jujitsu instructor, but Brady? Brady is posting an underwear selfie from the bed in what looks like a hotel room but could be his actual home. So, you know, who's laughing now?
Is this flirting? Divorced dad on Raya alert? If we click back through the retweets, the photo seems to be the fulfillment of a promise he made to his own milquetoast menswear brand as well as a winking invitation to two of his fellow NFL retirees. He is plugging his own boxer briefs and — I think it is safe to assume — attempting to snare you in his thirst trap. Whether he succeeded will of course be a subjective matter, but what I imagine this man would like to communicate is that he is single now. Also I suspect he has a lot of free time on his hands because his ex-wife mostly takes care of the kids and as of last week he no longer has a full-time job. But in answer to my initial question, do I feel sort of bad for Tom Brady now? No, I do not. It seems like he's doing just fine.