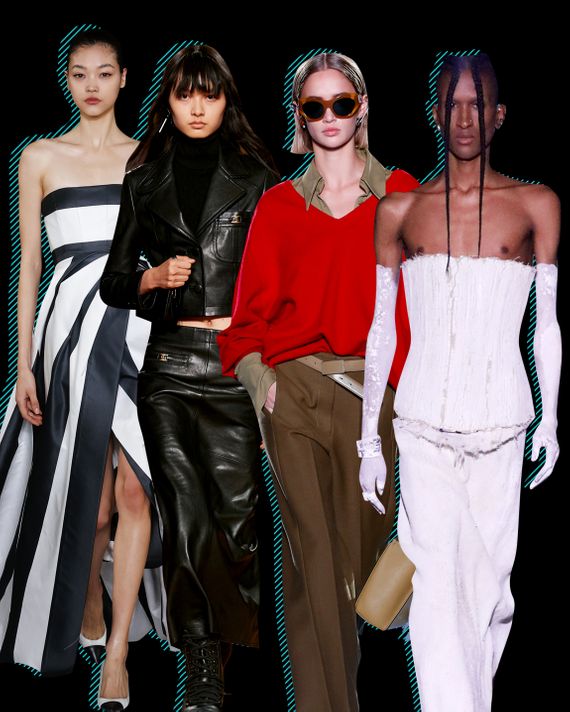 Photo-Illustration: by The Cut; Photos: Courtesy of Carolina Herrera, Coach, Tory Burnch, Getty Images
Coach has annual revenues in the billions, and for its fall fashion show on Monday, the brand had Ice Spice and Lil Nas X in the front row. The setting was the Park Avenue Armory, but instead of using the massive drill hall, as he has before, creative director Stuart Vevers had his models walk up and down the narrow entrance hall. As he explained, "I want people to be close to the clothes and these kids that I love." A lot of the kids were selected from a street casting, and the long and lean clothes — dark leather coats and skirts, Coach's classic shearlings in metallics, knit tube dresses that had been grunged up — expressed a casual indifference to luxury. The brand's new bags came in small, cute shapes that Vevers characterized as "charms," and which, for him, "disrupted heritage."
The Tory Burch company earns less money than Coach but still in the billions, according to most sources, and the driving idea of Burch's fall collection was a traditional wardrobe that has been taken apart and given "an undone attitude." That meant slightly off-kilter kilts, a beige ladylike topcoat worn with a jean skirt and black stockings, a dark wool blazer with grass-green satin trousers, and shapewear translated as eveningwear, because, as Burch said, "women aren't interested in rules."
Disrupted heritage and wardrobes, rule-breaking women — these are really mass-market values by today's standards. Which probably puts both Coach and Tory Burch right where they should be on the curve of change: neither behind it nor ahead of it. The fact is Burch's clothes were aimed not at real rule-breakers but at rather conservative types who like a fling now and then. So she dressed up her tailored trousers with the vivid green satin or velvet in peacock blue, and then showed how you could wear them with an oversize sweater partially tucked in at the waist or a lean blazer. But what impressed me was not the calculated bits of imperfection or the faux safety pins in the models' ears but, instead, the flattering cuts of many of her styles, in particular the trousers.
Historically, the most daring designers are young and struggling to make a buck. Alexander McQueen was in business for a dozen years before his company made a profit, and I remember Martin Margiela telling me that despite the support of stores like Barneys and his influential fashion, he still struggled financially for a long time.
Elena Velez has put herself on the same hard road, and I admire her for it because there's no glory in compromise. Plus, no one needs another nice T-shirt or well-cut blazer. (I think I'll vomit if I hear the word "wardrobe" one more time.) A native of Milwaukee who draws on her working-class roots, Velez's sense of sexuality is completely steeped in the harsher but freer values of today. It's raw, aggressive, fluid. She opened her show on Monday night, in a Brooklyn warehouse, with a woman barreling out in a patchy dress made of stitched-together strips of fabric. "Wanna fight?" she seemed to say.
There were some extraordinary pieces made of hard-to-identify materials, like an off-white jacket with huge sleeves that had quilted tennis-ball-shaped sections, a minidress that looked like draped silicone, and a white bustier that looked plastered but in fact was a crackled-cement screenprint that Velez has been developing. The show's closer, a draped denim dress made of scraps, was in the vein of fashion that is deconstructed or created from repurposed fabrics, but Velez handled the technique with a rare light hand. She mentioned backstage that she lately has been using cutting-room floor scraps and playing with "clichéd midwestern heritage crafts," like stained glass. (A bustier dress, for example, featured two half-moons of glass at the neckline.)
Velez has done runway shows for the past three seasons, and if you come expecting to see her add more "grown-up" pants and dresses — to balance out the edgy "show" looks — she will disappoint you. I would argue that instead of broadening her aesthetic, Velez has deepened it. As a creative person should. The sculptural denim dress was masterful, but so was a simple black cotton-voile dress cut low in the bodice and spilling off the shoulders with a trailing skirt. The model's forearms were painted black, in lieu of gloves, with witchy nails. A lot of women can no doubt relate to her attitude.
Kate Barton finished the graduate program at the Savannah College of Art and Design only last year, and in October launched a line of eveningwear, 20 styles in all. She's worth watching because her approach to evening and dress-up is indeed innovative: She has developed her own engineered fabrics in shimmery whites and solid, watery hues, using a local dye house to get her own colors, and metallic trims, which in some cases are actually a coated leather. Her draping is free-form (and fresh-looking for it) and her workmanship excellent. Best of all, her dresses are superlight. She's working on developing a wholesale business, but for now, her dresses — priced from $1,900 to $3,500 — are custom-order.
"I'm a bit of an old soul and I like old-fashion fabrics," said Wes Gordon, the creative director of Carolina Herrera. On Monday, he used embroidery and rich silks, including some developed from historical fabrics that he manipulated — enlarged or brightened. But don't be deceived. Gordon's fall collection was magically light with a tiny, self-aware sense of camp. A ballgown in a woven purple and dark-green floral pattern was as airy as a parachute. For every opulent confection, there was a short, teacup skirt with an underlayer of tulle. Or an austere pair of black wool trousers, embroidered at the pockets, with a similarly adorned matador jacket.
Very Herrera, but perhaps not as warmly so as a series of dresses in color blockings of chartreuse, hot pink, and reds that evoked the tones of Andy Warhol's Portrait of Her.