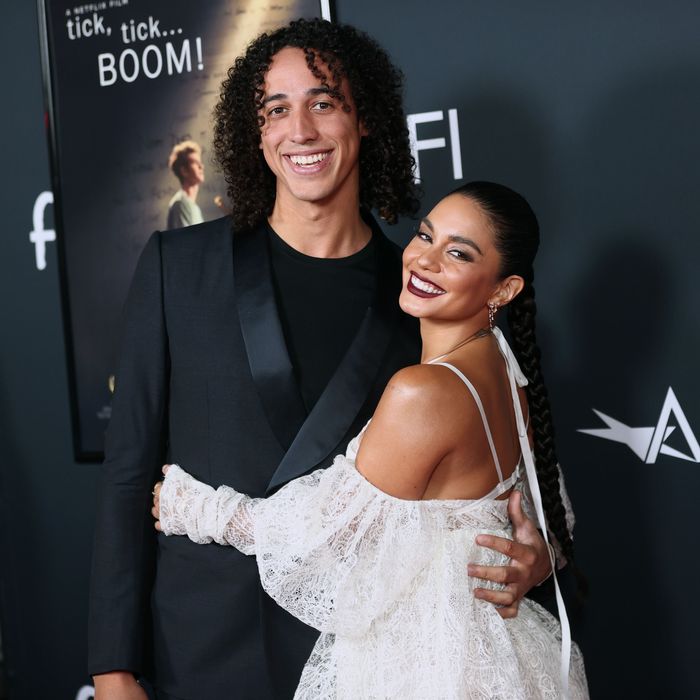 Photo: Matt Winkelmeyer/Getty Images
After days of speculation, Vanessa Hudgens and her baseball-playing beau, Cole Tucker, confirmed that they are engaged after two years of dating. "YES. We couldn't be happier," they wrote in a shared Instagram post, featuring a photo of the couple in Paris and a close up of a very impressive diamond engagement ring.
Reports of the engagement emerged last week, when TMZ reported that Tucker had proposed sometime at the end of 2022. The outlet noted that the two were in Paris in November, and remember the engagement photos Hudgens shared featured the Eiffel Tower in the background, so you can come to your own conclusions there.
Hudgens first saw Cole via a Zoom meditation group in 2020 — which she later told Nylon just so happened to have been organized by Joe Jonas — while she was filming Tick Tick Boom. She went on to follow him on Instagram, and they started DMing days later. "I get on the Zoom, and I'm like, 'Who is that?'" Hudgens recalled during an appearance on The Drew Barrymoore Show. "I fully just slid in his DMs and was like, 'Hey, it was nice to meet you.'" The two made it Instagram official on Valentine's Day 2021.
Though the two keep their relationship pretty private, both have revealed some tidbits over the years in various interviews. Speaking with Glamour UK in 2021, Hudgens said, "Our interests are very different, but our fundamentals are the same. He's goofy and I'm very goofy." She later revealed that Tucker was a fan of hers before they met. "I might have been my boyfriend's crush when he was younger," Hudgens told Nylon in 2022. (A tweet of Tucker's from 2012 seems to support this theory. "In search of: A girl who's down tow acth High School Musical with me and scratch my back," he wrote at the time.) It's a bit of a Machine Gun Kelly and Megan Fox situation.
Meanwhile, Tucker, who currently plays for the Colorado Rockies, once revealed that Hudgens has helped him take better care of his long curly hair, calling her the "detangling queen" in an interview with Nevada Sports Net. May their marriage be happy and knot-free!